Lending
The evolution of mortgage lending in communities of color from the perspective of a BIPOC female in the business: TD Bank's Lena Vann
In exploring the evolution of mortgage lending to communities of color", TD Bank's Lena Vann delves into historical mortgage policies and ongoing homeownership challenges.
She also describes how financial services can help to clear misconceptions about financing a home to help more BIPOC folks into homes and building wealth.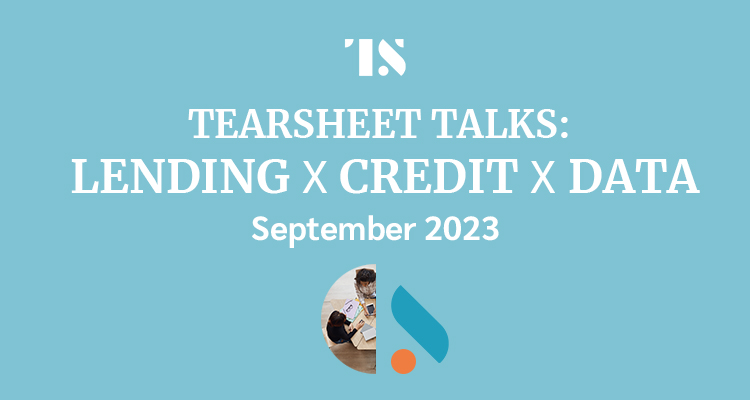 As part of our Tearsheet Talks: Lending x Credit x Data, this fireside chat focuses on the evolution of lending to communities of color since the inception of mortgages to present day, from the unique and personal perspective of someone who grew up in a disenfranchised, urban community and later joined the industry.
Lena Vann, Head of Real Estate Secured Lending (RESL) Product & Risk Management at TD Bank, highlights the progress made, today's economic challenges, and how they impact the attainability of homeownership for minorities. She also provides an outlook on what can make the mortgage process more inclusive while balancing risk appetite, regulatory requirements, and other lender considerations.
Lena is a seasoned leader with expertise in mortgage and home equity product management, operational risk management, enterprise and credit risk management. As SVP of Real Estate Secured Lending (RESL) Product & Risk Management for TD Bank, she is responsible for the end-to-end product lifecycle, portfolio strategy, and first line credit management oversight of all mortgage and home equity lending activities.
The big ideas
Historical Impact of Mortgage Policies:

Policies during the Great Depression and redlining practices segregated housing, hindering communities of color's homeownership.

Equity and Wealth Gap:

Homeownership's role in building equity and generational wealth was highlighted, along with the wealth gap created by past discriminatory policies.

Homeownership Challenges:

Two major obstacles were down payments and credit score misconceptions, with Lena noting more flexible options available.

Inclusivity:

Diversifying the mortgage industry's workforce to better serve communities was emphasized, along with creating more inclusive mortgage products.

Financial Education:

Providing resources and outreach for financial education to prepare individuals for homeownership was stressed.

Collaborative Efforts:

Collaboration among stakeholders, including government, lenders, nonprofits, and housing advocates, was seen as vital to address barriers to homeownership.

Importance of Homeownership:

Homeownership's transformative potential as an investment, source of income, and generational wealth builder was emphasized, along with Lena's passion for helping people through this journey.
Lena's background
Lena Vann, TD Bank: I grew up in North Philadelphia, and I grew up in a timeframe when coming into neighborhoods that were already established, they looked fine when you first get in as a little kid. But as you continue to, you grow into your adolescent years, you really started to see the neighborhood change. There were a lot of disenfranchised people in the neighborhoods. You've got homes that were abandoned, some board ups, a lot of empty lots and debris and trash and things there. The businesses started leaving the community as well, and not a lot of reinvestment to bring businesses back.
And when I was a kid, I would just bug my parents all the time talking about how the building right there, that little factory could be a lot of apartment buildings. I'd say things like wow, they should fix those up and remodel those houses, and they can look good. And what if we had a garden or something here instead of empty lots? They would just look at me and shake their heads, like, where does this little person come up with all of these thoughts in her head? But that's the way I saw it -- I always saw the good things in the neighborhood. The architecture: Philadelphia was beautiful in terms of the way that some of the homes are set up in the style.
But when I started getting older and started, graduated college, and was getting out in the workforce, I always wanted to work with the companies that were interested in reinvesting in areas like I grew up in, and doing programs and products, different types of partnerships, to try to bring some revitalization back to the neighborhoods.
This is why, for me, I'm proud to work at TD Bank, because we're doing a lot of those things there. And we're trying to do la lot of education helping the Black and Brown communities on mortgage products and different types of resources to help them understand what it takes to own homes and keep homes. We're doing the best that we can to try to bridge to homeownership.
History of mortgage policy and redlining
I thin we have a set of premises that we can all agree on: equity in your home is just a great wealth builder. When you go back to the era of the Great Depression, those years from 1929 to 1941, there was a lot of policy that was passed during that time that just did not bode well for African Americans, Black people and Black communities, as it relates to trying to help them gain generational wealth and homeownership. Some of the policies segregated housing. You have one in particular, one that I'm going to focus on, that is the redlining policy that was set out by the "Homeowners Loan Corporation", and what this organization did is that they went and identified Black areas on what they called security maps.
They would identify the Black areas and notify appraisers, saying these areas are too risky and hazardous. These appraisers assessed the value of properties. In 1934, the Federal Housing Administration was stood up. They heavily relied on the practice of redlining, because they had approved lenders that used to do loans with them. And they would say, Hey, listen, we're not insuring loans in these areas. If you think just about Black communities, we were not able to gain appreciation in our homes, we couldn't build equity, we couldn't build that wealth, where our White working class counterparts were able to do that.
So when you take that time period and those policies, it set us back for decades, generations to be quite honest. That was one of the main policies that helped widen the generational wealth gap between Black and White communities.
Moving toward more equality
How do you get out of those systems? And they are systems. To be clear, there are also other socio-economic obstacles that keep Black homeownership rates lagging. It stems back to the home, because you don't have that equity, wealth to send your kids to college, to get higher paying jobs, you have more debt. So, there are other things out there that are part of that problem, for sure. Even though those were not the best policies that the government issued, they were really trying to solve for a problem, because at that time, the economy was in disarray, and a lot of people were losing their homes.
Moving forward, the federal government has done a lot of work over the years from a policy perspective. They established the Veterans Administration, Housing and Urban development, the HUD, Ginnie Mae, the GSEs, Fannie and Freddie. Most recently, the Dodd Frank Act, which established the CFPB, gives more oversight out there for consumers, because we didn't really have one place where there was oversight to help protect consumers -- it was just a sprinkle in this agency, that agency, but everything is now centered in the CFPB. At the end of the day, we still have work to do, because we have to create equal access and affordability -- these are still problems that we have to solve.
Shifts in the mortgage space
Starting in this business, we were trying to get people in homes. Now we're trying to focus on keeping people in their homes. And if you want to take it a step further, affordability is a definite issue for first time homebuyers. When I started in the mortgage business, the Fannie Mae conforming loan amount for a single family unit was slightly north of $187,000. From 2006 to 2016, the conforming loan amount was $470,000.
Right now, when we factor into this the high rents and property values, the Fannie Mae amount for conforming units is now is $726,200. I just can't understand how people are going to be able to afford these homes. You've got a lot of Millennials out there looking to get their first home. Affordability is definitely a problem. So we're facing some headwinds in the space. We've got to try to solve for that, come up with more sustainable solutions to help these folks.
Misconceptions that keep communities of color from becoming homeowners
I'm going to focus on two reasons that I believe are the ones that really stop people from thinking they can get homes. The first is the downpayment. I think it's a misconception in communities of color that you have to be debt free, and you have to have 20% down. That's the old paradigm. That's just not true. In fact, our company TD did a recent survey, and they spoke with about a thousand Americans who planned on purchasing a home this year. And out of the data that they got back, 41% of Black, non-Hispanic, first time homebuyers said that saving money for the down payment prevented them from purchasing a home. So, downpayment is still a big factor out there in communities of color.
The second point is that people mistakenly believe they have to have perfect credit to buy a home. Don't get me wrong, you absolutely should be in good standing and have good credit. But you don't have to have perfect credit. There are lenders that have no-down-payment options, they have mortgage products and flexible credit parameters that can help folks get into homes. That's why it's important that you have to shop around -- you got to do homework before you get out there and start trying to get out of the home buying process.
At TD Bank, we have a huge emphasis on financial education. We offer a lot of free resources around home buying, to try to help folks understand how they need to budget and save and build their credit up, to be able to get themselves ready to own a home. And to be quite honest, we've got to do more of this type of outreach in the financial industry to be more inclusive for all financial products and services.
Making it easier for communities of color to own homes
I think to start, just hiring more people of color in the industry. It's important for the mortgage industry to understand that we have to reflect the communities that we live in and work in and that we want to do business with. If we further diversify the sales force, that can be a great path to help pull some of those folks along. This is something that TD Bank has done and we're continuing to do this for a lot of different reasons. Folks know that you feel comfortable doing business with people who look and sound like you and who understand what you're going through. So I think that if we want to earn folks' business, we have to make them feel comfortable, and to let them know that we're here for them.
The second piece that I think that we should do is creating products to be more inclusive of unserved segments. Now, there's a lot of different products out there but the question you have to ask yourself, do they reach the markets that you want to ? At TD, we have TD Home Access Mortgage designed to create homeownership opportunities for Black and Hispanic people. We have a $10,000 lender pay credit, which means they don't have to pay it back. For purchase transactions, they can apply for closing costs and downpayment assistance. Those are like two of the major areas that we already talked about that can be roadblocks for homeownership, particularly for Black communities.
And for TD Home Access Mortgage, we also offer more flexibility with the DTI, the debt to Income ratio. We expand our underwriting requirements as well as our credit parameters. And that increases accessibility for the product. We've also looked across our other suites of products and made enhancements to make sure that we've been thoughtful and inclusive, where we try to earn business from our customers.
The last part of that is providing the financial education resources so that customers know how to prepare to buy a home and to understand the responsibility that also comes along with home ownership, like the maintenance that you have to do on the homes, yards and the lawn work, and the things that come along with that. You just don't get into a home and have it fix itself.
Educating over channels
Wwe have the lens of resources and we do a lot of outreach. We do realtor events, where we go out and educate the realtors on the products and programs that we have. We have other facets when we bring the whole breadth of TD together, we have outreach from other areas that are constantly in the communities and letting folks know that we're there for them. So we're getting it done.
Stakeholders in increasing home ownership
At the end of the day, I think the federal government has done what it can but we got to do more work at the local level. We have to get those stakeholders engaged, because they are very helpful and play a key role and in helping navigate the challenges of homeownership rates for people of color. So it's not just lenders, but it's also community partners, like housing advocates that solve for this. Right now, TD is involved in a recently launched initiative called Convergence, Philadelphia, and that's being led by the Mortgage Bankers Association. It works collaboratively to address the barriers for home ownership for Blacks in Philadelphia. We're proud. That's where it is. That's what I'm talking about. I love it. TD Bank is proud to serve as one of the three cornerstone partners for Convergence, Philadelphia.
This work aligns with our ongoing commitment to find meaningful and equitable resources that celebrate homeownership for Blacks individuals and their families. So at the end of the day, Convergence gives us the opportunity to collaborate with all types of stakeholders, local government, other companies, other lenders, nonprofits -- they're really getting it done to get all of these key stakeholders together to collaborate to create long term sustainable impact, on keeping families in their homes, which is a pivotal part in the journey to building generational wealth and enjoying a secure financial future.
We just have to remember what homes mean to people. For most people, owning a home is going to be the biggest investment in their lives. It can be a roof over their head, a means to fund their kids education. They'll provide passive income for investments, to build a business. From retirement, you're able to pay for your elder care, and you'll ultimately provide generational wealth to the heirs. The homes are there to help people through every major event in their lives. I know that and I enjoy helping people and that's why I'm in the business. I'm passionate about the business, invested in it, and probably will retire this business, because home ownership changes lives and I just want to be a part of it.