Lending
How to harness open banking to deliver more payment choice and exceptional experiences in lending with Mastercard's Andy Sheehan
The intersection of credit, data, and lending is opening up entirely new opportunities for banks, payment networks, and fintechs.
Mastercard's evp of open banking, North America markets, Andy Sheehan shares his views on open banking -- where we are today and where we're headed.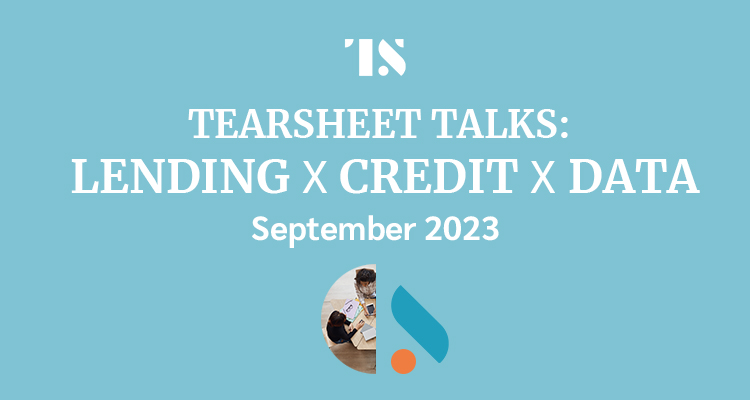 As part of Tearsheet's inaugural Tearsheet Talks: Lending x Credit x Data, Mastercard's executive vice president of Open Banking North America Markets, Andy Sheehan, will explore the importance of transparency and security when it comes to consumer financial decisions. Mastercard is working to remove friction, mitigate risk, and increase inclusion in lending through Open Banking.
Tune in to understand how Mastercard is bringing choice to consumers and small businesses through Open Banking.
Learn more about open banking, how it impacts the payments ecosystem, and where Mastercard is headed with it in the future. Hear more about the use cases, particularly in lending. Andy will explore open banking's influence on financial inclusion, too. Andy Sheehan is the Executive Vice President of the existing Open Banking Business at Mastercard. Andy is driven to build and inspire innovative teams to deliver exceptional customer experiences. For more than 30 years, he has focused on harnessing data, analytics, and technology to strengthen businesses and consumers alike across various industries.
The big ideas
Open Banking Definition: Open banking allows secure sharing of financial data, improving access to better lending products, payment convenience, and financial insights for consumers and small businesses.
Mastercard's Role: Mastercard is building a secure network for consumer-permissioned financial data, emphasizing trust, reliability, and inclusion in the digital economy.
Enhancing Lending via Open Banking: Open banking digitizes lending processes, improving income and asset verifications, potentially doubling acceptance rates for clients beyond traditional credit reporting.
Security Measures: Mastercard prioritizes network security, integrating fraud prevention capabilities within the open banking network to mitigate risks associated with digitalization.
Financial Inclusion Impact: Open banking is a powerful tool for financial inclusion, expanding access to financial products and digital financial experiences globally.
Future Trends in Consumer Lending: Anticipated trends include increased digitization in lending, evolving use of open banking data for advanced decision-making, and an expansion of open banking into various facets of individuals' financial lives.
Watch the talk
Defining open banking
Andy Sheehan, Mastercard: I love talking about open banking. Open banking allows us as consumers or small businesses to securely permission or share our information or financial data to make our lives better. So that could be getting access to better lending products, the ease and convenience of making payments, accessing our data in a way that gives us insights about how we save, how we spend, and how we can manage our finances better.
Open banking really drives choice in payments. Traditionally Mastercard has been a leader in debit and credit payments, in terms of driving the choice of being able to pay by bank, through ACH securely with confidence. It's really a whole new payment rail.
Accelerating open banking
It's certainly growing, the awareness of it is growing -- it is emerging fast. According to some research that we've done at Mastercard, globally more consumers and small businesses are using open banking services than necessarily understand the term open banking. So if that makes sense, two thirds are using open banking, but about half would be able to explain open banking in terms of permissioning or linking accounts.
I think there's an opportunity to increase transparency and awareness to us as consumers and small businesses. It is something that we're working really hard to do and make sure there's more awareness around Mastercard's role in making that happen.
Mastercard in open banking
Open banking is a real strategic focus of Mastercard's. And we think about it as building out a new network of consumer permissioned information. For Mastercard, we have our traditional payment networks, we're building out identity networks, the open banking network, which is a trusted, secure resource for consumers and small businesses to know and securely permission their information and really put their information to work across the financial ecosystem. It's exciting and inspiring to us.
We're working hard on building standards, reliability, security -- all the aspects of a strong and trusted network.
Differentiating Mastercard in open banking
First and foremost, it's about driving and building trust. Of course, there's the Mastercard brand that's trusted globally, but it's really those attributes, and us delivering on those attributes around reliability, security, consumer privacy, that I think is a unique opportunity for Mastercard, and something that we're working hard at.
I think there's the capabilities themselves within open banking -- the coverage and right reliability of connections to financial institutions is foundational to open banking. Within Mastercard open banking, we really emphasize and really drive at building those direct connections to financial institutions, and really leading the industry at getting to next generation API connections to financial institutions.
I think the other another area that separates us is the capability mix we have. We can create a lot of magic by overlaying our core open banking capabilities with other Mastercard capabilities. I mentioned our identity capabilities -- that's an area where we've just launched and really embedded identity insights directly within our open banking by tapping other capabilities that Mastercard has built.
A final area is just the purpose that we bring to the market with open banking: doing right by consumers and driving inclusion into the digital economy is something that is near and dear to my heart and the hearts of our teammates.
Gaps in consumer lending
I spent almost 20 years in traditional credit reporting and the opportunity to extend into new frontiers and make a difference in lending is something that is meaningful to me. I think one aspect of one real difference maker around open banking capabilities in lending is just digitizing the process. So, a big part of our value proposition to our financial institution clients and fintech clients is digitizing consumer or small businesses experiences.
We've all been through the loan process, buying a car, a mortgage, applying for a credit card. Reams of paper. Multiple GSEs. Running home to get a pay stub. This is one of the areas where we've grown our open banking business from digitizing those basic verifications of income and assets, all by permissioning access to a bank account securely.
As you go up the food chain from there, traditional lending based on credit reporting doesn't tell the whole story -- it tells an important part of the story, but it can't really open up new aspects of your financial situation and history in terms of cash flow balance history that can create more opportunity and choice for for consumers. We have clients that are able to improve quality accept rates by double digits by tapping into the new data sources powered by open banking. It's my belief that it'll be a standard, ubiquitous part of the lending process in the coming years, but it's still relatively early days.
Tokenization
With this rapid shift to digitization, there's certainly the possibility for new new types of fraud. A really important priority and focus within our open banking network is to safeguard the network with everything Mastercard can bring to bear, in terms of industrial strength, information security and best practices. And then integrating really purpose-built capabilities within our network to address fraud.
For years, we've had a very core product called Account Owner Verification. The consumer would link an account in their account, and our client would be able to verify that, yes, that is Andy Sheehan's account, based on the account holder. Just recently, within that same API, where can our clients connect to, we're integrating fraud and identity checks on that same data. I's going to be a perpetual effort of introducing and really safeguarding the network with fraud capabilities. That's one good example.
Open banking and inclusion
I think open banking is just one of the most powerful levers that we have to put to work. Just the applicability of open banking in lending is a difference maker. Consumers and businesses today are getting pulled into the financial industry with access to products that they wouldn't have had before. Getting access to a bank account for day to day money, opening an account, funding, all digital through an iPhone or computer is a core use case for open banking. We operate in 200 countries and to make a difference around financial inclusion is at the core of our purpose.
Expanding the network
The global focus of Mastercard, that's reach not just here in the US, which is the business that I look after, but my counterparts are advancing open banking in Europe and in Australia, and it's something that we're really excited about -- the reach of open banking through our partnerships. At MasterCard, it's very powerful distribution.
We announced a partnership with JPMorgan Chase to bring pay by bank capabilities through their channels. That brings us access to merchants and all of the consumers that are served by merchants. Generally, Mastercard tends to be a very partner-centric business, and being able to deliver our services and elevate our partners with clients that they serve, and ultimately with consumers, consumers that are benefiting, is pretty exciting.
Learning and evolving globally
I sit on a global open banking team and we're sharing insights on our respective markets every single week. In fact, while I'm real busy running the business, we have a dedicated team at Mastercard whose real charter is to evangelize helping to understand the difference between regulatory frameworks across countries and ultimately, how MasterCard can make a difference, region by region.
Consumer lending trends
We're still getting adoption in terms of this digitization that we talked about. We do a lot in mortgage lending and the majority of mortgage applications are not leveraging open banking services. Getting to that adoption is where we are right now. I think that the use of open banking data itself is still developing. It's one thing to verify assets, balance, and a pay stub coming into an account every two weeks. Bringing that to the sophistication of leveraging banking data for advanced decisioning, based on cash flow and balance trends, that's an exciting time in front of us. I think some of the more digital first players are maybe ahead of that in terms of adoption, but I think that the traditional banks are pushing hard. We'll get there soon.
And then finally, I think that this area, we talk about an open banking network expressly permissioned by us as consumers and businesses. I've been talking a lot about more of the traditional bank account information. But more and more, we're going to see that expand to other parts of our financial lives, consumers will be able to quickly and efficiently share our financial information. But, what about tax information? What about assets that we own? What about our education credentials, which are an important credential that we bring with us for life. It's early days and nothing but exciting stuff on the horizon.