10-Q
,
Member Exclusive
Who will succeed James Gorman at Morgan Stanley?
Morgan Stanley's James Gorman is calling it a day. "No plans to go out like Logan Roy," the fictional CEO from HBO's Succession, he says.
Wise shares dropped nearly 7% Thursday after the firm announced this week that its CFO, Matt Briers will be stepping down in March 2024.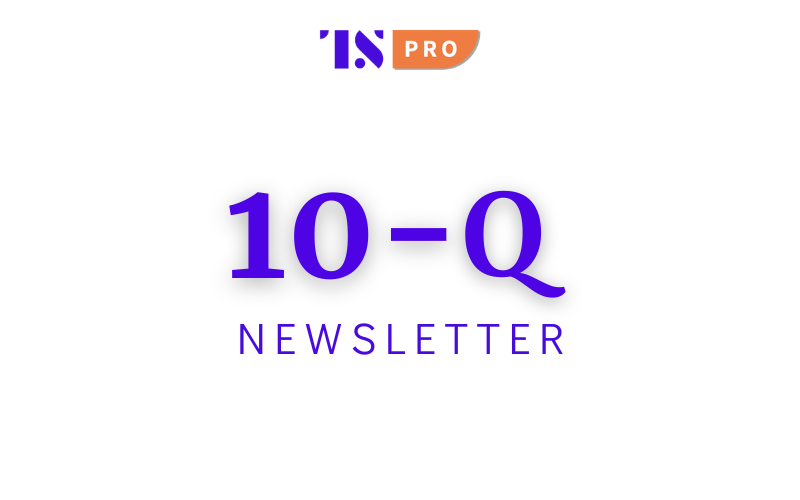 ---
Welcome to the 10-Q newsletter
The 10-Q newsletter is part of the Tearsheet Pro subscription.
10-Q provides insight and market analysis into the moves of top banking and fintech stocks over the past week. In your inbox every Friday.
---
Weekly 10-Q
In today's edition:
Last week we covered:
Who will succeed James Gorman at Morgan Stanley?
---
Who will succeed James Gorman at Morgan Stanley?
"No plans to go out like Logan Roy," the fictional CEO from HBO's Succession, says Gorman.
by SARA KHAIRI
James Gorman, the current and long-time CEO of one of Wall Street's biggest banks, Morgan Stanley, has dropped subtle hints every now and then, about how he plans to step down from his position with the intention to swap places with his successor while on the job.
Seemingly, he is ready to take that plunge in a year's time and call it a day.
After handing the reins to a successor, Gorman will assume an executive chairman role for a length of time should there be no crucial change in external factors.
"The specific timing of the CEO transition has not been determined, but it is the Board's and my expectation that it will occur at some point in the next 12 months. That is the current expectation in the absence of a major change in the external environment," Gorman said last Friday.
The three best bets contending for CEO James Gorman's post are already leading the major divisions of the bank -- the newly promoted co-presidents; Ted Pick, who runs the Wall Street trading and advisory division, and wealth management head Andy Saperstein, along with the head of investment management Dan Simkowitz, are likely demonstrating the capabilities to be next in line after Gorman.
It's been 13 years since Gorman stepped into the CEO role of Morgan Stanley in 2010. During his tenure, Gorman established a solid footing for the bank fresh off the 2008 financial crisis by reworking its framework. He propelled the bank beyond its staple investment business, which was on a tightrope back then, and scaled up its wealth management business.
Under Gorman's leadership, Morgan Stanley bought Citigroup's remaining stake in their joint wealth management venture, Smith Barney, in 2013 -- after the companies first unified their brokerage divisions in 2009. That business was subsequently renamed Morgan Stanley Wealth Management. Presently, the total wealth-related client assets account for $4.2 trillion, making wealth management the bank's bread and butter business -- outperforming its trading and market-making services.
Morgan Stanley reported net revenue of $14.5 billion in the first quarter of the year compared with $14.8 billion a year ago. While the wealth management wing recorded net revenue of $6.6 billion in Q1 2023, compared to $5.9 billion a year ago. The bank has been successful in cementing client relationships in a volatile market and gets most of its revenue from wealth and investment management due to multiple acquisitions.
Morgan Stanley's acquisitions of online broker E*Trade for $13 billion in 2020 and investment manager Eaton Vance for $7 billion in 2021 appear to have multiplied and favored Morgan Stanley's revenues over time.
Even after announcing retirement, Gorman is still on the go and plans to buy more wealth and asset management businesses while keeping an eye on potential targets.
"In my now long career, I've seen a lot of environments. Some challenging, some not. Some crisis, some not," he said. "I remain extraordinarily optimistic about the future of Morgan Stanley and our broader economy."
Shares of Morgan Stanley slid around 1.76% in a week by Thursday's close.
---
Market recap
Gainers and decliners -- fintech stocks were assorted this week
Wise (WISE) - down 7% to 553.60 GBP per share
Wise shares dropped nearly 7% Thursday after the firm announced this week that its CFO, Matt Briers will be stepping down in March 2024.
Briers is exiting the company after an eight-year period to make a full recovery from an accident he was involved in last year.
During his tenure, Briers bolstered Wise's growth from a startup to a publicly-listed payments fintech with millions of users.
Intuit (INTU) - down 8% to $413.10 per share
Shares of tax and accounting software provider, Intuit are dwindling after a report that the Biden administration is weighing a plan to launch a public tax filing portal that would compete with private tax preparers.
The portal can constitute a threat to Intuit's TurboTax business, which handled a third of all IRS tax returns in 2020.
Editor's picks
---
Tweet of the week
---
Just look at the charts
---
This week's reads
PYMNTS
The last of the earnings reports are trickling in across the FinTech IPO Index, with more decliners than gainers, which in turn helped send the index down 2.4% for the week.
BBC
JPMorgan Chase is cutting jobs at failed US lender First Republic Bank, after buying the firm this month. Around 1,000 roles, or 15%, of First Republic's workforce will be cut. JP Morgan confirmed that it was cutting roles that were held by workers at the San Francisco-based bank but did not put a figure on the job losses. The affected employees will receive pay and benefits for 60 days, along with a package that includes a lump sum payment and other benefits.
CNBC
JPMorgan Chase is developing a ChatGPT-like software service that leans on a disruptive form of artificial intelligence to select investments for customers. The company applied to trademark a product called IndexGPT this month. IndexGPT will tap "cloud computing software using artificial intelligence" for "analyzing and selecting securities tailored to customer needs".
THE FINANCIAL BRAND
JPMorgan Chase defended its ongoing effort to open more branches while weeding out weaker ones by saying it is paying off and then backing that up with data at its annual investor day. Executives say the branches are fueling deposit growth and cross-selling, with the benefits evident in both retail and small business customer relationships. Mike Mayo, a managing director at Wells Fargo Securities, scolded executives for their "love affair with branches".