10-Q
Weekly 10-Q: Wells Fargo under criminal probe for sham job interviews, and PayPal now supports crypto transfers
Wells Fargo has suspended a hiring policy that required managers to interview diverse candidates for jobs after reports of "fake interviews" at the firm.
Also, with a conditional license now converted into a virtual currency BitLicense, PayPal now supports crypto transfers.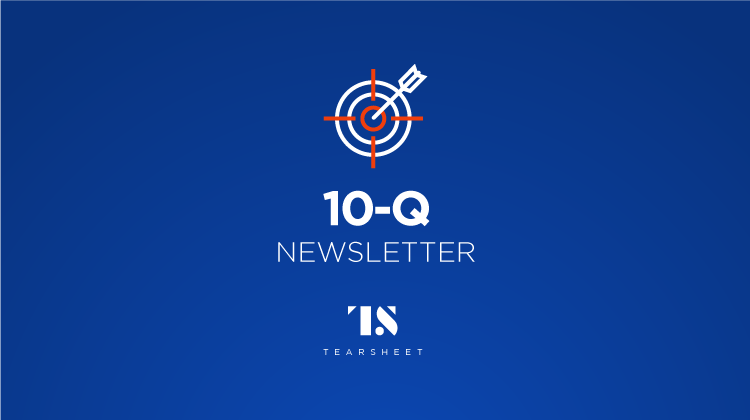 10-Q provides weekly insight into the moves of top financial and fintech stocks over the past week. A new issue lands in your inbox every Friday. Stay ahead. Subscribe here.
Last week we covered: the Affirm-Stripe partnership
---
A criminal investigation led by Federal prosecutors has opened into Wells Fargo's sham diversity hiring practices
Wells Fargo has suspended a hiring policy that had been in place for years that required managers to interview diverse candidates before offering someone a job. The halt comes three weeks after whistleblower, Joe Bruno, a former Wells Fargo employee, and others reported that they were pushed to conduct "fake interviews" with women, nonwhite, or otherwise disadvantaged while the bank had no intention of actually hiring the person.
According to the bank's CEO Charles Scharf, pausing the "diverse slate" policy will allow the bank to gain confidence that "the guidelines live up to their promise," and that "hiring managers, senior leaders, and recruiters fully understand how the guidelines should work."
Federal prosecutors in New York have opened a criminal investigation and are in the process of figuring out whether Wells Fargo violated federal laws by conducting sham interviews for jobs that had already been promised to others, in its quest to increase diversity.
Top stories of the week
AMEX
How AmEx is tackling bank fraud
American Express is investing in new AI techniques to protect against credit card fraud on banking products that it debuted last year. The fraud models are designed to recognize odd behavior or suspicious patterns of activity that are not typical of a particular customer – and react automatically. (protocol)
CITI
Citigroup unveils recruiting plans for Asia institutional business in growth push
Citigroup plans to hire around 3,000 new staff for its Asia institutional business in the next few years, bringing its focus back to a fast-growing region. This comes after the bank had exited consumer banking in most Asian markets. (Reuters)
COINBASE
Coinbase's decision to withdraw job offers brings a rude shock
Coinbase will extend its hiring freeze and is under fire for retracting accepted job offers from some candidates who haven't started their roles yet, amid its move to slow hiring. The drastic response comes from market conditions and the firm's ongoing business prioritization efforts. (Finextra)
GOLDMAN SACHS
Apple launches its own BNPL, with more financial services in the future
Apple is moving into the BNPL space with its 'Apple Pay Later', which will allow users to pay for things over four equal installments, paid monthly without interest. To run the in-house lending and credit checks for the service, Apple plans to work with Goldman Sachs through a new internal subsidiary. (CNBC)
HSBC
HSBC to run fintech education course for its employees
HSBC is to put thousands of its employees through a bespoke training course in the latest fintech developments via a partnership with the University of Oxford's Said Business School. The bank wants to keep up with the pace of innovation in fintech, which includes cryptocurrency and blockchain. (Finextra)
JPMORGAN CHASE
Who got crowned for the best mobile banking app?
In recent research, JPMorgan Chase won best banking app. Citi was a close second, followed by Capital One and Bank of America. Minna Technologies, a Sweden-based fintech, evaluated the mobile banking apps of 24 big banks and fintechs – and concluded that the provider with the most features -- Chase -- has the best mobile banking app. (Forbes)
MARQETA
Western Union leverages Marqeta's open API card issuing platform
The global card issuing platform Marqeta has partnered with Western Union to integrate its solution into Western Union's next-generation real-time multi-currency digital wallet and digital banking platform in Europe. Western Union will leverage Marqeta's platform to offer remittance service online, with funds paid out to a physical or virtual Visa card. (Finovate)
MASTERCARD
Mastercard brings out the open banking feature 'Pay By Link'
Mastercard debuted its Pay by Link payments feature at Money 20/20 Europe which enables businesses to send their customers a link so they can pay instantly and easily from anywhere. The feature is being rolled out in the Nordics and is expected to be available across Europe by the end of the year. (PYMNTS)
PAYPAL
PayPal now supports crypto transfers
PayPal, which has offered crypto trading options since 2020 with a conditional license, has now converted it to a virtual currency BitLicense. Under this license, the company will allow users to transfer cryptocurrencies, including Bitcoin, to external wallets and exchanges. The feature will be made available to select U.S. users starting from Tuesday and will be rolled out to all eligible U.S. customers in the coming weeks. (CoinDesk)
PAYONEER
Shoplazza integrates Payoneer Checkout
Shopping cart SaaS platform Shoplazza now offers its customers the option to pay by embedding Payoneer Checkout into their checkout page. This helps merchants start accepting payments from customers worldwide. Payoneer will play the role in providing settlement of a variety of currencies. (PYMNTS)
Q2
Q2 Holdings is no longer pursuing a sale
Q2 has put its sale on hold after obtaining takeover offers that were below expectations. The firm was weighing its options after private equity firms were eyeing to acquire it earlier this year – however, the decision is shelved for now. (Seeking Alpha)
SEC
US SEC chief proposes plan to revamp Wall Street stock trading
SEC Chief Gary Gensler has directed the agency's staff to weigh changes in an effort to make the equities market more transparent and fair for retail investors. His plans could directly impact how retail brokerages including Citadel Securities, Charles Schwab, and Robinhood process retail trade orders via pay per order flow. (Financial Times)
SQUARE
Square is making it easy to pay with an iPhone
Payments platform Square has allowed its merchants to accept payments on its app through 'Tap to Pay' on a compatible iPhone – the feature will let sellers with the Square app accept payment via Apple Pay, contactless credit and debit cards, and other digital wallets. (PC Mag)
Tweets of the week
1.
Source: Sherrod Brown
2.
Source: Richard Turrin
Charts of the week
1. Apple will handle lending itself with the new 'Apple Pay Later' service
Source: Bloomberg
2. Goldman Sachs' trading division clocked more than $100 million in revenue on 32 separate days in Q1
What's trending
Affirm-Stripe and Marqeta-Klarna beef up competition in the BNPL space with their significant deals (TechCrunch)
Wells Fargo poaches JPMorgan Chase's retail communications chief (Banking Dive)
JPMorgan and OmniLatam partner for lending solutions in LATAM (Yahoo)
MoneyGram moves into Saudi Arabia via Mobily Pay mobile wallet users (PYMNTS)
Banks like Goldman Sachs are continuing to lose skilled staff to fintechs (Bloomberg)
JP Morgan leads $100 million investment in API firm Codat (Finextra)
Stay ahead of the game with Outlier -- Tearsheet's exclusive members-only content program and join the leading financial services and fintech innovators reading us every day.