10-Q
,
Member Exclusive
Things heat up as new details surface in JPMorgan and Epstein lawsuit
Can big banks be sued for knowingly benefiting from late financier Epstein's sex trafficking?
In addition to the consolidation of lawsuits, Coinbase's expansion into Brazil is starting to pay off, which drove its stock higher the previous week.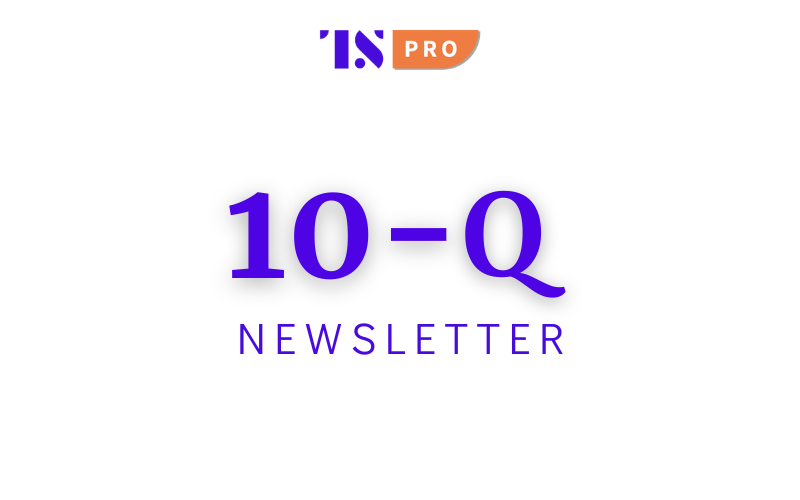 ---
Welcome to the 10-Q newsletter
The 10-Q newsletter is part of the Tearsheet Pro subscription.
10-Q provides insight and market analysis into the moves of top banking and fintech stocks over the past week. In your inbox every Friday.
---
Weekly 10-Q
In today's edition:
Last week we covered:
Things heat up as new details surface in JPMorgan and Epstein lawsuit
---
Things heat up as new details surface in JPMorgan and Epstein lawsuit
What's in store for the lawsuit that sues the US bank for allegedly enabling Epstein's crimes?
by SARA KHAIRI
Can big banks be sued for knowingly benefiting from financier Epstein's sex trafficking?
A federal judge says, yes.
Late in March, US District Judge Jed Rakoff in Manhattan ruled that JPMorgan Chase and Deutsche Bank, which were associated with late financier Jeffrey Epstein, will face a trio of lawsuits. The lawsuits claimed that both banks were aware of Epstein's criminal activities involving the sexual exploitation of underage girls and facilitated him financially to continue his crimes.
Epstein had been a client of JPMorgan from 2000 to 2013, and Deutsche Bank from 2013 to 2018.
The plaintiffs argued that the banks should stand trial for being negligent and keeping Epstein as a client while buttoning up on enforcement of federal anti-trafficking law. Epstein was an important client, and the banks made countless wire transfers to victims in a move to hush them.
Two of the suits were filed late last year by anonymous victims on behalf of "all others similarly situated". The third suit was filed by the government of the US Virgin Islands against JP Morgan Chase at the same time.
"This case is critically important to ensuring that financial institutions do their jobs, with the detailed, real-time information available to them, as a first line of defense in identifying and reporting potential human trafficking, as the law expects," US Virgin Islands Acting Attorney General Carol Thomas-Jacobs said.
She further continued, "We look forward to uncovering additional facts regarding the depth and reach of JPMorgan's conduct in the discovery process and ultimately proving our case in court."
Both banks maintain the stance that they had no legal obligation to protect women from Epstein and declared untrue accusations of knowing about his crimes while he was still their client.
Judge Rakoff ruled that both banks must face proposed class actions by victims and the US Virgin Islands, by scheduling a trial for 23 October. He further allowed the filings to proceed to examine other legal criteria, whether the banks intentionally profited by cashing on a sex-trafficking venture and violated the Trafficking Victims Protection Act.
Brad Edwards, a lawyer representing the women, has asked JPMorgan Chief Jamie Dimon to submit to questioning.
On the other hand, JPMorgan turned on its former chairman of the investment banking unit, Jes Staley, and sued him by having him cover its losses in both lawsuits and return eight years of compensation, in connection to having ties and concealing the information about Epstein at the time.
Staley expressed regret for his friendly relationship with Epstein and denied knowing about his alleged crimes. However, he has to face trial alongside his former employer JPMorgan Chase in October, the judge has ruled.
More new details have surfaced according to a new court filing on Wednesday.
JPMorgan's asset and wealth management CEO Mary Erdoes admitted that the bank was aware by "2006 that Epstein was accused of paying cash to have underage girls and young women brought to his home."
Despite raising concerns, red flags, and the withdrawals garnering the attention of bank compliance staff in 2006, the bank continued to serve Epstein for another seven years. It dropped Epstein as a client in 2013 after Erdoes learned that his large amounts of cash withdrawals were for his shady business.
---
Market recap
Fintech stocks wavered on Wall Street in the past week
Coinbase - up 12% to $68.95 per share
In addition to the consolidation of lawsuits, Coinbase's expansion into Brazil is starting to pay off, which drove its stock higher.
Upstart - down 7% to $15.77 per share
As the economy continues to falter and fewer loans are being generated due to interest rate hikes, revenue has been declining for Upstart -- from net profits to net losses.
Editor's picks
---
Tweet of the week
---
Just look at the charts
---
This week's reads
PYMNTS
The platforms held sway this past week — where volatility reigned on Wall Street. And within the fintech IPO Stock Index, gainers and losers were in roughly equal measure, with double-digit movements to the upside and downside -- and the result was that through the past five sessions -- the Index was up 2.1%.
PYMNTS
Coupa and Goldman Sachs Transaction Banking (TxB) have partnered to streamline B2B payments. With Coupa's business spend management platform and Goldman Sachs TxB's cloud-based banking services, the global collaboration will simplify domestic, cross-border, and foreign exchange (FX) payments to 167 countries and 124 currencies.
BLOOMBERG
In a court filing in Delaware, where JPMorgan is suing Javice, 31, for fraud, the bank asked a judge for permission to question her under oath and seek evidence about the transfers to Chariot Holdings X LLC. She allegedly set up the Nevada company in September.
FINEXTRA
Affirm is expanding its relationship with Stripe, to Canada. Affirm's Adaptive Checkout is now available to all eligible Canadian Stripe users, allowing merchants and platforms to add this pay-over-time option to their checkout experience in minutes.
FT
Google is cracking down on predatory loan apps by cutting off their access to "sensitive" data including debtors' contacts, photos, and location, after growing criticism that unscrupulous lenders are tapping the contents of borrowers' smartphones for harassment and blackmail.