10-Q
,
Member Exclusive
The debt ceiling deal may have saved the US from defaulting on its debt, but where does this leave the stock market?
The passing of the bill may have saved the immediate trouble of defaulting but it could be months before investors and the stock market regain their stability.
SoFi stock rose nearly 31% in the past week because of the new debt ceiling deal.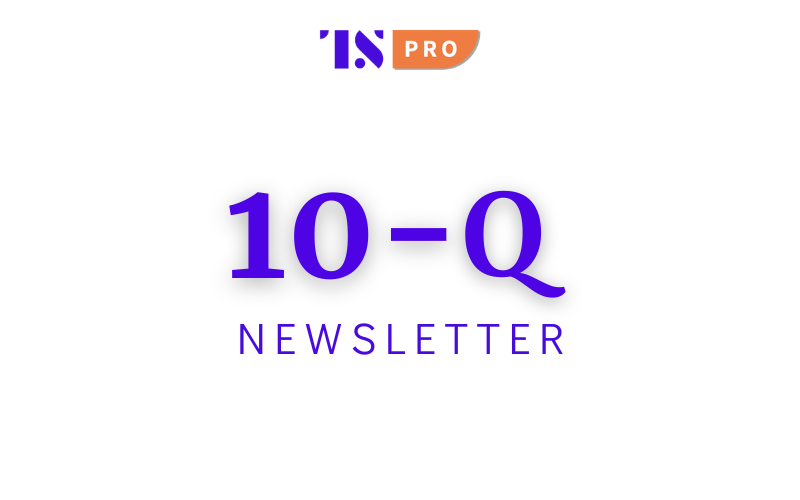 ---
Welcome to the 10-Q newsletter
The 10-Q newsletter is part of the Tearsheet Pro subscription.
10-Q provides insight and market analysis into the moves of top banking and fintech stocks over the past week. In your inbox every Friday.
---
Weekly 10-Q
In today's edition:
Last week we covered:
The debt ceiling deal may have saved the US from defaulting on its debt, but where does this leave the stock market?
---
The debt ceiling deal may have saved the US from defaulting on its debt, but it has likely left the stock market hanging in the air
Does raising the debt limit signify that the economy is on the mend?
by SARA KHAIRI
5 June was the eventual date, Jane Yellen, Secretary of Treasury said that the US could start to run out of money if lawmakers fail to raise the 'debt ceiling'.
On breaching the debt ceiling
The debt ceiling or debt limit sets the maximum amount of outstanding federal debt the U.S. government can incur. This limit needs to be authorized by Congress. In the event of Congress disapproving to increase the debt cap, the US can default on its debt. In that case, the government would have exhausted its cash balance unable to meet its existing legal obligations like Social Security and Medicare benefits, military salaries, interest on the national debt, tax refunds, and other payments.
Additionally, the economy would also succumb to financial chaos leading to a code-red situation -- with serious impacts and repercussions on global markets and economies. Spiking interest rates and plunging equity prices would be ignited translating into stock prices falling by almost a fifth and the economy contracting by more than 4% -- indicating nearly 2 million lost jobs, and an increase in the unemployment rate to nearly 5% from its current level of 3.5%. Even a short debt limit breach could lead to lastingly higher interest costs, according to Moody's Analytics.
Currently, the cap stands at around $31.4 trillion. This limit lasted until January 19, 2023, but the Treasury Department claimed to deploy other extraordinary measures -- including selling existing investments and suspending reinvestments and health benefits funds for retired government officers -- to provide the government with more cash while it fathomed out ways to deal with this alarming situation.
Fret not! The Senate just passed the debt ceiling bill
Congress has been raising the debt cap in previous years whenever it was required, however, this time experts were of the opinion that the agreement wouldn't come to fruition without an impediment. That would be primarily because President Joe Biden and Republican House Speaker Kevin McCarthy couldn't seem to see eye to eye on certain terms of personal interests.
The Treasury Department yet again indicated that their measures will soon run out — and put the U.S. at risk of being unable to pay all of its bills — possibly as early as June. Due to mounting pressure and repeated warnings from Treasury Secretary Yellen citing that they couldn't hold the fort any longer, President Biden and House Speaker McCarthy last Saturday reached an agreement to lift the debt limit until January 2025 -- including cutting and capping some government spending during that time.
"I am pleased that, under President Biden's leadership, Congress has passed bipartisan legislation to suspend the debt limit and prevent a first-ever default by the United States," said Yellen.
She further added, "Congress has a duty to ensure that the United States can pay its bills on time, and I continue to strongly believe that the full faith and credit of the United States must never be used as a bargaining chip."
Although both parties haven't fully accomplished what they aimed for, averting a historic default seems to have taken precedence over individual interests. The debt-ceiling deal negotiated by President Biden and Speaker, McCarthy, will also resume student-loan payments on 30 August, after a hiatus of more than three years.
The House of Representatives passed the bill on Wednesday through voting. Following a vote on Thursday evening, the Senate also approved the bill suspending the country's debt limit through January 1, 2025. The next step calls for President Biden to sign the bill into law without delay to prevent the nation's default on its debt.
But don't expect the stock market to rejoice…
The passing of the bill may have saved the immediate trouble of defaulting but it could be months before investors and the stock market regain their stability. The U.S. stocks ended lower on Wednesday ahead of a House vote on the federal debt-ceiling deal.
"One of the concerns I have is that even in the run-up to an agreement when one does occur, there can be substantial financial market distress," Yellen said in the week prior. "We're seeing just the beginnings of it," she added, in light of the stock and bond market volatility in recent days.
Once the bill is signed into law, the Treasury will immediately have to make up for the cash in the federal government's operating account. Pretty quick. Analysts at Morgan Stanley expect $730 billion in new Treasury bills issuance over the next three months. Treasury will likely have to continue to pay high-interest rates on its debt to get cash. This might squeeze some liquidity and appeal from the stock market -- as many investors may find the returns from investing in US Treasuries more lucrative than stocks.
In view of continuing inflation, the Fed signaled to skip rate hikes in June, which may act as a ray of sunshine amid dark clouds for the stock market. But this is most likely for only a month, as the Fed indicates that hikes could resume later this year.
Having said that, getting the debt limit raised at the eleventh hour doesn't seem to imply that financial markets and the economy are over the hump. Investors should gear up to face what lies ahead; continuing market volatility for the next few weeks -- or maybe months.
---
Market recap
The fintech IPO Index saw huge gains last week
SoFi (SOFI) - up 31% to $6.82 per share
SoFi stock rose last week because of the new debt ceiling deal.
As student loan repayments will resume after a more than three-year moratorium, the company could benefit from borrowers who need to refinance.
Upstart (UPST) - up 25% to $29.75 per share
Upstart stock ended Thursday's session nearly 9.2% higher as traders and investors expect the Fed to go easy at the rate-setting Federal Open Market Committee meeting lined up on June 13-14.
Federal Reserve officials hinted toward skipping a rate hike in June, as the U.S. central bank takes into consideration a disappointing inflation report of last week.
Editor's picks
---
Tweet of the week
---
Just look at the charts
---
This week's reads
PYMNTS
The fintech IPO Index's 3.4% gains were outpaced last week by outsized momentum in names like SoFi, while earnings reports in other holdings continued to impact trading.
FINEXTRA
JPMorgan has unveiled its Payments Partner Network, a B2B digital marketplace, powered by Salesforce, that allows the bank's merchants and corporate treasury clients to tap into an ecosystem of third-party integrations for their end-to-end payments and working capital needs. The searchable 'one-stop shop' will help clients to discover, search and learn about a range of relevant third-party partners that are integrated with the JP Morgan Payments platform.
BLOOMBERG
Capital One agreed to buy the digital concierge service Velocity Black as it pushes deeper into premium credit cards and other luxury markets dominated by American Express and JPMorgan Chase. The deal gives Capital One a global platform focused on luxury travel, entertainment, shopping, and dining. Terms weren't disclosed, though Velocity Black says on its website it's backed by $28 million in venture capital.
REUTERS
JPMorgan Chase will shut 21 branches of First Republic Bank by the end of the year as it integrates the failed lender into its operations. The locations account for about a quarter of First Republic's 84 branches across eight states. "These locations have relatively low transaction volumes and are generally within a short drive from another First Republic office," a spokesperson said.
About 100 employees who are affected by the branch closures will be offered six-month transition assignments. After that, they will be eligible to apply for other roles at JPMorgan, which currently has 13,000 vacancies.