10-Q
,
Member Exclusive
Surging profits: A closer look at JPMorgan Chase and Wells Fargo's performances in Q2 2023
How did JPMorgan Chase and Wells Fargo perform during the quarter that ended 30 June 2023?
Stocks staged a big rally last week with Coinbase and Upstart shares soaring by as much as 37% and 29%, respectively.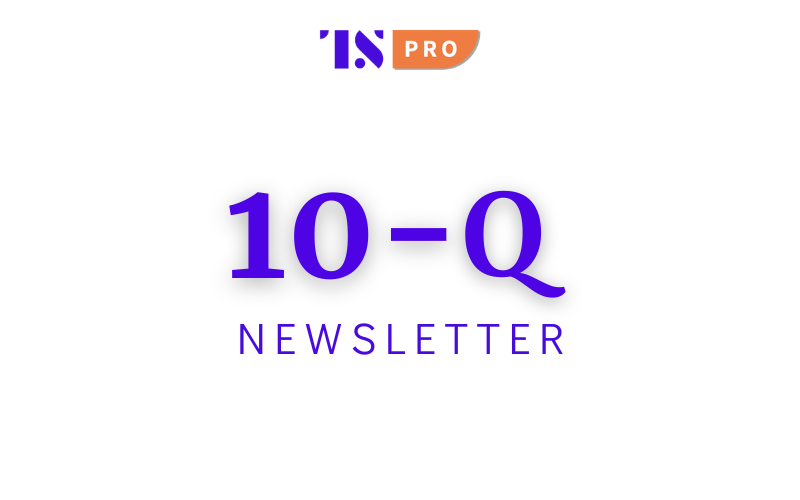 ---
Welcome to the 10-Q newsletter
The 10-Q newsletter is part of the Tearsheet Pro subscription.
10-Q provides insight and market analysis into the moves of top banking and fintech stocks over the past week. In your inbox every Friday.
---
Weekly 10-Q
In today's edition:
Last week we covered:
Surging profits: A closer look at JPMorgan Chase and Wells Fargo's performances in Q2 2023
---
A closer look at JPMorgan Chase and Wells Fargo's performances in Q2 2023
The second quarter earnings season has kicked off and results for two of the Wall Street banks are in.
by SARA KHAIRI
JPMORGAN CHASE
JPMorgan released its financial results for the second quarter of 2023 ending June 30. The bank reported:
Second-quarter revenue rose 34% to $41.31 billion from $30.72 billion in Q2'22.
Net income jumped 67% to $14.4 billion from $8.6 billion or $4.75 a share from $2.76 a share in Q2'22.
The provision for credit losses was $2.9 billion. Excluding First Republic, the provision was $1.7 billion, reflecting net chargeoffs of $1.2 billion.
JPMorgan beat analysts' expectations and reported a jump in second-quarter profits tied to persistent higher interest rates coupled with the acquisition of First Republic. While the acquisition is expected to add more than $500 million a year to JPMorgan's net income, it also added to JPMorgan's credit costs in the quarter. The bank added reserves of $1.5 billion in case of bad loans. The acquisition would also cost JPMorgan $2 billion in related restructuring costs spread across 2023 and 2024.
"Almost all of our lines of business saw continued growth in the quarter. In Consumer & Community Banking, new checking account production was very strong, while card loans were up 18%. In the Corporate & Investment Bank, Investment Banking fees remained challenged, although we gained market share YTD. In Commercial Banking, Payments revenue remained very strong and grew 79%. Finally, Asset & Wealth Management had record long-term inflows of $61 billion, with inflows across channels, regions, and asset classes," said Jamie Dimon, CEO of JPMorgan Chase.
Shares of JPMorgan jumped 3.2% to $45.10 in pre-market trading on Friday following the release of Q2'23 results.
WELLS FARGO
Wells Fargo reported second-quarter earnings:
Total revenue increased 21% to $20.5 billion from $17 billion at the same time last year.
Net income surged 57% to $4.9 billion from $3.1 billion in Q2'22 or Earnings Per Share of $1.25.
The provision for credit losses was $1.71 billion, significantly higher than the $580 million set aside during the same period last year.
Wells Fargo's profit growth can be attributed to the higher interest payments earned from customers. The bank's net interest income climbed by 29% to $13.16 billion, as banks raised their rates in response to a series of rate hikes by the Federal Reserve. The earnings in the consumer and small business banking division also increased reaching $6.6 billion, a 19% rise compared to the previous year. This growth was also driven by higher interest rates. The significant increase in provision for credit losses was due to commercial real estate office loans and higher credit card loan balances.
"Our strong net interest income continued to benefit from higher interest rates, and we remained focused on controlling expenses. As expected, net loan charge-offs increased from the first quarter. Consumer charge-offs continued to deteriorate modestly. Commercial charge-offs increased driven by a small number of borrowers in Commercial Banking, with little signs of systemic weakness across the portfolio, and higher losses in commercial real estate, primarily in the office portfolio," said Charlie Scharf, CEO of Wells Fargo.
Shares of Wells Fargo increased 3.8% to $45.33 in the premarket session on Friday on the heels of the earnings result.
---
Market recap
Stocks staged a big rally last week
Coinbase (COIN) - up 37% to $107 per share
Shares of Coinbase jumped on the heels of the landmark legal victory in a lawsuit involving blockchain company Ripple Labs.
A U.S. District Judge ruled on Thursday that Ripple Labs did not violate federal securities law by selling its XRP token on public exchanges, a decision that sent the value of the token soaring by as much as 74%.
This is good news for the crypto industry and Coinbase because the SEC recently sued the exchange for operating an unregistered exchange, broker, and clearing agency, and for selling digital assets that the SEC believes are securities.
Upstart (UPST) - up 29% to $47.40 per share
A decline in inflation coupled with the Fed pause in rate hike for June has benefited lenders.
Arbor Financial Credit Union serving Michigan announced last week that it partnered with Upstart to provide personal loans to more members. Personal loan applicants on Upstart.com who meet Arbor's credit policies will receive customized offers.
---
Editor's picks
---
Tweet of the week
---
Just look at the charts
---
This week's reads
FINEXTRA
The CFPB ordered Bank of America to pay more than $100 million to customers for systematically double-dipping on fees imposed on customers with insufficient funds in their accounts, withholding reward bonuses explicitly promised to credit card customers and misappropriating sensitive personal information to open accounts without customer knowledge or authorization.
TECHCRUNCH
Coinbase Wallet, one of the biggest self-custody crypto wallets globally, is launching a direct messaging feature so users can interact with one another through its platform. Wallet holders can send messages to and from Ethereum accounts including ones with CB.IDs, ENS domains, or Lens profiles. This means people can send funds across borders through one application, as opposed to wiring funds from one bank to another, waiting days for the funds to go through, said Siddharth Coelho-Prabhu, director of product management at Coinbase.
COINDESK
The SEC sued Coinbase in early June alleging that the cryptocurrency trading platform was simultaneously operating as a broker, an exchange, and a clearinghouse for unregistered securities. Coinbase has been maintaining a legal effort to convince a court that there isn't enough regulatory clarity right now for crypto industry participants to know whether or not they're running afoul of federal securities laws. Coinbase argued that the SEC was violating its due process rights and that the allegations shouldn't even apply to its operations.
JD SUPRA
The group filed a brief to the Supreme Court in support of upholding a lower court's decision that the CFPB's funding structure is unconstitutional and that the agency's funding should be subject to congressional appropriation, the House Financial Services Committee said in a press release. The brief said that the CFPB is insulated from Congress by its funding structure and operates as "a sort of junior-varsity Congress" setting its own funding levels.