10-Q
,
Member Exclusive
Fiserv Q2 2023 results: Not all sunshine but Clover outshines
Fiserv's overall revenue in Q2 was mainly driven by the its PoS system unit, Clover, which saw a 15% quarterly and 23% YoY growth in revenue.
Shares of LendingTree fell like a stone as the firm posted gloomy results for its Q2 earnings, missing top-line estimates and cutting its full-year revenue guidance. And shares of LendingClub also dipped after it posted disappointing guidance in its Q2 earnings report.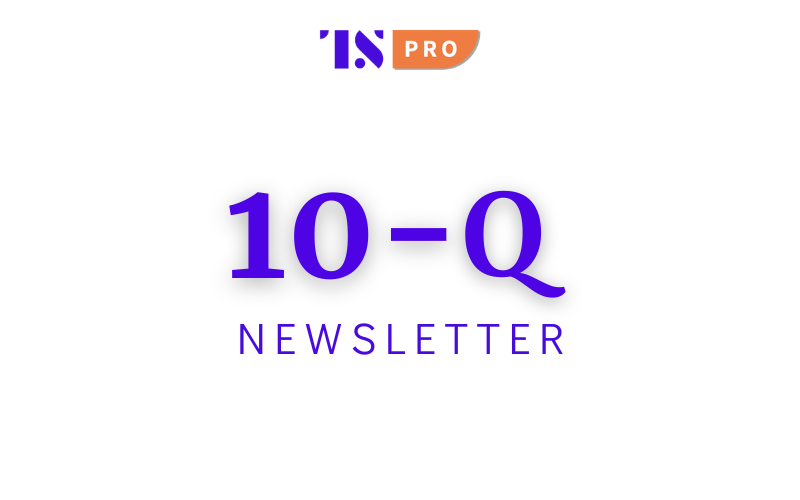 ---
Welcome to the 10-Q newsletter
The 10-Q newsletter is part of the Tearsheet Pro subscription.
10-Q provides insight and market analysis into the moves of top banking and fintech stocks over the past week. In your inbox every Friday.
---
Weekly 10-Q
In today's edition:
Last week we covered:
Fiserv Q2 2023 results: Not all sunshine but Clover outshines
---
Fiserv Q2 2023 results: Not all sunshine but Clover outshines
Overall revenue was mainly driven by the firm's PoS system unit, Clover, which saw a 15% quarterly and 23% YoY growth in revenue.
by SARA KHAIRI
Source: FXC Intelligence
For the second quarter ending June 30, 2023, Fiserv reported:
Net income jumped 14.12% at $683 million in Q2'23 compared to Q2'22
Revenue increased 7% to $4.76 billion compared to the same period last year
Adjusted operating margin increased 300 basis points to 36.5% in Q2'23
Adjusted earnings per share increased 16% to $1.81 in Q2'23
Organic revenue growth was 10% in Q2'23, driven by 14% growth in the Acceptance segment and 9% growth in the Payments segment, partially offset by a 1% decline in the Fintech segment.
Overall gains were mainly fueled by the firm's merchant acceptance segment, which includes its Clover point-of-sale system unit and its Carat commerce unit.
Merchant Acceptance
Source: Fiserv
The merchant acceptance segment provides commerce-enabling solutions and serves merchants of all sizes globally. Revenue from merchant acceptance came in at $2.07 billion, 8.9% higher than the year-ago figure.
Fiserv noted its Clover unit experienced a 15% increase in revenue growth in the quarter and 23% YoY and annualized GPV came in at $267 billion. The growth in Clover's revenue was driven by the increased demand for PoS systems among small businesses along with the platform's payment-processing and software capabilities. Carat, the operating system that delivers both payments and experiences for large enterprises saw its revenue increase by 6%.
"Clover now accounts for approximately 25% of our Merchant revenue and remains on track to reach 35% by 2025, in line with our targets for $10 billion in total Merchant revenue and $3.5 billion in Clover revenue by 2025," said Frank Bisignano, chairman, president, and CEO of Fiserv.
While overall merchant volumes and transactions have continued to grow, the rate of growth has declined compared to previous quarters.
Payments
Source: Fiserv
The payments and network segment includes the provision of services to FIs and corporate clients with products and services required to process digital payment transactions. The payments segment reported revenue of $1.65 billion, reflecting growth of 8.6%.
Mobile payment service Zelle, which is fully integrated with Fiserv's platform, saw continued growth in both the number of clients and transaction growth. The volume of Zelle peer-to-peer payments increased by 44% in the quarter and the number of clients using Zelle grew by 29%. Other growth drivers in the segment also include active accounts on file in the North American credit processing business and debit networks.
Fintech
Source: Fiserv
Fiserv also works with Banking-as-a-Service providers for fintechs and embedded finance businesses, to enable fintechs to bring financial products and services to market faster. The fintech segment reported revenue of $784 million, indicating a 2.4% decline in the quarter.
This is the first time adjusted revenue fell In the fintech segment since the pandemic, which indicates the impact of the prolonged macroeconomic climate surrounding the fintech market.
"We delivered our ninth consecutive quarter of double-digit organic revenue growth, as we sustained our momentum in merchant acceptance and expanded our digital payments proposition for financial institutions," noted Bisignano.
In other highlights for the quarter, the company completed a public offering of 800 million Euros of 8-year senior notes with a coupon rate of 4.5%. In July, the company completed the sale of its financial reconciliation business for cash proceeds of approximately $230 million, subject to customary adjustments.
Furthermore, Fiserv is now live with the FedNow pilot program having 6 bank clients and more than 70 committed to going live by the end of this year. That said, the key to FedNow adoption is compelling use cases, which the company thinks will grow over time, most likely in commercial payments and bill pay spaces, according to Robert W. Hau, chief financial officer at Fiserv.
---
Market recap
The stock market experienced a weak week as most Q2 earnings missed estimates
LendingTree (TREE) - down 23% to $21.04 per share
Shares of LendingTree fell like a stone as the online loan marketplace posted gloomy results for its second-quarter earnings, missing top-line estimates and cutting its full-year revenue guidance.
Revenue in the quarter fell 30% to $182.5 million.
LendingClub (LC) - down 22% to $8.04 per share
Shares of LendingClub dipped after the peer-to-peer lending platform posted disappointing guidance in its second-quarter earnings report.
Revenue fell 29.6% to $232.5 million, but it surpassed the consensus at $227.4 million.
---
Editor's picks
---
Tweet of the week
---
Just look at the charts
---
This week's reads
TEARSHEET
Jamie Dimon isn't all talk and no action when it comes to him being at odds with the remote working culture in the banking industry. Dimon's fresh words and a recap of his persistent aversion to the WFH ideation reflect that the era of hybrid work is finally over for executives at the Wall Street bank.
PYMNTS
LendingClub reported Q2'23 results that showed flat net interest income, but pressure on loan origination volumes. The earnings release also showed that loan originations in the most recent quarter were $2 billion, down 13% from the first quarter and down 47% from a year ago. In looking ahead, the company will be testing and launching an integrated mobile app that combines lending, spending, and savings activity into "a single experience."
PYMNTS
New payment flows and Click to Pay transactions surged 70% YoY for Mastercard in the second quarter of 2023 as the technology now has gone live across 30 markets. Earnings materials from the company detail that global gross dollar volumes swelled by 12% to $2.3 trillion. In the US, credit spending volumes were up 8% to $373 billion, debit spending was up 2.7% to $345 billion.
FORBES
On July 26th, 2023 the SEC voted 3-2 to adopt new rules on cybersecurity disclosures. The rules are designed to help investors make informed investment decisions by providing them with more information about the cybersecurity risks facing public companies. The rules also aim to encourage public companies to take steps to improve their cybersecurity posture. The new rules will go into effect on December 1, 2023.