10-Q
,
Member Exclusive
Are AI-powered loans the saving grace for Upstart?
Upstart reported its Q4'22 results – and even though they didn't look pretty, the market remains bullish on the company.
AI-powered loans could be a golden ticket for the firm, as AI services are in demand and considered an integral part of the lending industry's foreseeable future.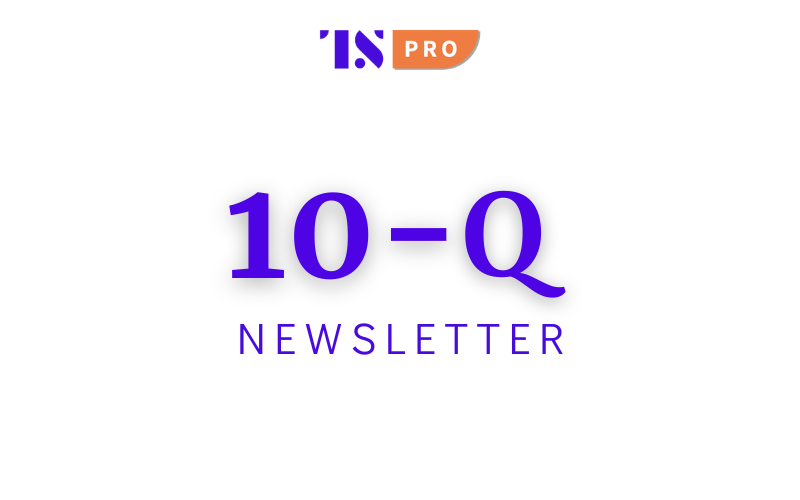 ---
Welcome to the 10-Q newsletter
The 10-Q newsletter is now part of your Tearsheet Pro subscription.
10-Q provides insight and market analysis into the moves of top banking and fintech stocks over the past week. In your inbox every Friday.
We're excited to bring you the brand new look of the weekly 10-Q newsletter.
Happy reading!
---
Weekly 10-Q
In today's edition:
Last week we covered:
Are AI-powered loans the saving grace for Upstart?
---
Are AI-powered loans the saving grace for Upstart?
The firm has had a rough year, laying off staff and holding back on new products.
by SARA KHAIRI
Upstart Holdings, an AI-powered credit decisioning platform, reported its Q4'22 results on Tuesday – and even though they didn't look pretty, the market remains bullish on the company.
Upstart's Q4 revenues halved compared to last year, leading the company to report a loss of $0.67 per share, which beat analyst expectations.
Total revenue came in at $147 million, a decrease of 52% from Q4'21. Total fee revenue was $156 million, a decrease of 46% YoY.
Operating loss of $58.5 million, compared to an operating income of $60.4 million a year ago.
Adjusted EBITDA was $16.6 million, down from $91.0 million in Q4'21.
Transaction volume was $1.5 billion in Q4'22 generated by 154,478 loans, down 62% from the same quarter of the previous year.
Contribution profit for Q4 was $82 million, down by 45% YoY, although up by 12% for the entire year.
"Personal Loans declined by 34K (186K to 152K). This decline was less dramatic than the 3Q to 2Q decline of 125K (from 311K to 186K), and the 2Q to 1Q decline of 143K (from 454K to 311K). We note, however, that the Y/Y decline steepened from 174K in 3Q to 341K in 4Q," said Dan Dolev, senior analyst at Mizuho.
So, what happened?
Upstart has had a tough quarter, and despite beating analysts' expectations, its earnings showed a significant downturn across the board. 
Growing inflation and higher interest rates created unfavorable conditions for the company, akin to the ongoing challenges at other fintech lenders.
"(Last year) was a challenging year for Upstart, and we're not happy with the results we're sharing today. In many ways, last year was the perfect storm for our business model," Upstart co-founder and CEO Dave Girouard said in the conference call.
Upstart also faced blowback from investors' credit quality concerns on its personal loans as interest rates were on the rise. In July 2022, the company revealed that it was noticing declining loan demands, amidst recession fears -- coercing the marketplace to become "funding constrained."
In an SEC filing on 31 January 2023, Upstart disclosed its plans to lay off 365 employees or 20% of its workforce owing to the flat demand for lending. The decision came amidst its attempts to secure enough funding from banks and other loan purchasers.
"The issues we've had to date are almost entirely related to the funding side. Some of it is macroeconomic, and some of it, frankly, is on us and things we need to fix," said Girouard.
The move was coupled with its strategic approach of halting the development of its small-business loan product till macroeconomic conditions shape up.
"Having secured funding, committed funding over longer periods to us is fundamental," added Girouard.
On the bright side, Upstart rejoiced as its share price jumped 28% in a single day on Wednesday, shortly after the firm's announcement of its quarterly results a day before.
AI-powered loans could be a golden ticket, as AI services are in demand and considered an integral part of the lending industry's foreseeable future. AI stocks have gained considerable momentum amid this hope over the past month, fueled by the popularity of OpenAI's ChatGPT.
The company has also continued to increase its total dealerships with 778 reported in Q4, up 90% YoY. Its AI-powered loans for the auto industry have proven popular, with approximately one in four of its Upstart-powered loans being fully automated.
Additionally, the firm's growing retail footprint in the auto loan market has positively impacted the top-line growth.
The Upstart stock has now surged 75% from its lows, although it remains much lower than its highest levels from the past couple of years.
In some ways, the not-so-impressive results have created an opportunity to accentuate the business' backbone, according to CEO Girouard.
While "(the results) laid bare some parts of the business that needed to improve", he further brought to light that the creation of a new tool for real-time insights into Americans' financial health is on the cards for the company.
---
Market recap
Fintech stocks saw a surge over the past week as the crypto winter shows signs of deceleration
Fintech stocks with stakes in the crypto market, like Coinbase and Block, seem to have found a way to recover in the past week after being under pressure for more than a year, as the prices of key digital assets increase.
Coinbase - up 10% to $65.59 per share
Coinbase stock moved higher regaining lost ground, due to the improved performance of cryptocurrency markets and digital assets' prices that increased between 5% and 10%.
Bitcoin was up more than 8% over the last 48 hours after it crossed the $24,000 barrier and Dogecoin was rising by 6% at the time. This movement sparked more activity from exchange customers, and Coinbase's revenue is directly linked to trading activity levels.
Dave - down 10% to $8.46 per share
Inflation and the ongoing recession are playing a critical role in the sharply reduced availability of fresh venture capital for Dave.
Dave's customers are mostly people living paycheck-to-paycheck, and as prices hike, the greater the need for money to keep heads above water.
Barclays - down 8% to GBP 174.66 (or $208.93) per share
Barclays' stock plummeted after the lender reported earnings results for Q4'2022 on Wednesday. The bank missed forecasts for a key measure of profit and reported net income of £1.04 billion ($1.22 billion), down 4% from the prior-year quarter.
Additionally, the bank continues to deal with litigation and conduct charges related to an error earlier in 2022 when it sold more securities in the US than had been registered with the SEC.
FIS - down 6% to $69.16 per share
FIS' stock tanked after the company announced that it would spin off Worldpay — which it acquired for $43 billion in 2019. In order to steer clear of further losses, the company wants to turn Worldpay into a separate company owned by shareholders on a tax-free basis.
Moreover, the firm missed estimates for its 2023 guidance that was announced on Monday. The profit forecast for 2023 was between $5.70 and $6 per share, far behind analysts' expectations of $6.57 per share, according to Refinitiv IBES data.
---
Editor's picks
---
Tweet of the week
---
Just look at the charts
---
This week's reads
CNBC
Goldman Sachs has dropped plans to develop a Goldman-branded credit card for retail customers -- another casualty of the firm's strategic pivot.
FINEXTRA
The Securities and Exchange Commission has finalized rule changes to cut the settlement cycle to one business day in order to reduce risks in the clearance and settlement of securities.
CROWDFUND INSIDER
Banking and payments conglomerate Fidelity National Information Services is reportedly planning to break up its operations, which will involve undoing a $43 billion acquisition of Worldpay that it finalized a few years back.
PYMNTS
The federal government has reimbursed nearly 40,000 victims of fraud schemes processed by MoneyGram. The more than $115 million reimbursement stems from a 2018 action by the FTC and the Department of Justice against MoneyGram "for failing to crack down on scammers using their payment system."
FINEXTRA
Bank of America announced a record-breaking year for patents received in 2022 with 608 patents granted, a 19% increase year over year.