10-Q
,
Member Exclusive
An assortment of Q2 earnings: PayPal's growing concerns and SoFi's path to profitability
Narrowing operating margins add to PayPal's woes and SoFi embarks on the long path of profitability.
The stock market saw sharp movements last week as Q2 earnings continue to pour in.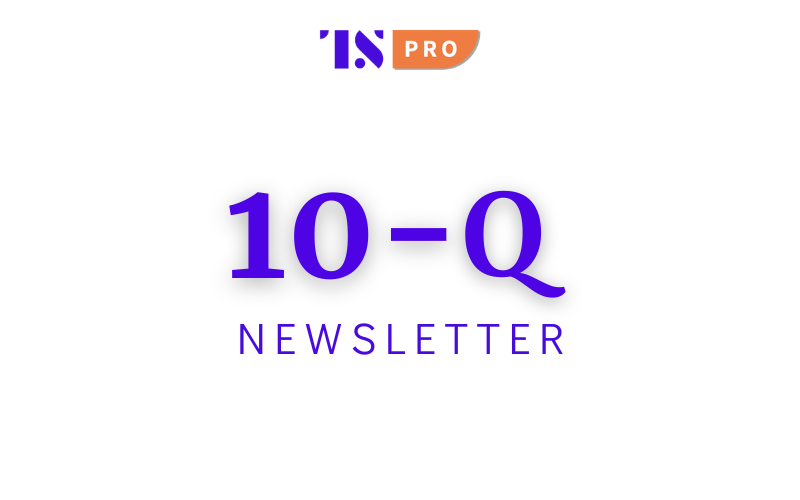 ---
Welcome to the 10-Q newsletter
The 10-Q newsletter is part of the Tearsheet Pro subscription.
10-Q provides insight and market analysis into the moves of top banking and fintech stocks over the past week. In your inbox every Friday.
---
Weekly 10-Q
In today's edition:
Last week we covered:
An assortment of Q2 earnings: PayPal's growing concerns and SoFi's path to profitability
---
---
An assortment of Q2 earnings: PayPal's growing concerns and SoFi's path to profitability
A detailed look at PayPal and SoFi's Q2 earnings and what's in store for the stocks.
by SARA KHAIRI
PayPal: Narrow operating margins add to the woes
Source: PayPal
For the second quarter ending June 30, 2023, PayPal reported:
Net income jumped to $1.02 billion in Q2'23 from $341 million in Q2'22
Net Revenue grew 7% YoY and came in at $7.3 billion for Q2'23, compared to $6.81 billion in the same period last year
Total payment volume (TPV) increased 11% and came in at $376.5 billion for the second quarter from $339.7 billion in the second quarter of last year
Adjusted earnings per share were $0.92, compared to $0.29 in Q2'22
The company continues to try and further expand its offerings to amp up profits. The firm launched Tap to Pay feature for merchants on Android through the Venmo and Zettle apps in the US. In the second quarter, PayPal also tapped into new customer segments like the younger cohort and introduced the Venmo Teen Account. New offerings as well as the firm's existing popular BNPL solutions likely contributed to its increased TPV.
"The primary reason for the double-digit percentage decline in PYPL shares post 1Q23 results was the -3% Y/Y decline in transaction gross profit dollars (i.e. transaction revenue less transaction costs). Sadly, this phenomenon worsened in 2Q to -7%. On a more positive note, TPV growth was strong, with Branded Checkout growth accelerating in June and July. This suggests that core PYPL is more stable," noted Dan Dolev, senior equity analyst at Mizuho.
PayPal also announced a multi-year partnership with KKR for European buy now, pay later receivables. The transaction is expected to close in the second half of 2023 -- on closing PayPal expects $1.8 billion in proceeds.
The payments firm is also close to deciding on a successor to CEO Dan Schulman, who said in February that he would retire by the end of this year.
Shares of PayPal fell nearly 7% post earnings results on Wednesday as investors were disappointed by the firm's quarterly operating margin.
Tearsheet Take:
It remains to be seen whether PayPal can adapt to changing market trends and continue to capitalize on the growing demand for digital payment options given new players like Apple are strengthening their foray into financial services. Although PayPal is still the most-used BNPL brand, Apple Pay Later is gaining market share rather quickly, snipping out a portion of PayPal customers -- a growing concern of investors.
SoFi: Some encouraging figures
Source: Business Wire
For the second quarter ending June 30, 2023, SoFi reported:
Total Net Revenue jumped 37% to $498 million in Q2'23 from $362.5 million in Q2'22
Adjusted EBITDA was $77 million, up 278% YoY
Total Deposit Growth saw a 26% increase during the second quarter at $2.7 billion
Net loss was $47.55 million compared to $95.84 million a year ago
The student loan opportunity is back in focus for SoFi after the end of the moratorium this fall, which fueled strong growth in loan originations leading to increased revenue. The firm also experienced increased YoY growth in its member base and product offerings during the quarter. New member additions exceeded the 584,000 mark, which brought the total number of members to over 6.2 million by the end of the quarter. Deposits also grew as a consequence of new member additions.
Shares of SoFi rallied by more than 19.9% and nearly 150% so far this year after the firm reported strong second-quarter results that surpassed analyst expectations.
Tearsheet Take:
While these numbers look impressive, there's still some perplexity surrounding the firm's future trajectory and long-term profitability, according to analysts. Profitability has been a persistent challenge facing SoFi for a few quarters. The SoFi bank has been offering APY of up to 4.40% as of July 31, 2023, with no account fees, as well as a bonus of up to $250 for customers qualifying for direct deposits. The fed funds rate touched 5.00% since the beginning of the second quarter and currently stands at the 5.25% to 5.50% range. While SoFi might be able to rope in customers by offering high-yield and fringe benefits, on the backend, these deposit relationships are costing the firm money and eating into its profit margin. While SoFi claims to embark on the path to profitability by the last quarter of 2023, the current window of opportunity might be ripe for the company to make a move and contemplate other factors that can kick in sustainable profits.
---
Market recap
The stock market saw sharp movements as Q2 earnings continue to pour in
FIS (FIS) - down 6% to $57.29 per share
Shares of FIS fell as the firm reported a loss of $6.6 billion in its second quarter.
On a per-share basis, the company saw a loss of $11.14. Earnings, adjusted for one-time gains and costs, were $1.55 per share.
Upstart (UPST) - up 16% to $68.21 per share
Shares of lending platform Upstart have soared this week likely fueled by the recent excitement surrounding AI.
The company is expected to release strong second-quarter financial results this week.
---
Editor's picks
---
Tweet of the week
---
Just look at the charts
1. PayPal sheds users amid tightening margins in Q2 2023
Source: FXC Intelligence
2. AI talent across banks is highly geographically distributed
Source: Evident
---
This week's reads
REUTERS
Jamie Dimon says bank regulators risk making mortgages and small-business loans less affordable with the capital raises proposed by the Federal Reserve and the FDIC. In an interview with CNBC, Dimon said regulators are drafting rules "without any forethought of the consequences and very little calibration," and that may have already slowed the U.S. economic growth.
DECRYPT
Block reported a gross profit of $1.87 billion in its second quarter 2023 results—a 27% YoY increase. And $2.4 billion of its total $5.5 billion Q2 net revenue came from bitcoin. If not for a dip in prices, the company said, the revenue could have contributed even more to its bottom line.
TECHCRUNCH
Coinbase reported its second-quarter earnings Thursday afternoon after the bell, beating market estimates. During Q2, the crypto exchange generated total revenues of $707.9 million, down from $772.5 in the previous quarter and $808.3 million in the year-ago quarter. It also had a $97 million net loss and generated a positive adjusted EBITDA of $194 million during the quarter. On the bright side, the company said, they started reducing their expense base to operate more efficiently in Q2'22. One year later, their quarterly recurring operating expenses dropped nearly 50% Y/Y.
REUTERS
U.S. banks have started to detail the expected impact on their costs from the "special assessment" fee they have to pay to replenish the Federal Deposit Insurance Corporation's deposit insurance fund. In May, the banking regulator said large U.S. lenders would bear most of the costs to replenish the fund.