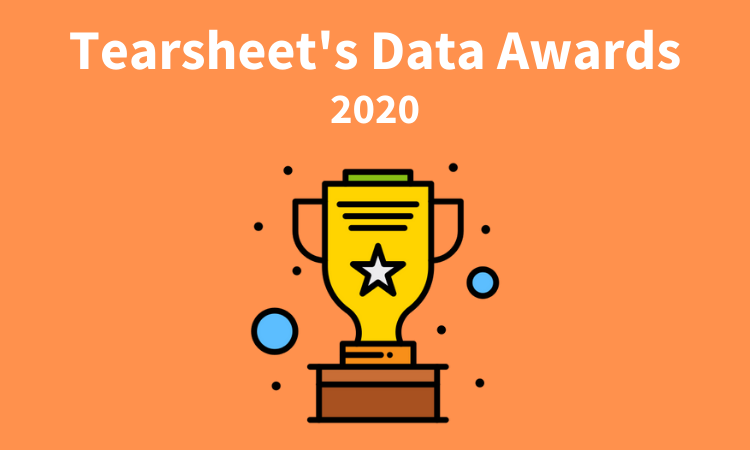 Consumers want more from their banks. That means better technology and access to their financial data. Ecosystems are being built that connect banks and fintech companies, so that the end user gets to use the most cutting-edge tech to access their financial data.
Tearsheet is celebrating the top firms building out these data ecosystems. Tearsheet's Data Awards are the premier awards program in the financial data industry. As apps and institutions further integrate, data and data sharing have become the building blocks of modern finance.
On the heels of Tearsheet's inaugural DataDay Conference, we're announcing the winners of our Data Awards for 2020. We received dozens of entries from some of the best companies in the industry. It was very hard to choose single winners from so many qualified submissions.
Our judges sized the entries on four attributes: creativity, innovative thinking, customer value and results.
Thank you to all the organizations that applied for this award program — stay tuned as we're planning on turning the great entries we received into an exclusive Tearsheet guide on what's state-of-the-art in financial data in 2020.
Data Company of the Year: Fiserv
Fiserv brings data to day-to-day life
Fiserv has an interesting perspective: it doesn't believe people think about financial data. They are thinking about buying a home, putting a child through college, or if they have enough money in their account to go out to dinner tonight and still cover the bill payment that is due tomorrow.
Data is at the heart of the company. From moving money to delivering a customer experience to preventing fraud, Fiserv enables today's digital economy and solves real-world problems for real people and real institutions.
SPONSORED
Digital Transformation Leader of the Year
MX is leading digital transformation for banks, credit unions, fintechs and partners
MX works to strengthen banks from within, helping to develop a new mindset in financial technology for banks. We heard from CTO Brandon Dewitt at Tearsheet's DataDay Conference last week about returning to the nobility of banking. With the power of clean data, MX has been changing banks' cultural, technology and management mindset, giving their users a meaningful, personalized financial experience, walking alongside them, on their terms, while disrupting and strengthening the banks' cultural ethos.
MX's 2,000 customers include some of the largest financial institutions in North America including US Bank and Regions Bank (both new in 2019), Ally, BBVA, BECU and National Bank of Canada.
Data Innovation Award: Even Financial
Even Financial is a customizable platform for financial product offers
Even is a search, comparison and recommendation engine for financial services. By bridging financial institutions (including American Express, Goldman Sachs, and SoFi) and channel partners (such as TransUnion, Business Insider, and The Penny Hoarder) via its API, Even turns consumer touchpoints into programmatic acquisition sources for financial services offers with full compliance, security, and scale across loans, savings, credit cards, insurance, and more.
Even is moving the financial services industry from an era of customer acquisition based on mismatched static ads, to one where more personalized offers are matched to consumers in real time.
Best Customer Data Implementation Award: Sound Credit Union / Information Builders
Sound Credit Union and Information Builders use data models to help customers during COVID-19
As COVID-19 began impacting the U.S. in the state of Washington, Tacoma-based Sound Credit Union turned to its data and analytics partner, Information Builders, to prepare for, and respond to, the financial impact on its 120,000 members. Through analytics and data visualizations, IBI acted as a partner for Sound, helping to drive a response that enables Sound to live up to its purpose of standing with its members through all waves of life.
The fact that Sound's first reaction in this situation was to turn to data goes back to 2018 when IBI first began empowering its analytics-driven efforts. In January of that year, Sound established a business intelligence team and spent several months building a practice around providing visualizations that could be easily consumed by business users. In partnering with Sound, IBI realized the industry-wide potential of these efforts and worked with Sound to turn its efforts into a data platform that could service credit unions. This led to the creation of IBI's Analytical Data Mart System -- the same analytics solution for credit unions that Sound would use to help its members through the COVID-19 outbreak.
Best Data Marketing Campaign: Zelle
Zelle's Data Rules Everything Around Me (D.R.E.A.M): How Zelle used Data to Make "Everyday Better"
A few years ago, Early Warning introduced the U.S. public to a new way to pay friends and family within minutes – right from the convenience of their mobile banking apps with Zelle. A national advertising campaign complemented innovative bank-led marketing to help lift this service to near-household name status in record time.
Turns out that while consumers were using it, they were not using Zelle as part of their "everyday behavior." Early Warning conducted a set of bi-weekly quantitative and quarterly qualitative research studies to discover why consumers were not using Zelle more frequently. A comprehensive "Digital Adoption Study" revealed that consumers weren't really aware of what Zelle could do for them. They needed to be shown.
Early Warning focused its campaign to highlight ways that Zelle can help reduce the friction in daily lives. This included using Zelle between friends and family for everyday occasions, which created the campaign "Everyday Better."
Best New Alternative Data Product: Facteus' Enlightmint
Enlightmint Brings Transaction Data Insights to the Masses
COVID-19 turned the economy upside down in 2020. Business and economic models built on years of regular, expected economic data were thrown out the window and people across all industries were grappling with 'what's the new normal?' Enlightmint from Facteus has become a key 'source of truth' during the pandemic to enable organizations across both public and private sectors to understand the consumer economy in real-time and make strategic investments to improve their businesses and the lives of consumers.
Enlightenment gives access to key business performance metrics informed by billions of consumer transactions across more than 730 merchants and 270 public companies. The product also provides transaction data on a state or urban-specific level within Enlightmint.
Best Alternative Data Product: Finicity's Verification of Income and Employment Solution
Finicity's Verification of Income and Employment Solution
Alternative data was recently recognized by the Federal Reserve, CFPB, FDIC, NCUA, and the OCC as improving the speed and accuracy of credit decisions and providing deeper insight when evaluating creditworthiness. Finicity's Verification of Income and Employment solution increases transparency and the amount of control consumers have over their data, as well.
Finicity announced its VOIE solution in September 2019 and it's currently available for fintech and lending uses. It's also in pilot with the GSEs to make sure it's properly calibrated for mortgage lending. Finicity uses direct deposit payroll data, which represents over 90% of American workers, to dramatically improve the success rate of an automated income and employment verification
Best Data Aggregator / Fintech Partnership: FinLocker & Fiserv
FinLocker and Fiserv put homeownership within reach
For many people, the path to home ownership and financial wellness is a difficult and confusing one. FinLocker and Fiserv are helping to pave this path for low to moderate income borrowers and veterans, putting these goals within reach.
FinLocker is a personal financial assistant tool that enables loans and financial transactions. With consumer consent, FinLocker captures key borrower data, like assets and income, and applies intelligent analytics like loan product recommendations based on a consumer's financial profile, asset and income verification, and more data.
The power of FinLocker is the insightful recommendations provided to users, focused on spending analysis, budgeting and savings goal planning. In addition to these features, consumers can view their credit report, including score, monitoring and alerts to changes in their credit profile. A perpetual mortgage approval is provided in the locker alerting a consumer when they become "mortgage ready". From a fully enrolled FinLocker, a consumer can share data and documents securely with a lender to initiate a mortgage application.
The partnership between FinLocker and Fiserv allows lenders in the FinLocker network to incorporate financial data aggregation and personal financial management tools from Fiserv into the loan preparation process for LMI borrowers and veterans. FinLocker leverages AllData Aggregation from Fiserv to organize consumer financial data from over 18,000 sources. By utilizing the API solution AllData provides, FinLocker can aggregate the precise information needed by a given customer in real time. This enables consumers to better plan and prepare for their financial futures well in advance of a loan application, saving them time, money and enabling an enhanced customer experience.
Read more: Case study: How Finlocker and Fiserv enhance data, lower lending costs and increase throughput for mortgage originators to benefit consumer financial wellness
Best Data Aggregator/Bank Partnership: Finicity's Direct Access Connection Partnerships
Finicity Direct Access Connection Partnerships
Finicity has over 25 of the largest financial institutions in its direct access integration pipeline, with many already live, including JPMorgan Chase, Wells Fargo and Capital One. These connections eliminate sharing credentials by using secure APIs which use tokenized access which the consumer provides on the FIs secure web domain and not on the access provider or app's domain.
In working with the dozen financial institutions it has signed agreements with, Finicity has moved 85 percent of its partners to the new connections. The open API connections use the OAuth protocol and tokenized access so consumers only share their credentials with their financial institution. Consumers are also provided with a data sharing dashboard on their financial institution's website where they can control who has access to their accounts and revoke access at their FI rather than having to login to an app or service.
These connections also create more specific, transparent terms and conditions to sharing access by outlining exactly what data they'll be sharing. For instance, instead of permissioning the entire account to be shared, the consumer can permission only the needed data types like profile or account details, statements, balances, transactions, and account holder name or role.