Artificial Intelligence
Cheatsheet: What you need to know about Robotic Process Automation
The financial industry sent hundreds of thousands of jobs overseas.
Now, with RPA, those activities are coming back home.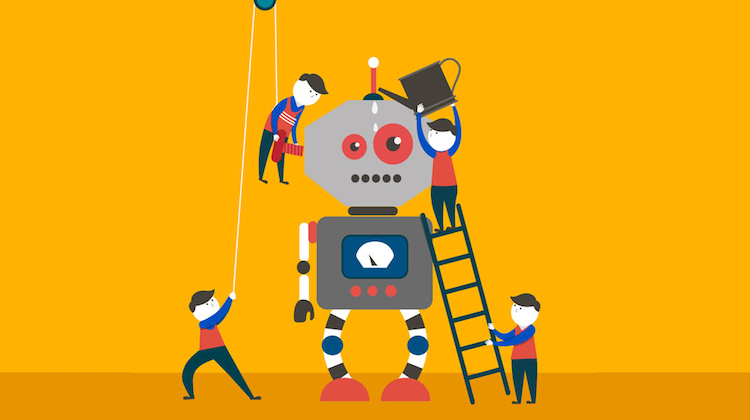 For decades, Wall Street has exported back office jobs overseas. India, China, and the Philippines all benefited from the move offshore. The thinking was banks should focus on what they were good at and outsource everything else. Sending jobs abroad helped shore up bank balance sheets, too, as the back office moved from fixed to variable costs. But technology always catches up. It may not bring those back office jobs back, but Robotic Process Automation, or RPA, has returned many of these activities back onshore and this time, it's computers handling them, not humans.
What is Robotic Process Automation?
Imagine bots, or computer programs, that can automatically handle the types of reconciliation that happen at the end of every day in a financial institution. Books are balanced, accounts tallied, and transactions matched. Files are shared and filings made to regulatory bodies. That's RPA. It's a catch-all phrase for a series of technologies, including machine learning and artificial intelligence, used to automatically handle mundane, repetitive tasks. While RPA can be used in any industry, its early adopters are financial institutions and as heavy users of offshoring firms, the industry is one of the biggest consumers of RPA technology. Forrester attributes the interest in RPA to the fact that robots can be deployed with minimal process change, ROI is straight-forward to calculate, and it's a "fresh alternative" to big spend business process management (BPM) programs.
By the numbers
According to a study by Markets and Markets, the robotic process automation market is estimated to reach $2.467 billion by 2022, growing at a CAGR of over 30 percent between 2017 and 2022.
53 percent of top global firms count RPA as their top investment focus, outstripping any other investment priority.
It's still early for the technology as hype exceeds real-world value. It's estimated that only half of today's RPA implementations are actually making progress.
How robotic process automation works
Financial firms choose to implement RPA differently, ranging from partial to full automation. With attended automation, software bots are installed on employee desktops, assisting human operators by completing repetitive tasks in the background. In unattended automation, bots are deployed on company servers, on premise or in the cloud, and function independently of humans. Firms choose different flavors of RPA depending on the complexity and importance of the tasks it wants automated. Pricing for an RPA deployment can be done as a license fee or per bot or per process automated.
The players in RPA
As the market is heating up, service firms and consultancies are expectedly fomenting the hype to get their clients primed to buy. When financial firms start looking at technology providers, they'll find a field littered with companies from the U.S. Europe, and Israel. There's an ongoing arms race to get to scale. Some of the notable RPA players include: Workfusion's technology was born in research conducted at MIT during 2012-2013. The company has numerous partnerships with integrators and recently raised a $50 million Series E round. Founded in Bucharest, UiPath's current RPA offering was ranked strongest by Forrester in 2018. Automation Anywhere, BluePrism, Contextor, NICE, Pega, and Redwood Software are some of the names to watch. Kryon Systems, an Israeli firm, is a scrappy RPA vendor with inroads into financial services.
The fintech view
The financial industry embraced offshoring to lower costs and boost profits. The industry is also one of the largest consumers of technology. So, while RPA isn't financial in nature, it would make sense that the financial industry would be an early adopter of RPA. Expect firms to continue to tweak their RPA offerings for finance.