10-Q
Weekly 10-Q: What is Marqeta doing differently in payments? – 3 questions with the COO of Marqeta, Vidya Peters
Marqeta's COO talks about how customer spending habits and purchase patterns have changed due to Covid-19, and what's next in the evolution of the payments landscape.
Also, Wall Street banks land in hot water: BofA fined $225 million for botched disbursement of unemployment benefits during the pandemic, and JPMorgan gold desk allegedly ripped off the market for years with spoof deals.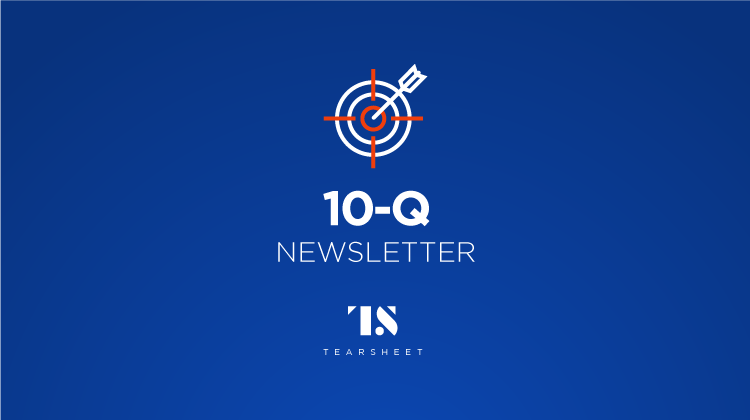 10-Q provides weekly insight into the moves of top financial and fintech stocks over the past week. A new issue lands in your inbox every Friday. Stay ahead. Subscribe here.
---
Last week we covered: How did going public work out for MoneyLion? – 3 questions with the co-founder and CEO of MoneyLion, Dee Choubey
---
What is Marqeta doing differently in payments? – 3 questions with the COO of Marqeta, Vidya Peters
Tearsheet's Sara Khairi spoke with Vidya Peters on how e-commerce has changed customer spending habits and their purchase patterns as a consequence of Covid-19 – and what's next in the evolution of the payments landscape.
Consumer spending habits have evolved significantly during the pandemic, yet the tech behind credit cards largely hasn't kept pace – why?

Vidya Peters: I think of that as the next new frontier for innovation. Credit cards have done very simple things for a very long time. For example, ten years ago, they checked your credit limit and approve the transaction, then it started checking for ZIP codes and that was about it. Sometime later, credit cards started to offer rewards, in the form of airline points, hotel points, and cashback and that had been the extent of the innovation. The level of personalization, based on someone's persona, their spending habits, their demographic hasn't come out yet – and I think until you get to that level of relevance for someone, you'll never create the true form of loyalty. The reason why every credit card is so dispensable today is they're all playing with the same three or five behavioral benefits.
How is the string of Marqeta's partnerships adding value to the payments ecosystem that the company is trying to build?
Vidya Peters: The basis for partnerships is anyone who wants to create an innovative experience for their customers. When we think about partnerships more broadly, we think about the customer, and what is the innovative experience that they are looking for – diversity of partnerships that meet our customer needs is very important when we're looking to build that ecosystem. At times our platform doesn't fully address some of the customer needs, that's when we work with a partner like Deserve or the First National Bank of Omaha by bringing both of our offerings together to offer something more holistic to our customers.
What are the current strategies/techniques that Marqeta is employing to cater to the needs of SMBs and the underbanked?
Vidya Peters: One of the beautiful parts is that we are an infrastructure platform, so anyone can come and build on us – and one of the things we have been inspired by is the breadth of offerings that have come out in the form of digital banking offerings to serve the unbanked or underbanked. Cash App has become a default banking offering for the underbanked and the unbanked population. Greenlight is a customer we serve through the First National Bank of Omaha – which provides an offering for children and teenagers, through which parents can earn rewards by helping children invest their money. Branch is another platform we partner with that builds a card on our platform allowing early wage access to its employees.
---
Top stories of the week
AFFIRM
Ticket platform SeatGeek joins forces with Affirm
Affirm and ticketing platform SeatGeek have forged a partnership to allow users to buy and sell tickets to access live entertainment leveraging flexibility and ease in payment options. By choosing Affirm at checkout, fans buying tickets on SeatGeek can pick billing options that range from monthly installments to four interest-free, biweekly payments. (Business Wire)
AMEX
AmEx is revamping its no-fee card as customers bear the brunt of inflation
American Express is adding new perks to its no-fee Blue Cash Everyday card as Americans face a surge in prices. The card, which offered cash back for purchases at US supermarkets and gas stations, will now also offer rewards for online retail purchases, a Disney streaming subscription, and an online meal service – all categories the company thinks are super-relevant in these trying times and will resonate with people. (Bloomberg)
BANK OF AMERICA
BofA is under fire for unlawful account freezing
Bank of America is penalized with $225 million by the US Office of the Comptroller of the Currency and the Consumer Financial Protection Bureau over mishandling the jobless benefits of eligible customers during the pandemic – as it came to light that the bank had a faulty fraud detection program that improperly and automatically froze the prepaid card accounts of thousands of people seeking jobless benefits in 2020 and 2021. (PYMNTS)
Aggregated BofA credit and debit card spending continues to increase
Bank of America aggregate credit and debit card spending climbed 11% Y/Y in June, with credit card spending rising 16% and debit card spending by +6%. By comparison, June's reading has gained momentum from +13% in April and +9% Y/Y in May, despite high consumer price inflation. (Seeking Alpha)
BLOCK
Afterpay partners with Sephora US
Block's BNPL service Afterpay has formed a partnership with beauty retailer Sephora to offer customers the flexibility to pay in four installments. The partnership will expand the addressable market for both companies. (Seeking Alpha)
CAPITAL ONE
Capital One, Melio bring out accounts payable tool
Capital One Business has introduced a fully integrated accounts payable solution with Melio, a B2B payments platform for SMBs. The move will enable Capital One small business cardholders to pay their vendors and suppliers with a card  – even if they do not accept credit cards – directly from their Capital One Business account. (Finextra)
DEUTSCHE BANK
Deutsche Bank is the latest to enter the BNPL space
Deutsche Bank is introducing a white-label BNPL product for online retailers and e-commerce marketplaces in collaboration with Austria-based fintech Credi2. Responsibility for the BNPL project lies with the bank's Merchant Solutions unit. (The Paypers)
HSBC
HSBC and Finastra partner to amp up BaaS FX for mid-tier banks
HSBC is teaming with Finastra to offer economical banking-as-a-service foreign exchange solutions to mid-tier lenders. It will be available from the second half of 2022, originating with FIs in Asia-Pacific. The integration of HSBC's forex services will allow mid-tier banks to deliver a wide range of currencies to their customers through branch networks and other retail channels, without requiring any additional technology integration. (Finastra)
JPMORGAN CHASE
JPMorgan gold desk ripped off the market for years with spoofing, confirms an ex-gold trader
Former gold trader at JPMorgan, John Edmonds, turned into a whistleblower and testified to a Chicago federal jury that the firm's metal traders cheated other market players for years by spoofing trades to manipulate the price of gold and silver metals to boost their profits in between 2008 and 2016. He said he would've been fired otherwise. (New York Post)
JPMorgan suspends buybacks, hints at growing risks of a recession
JPMorgan Chase reported an unexpected 28% dip in quarterly profit and suspended share buybacks on Thursday – as the bank plans to reserve more money to face potential losses amid the threat of a looming recession. CEO Jamie Dimon underscored the importance of building capital reserves during the macroeconomy slump, citing the Ukraine war, rising inflation, and the "never-before-seen" quantitative tightening. (Reuters)
MASTERCARD
Mastercard accelerates innovation and adoption of open banking
Mastercard is expanding its Engage partner network to include its open banking services for fintechs, merchants, and lenders – offering them easy access to several technology partners that can build and deploy open banking solutions for payments and lending decisions at scale. (Mastercard)
UPSTART
Upstart's originations are down in Q2 as inflation heightens
Online consumer lending marketplace, Upstart, is facing funding constraints right after entering the second quarter with a decline in its earnings. The firm blamed rising inflation and recession fears that have driven interest rates up and put banks and capital markets on cautious footing. Just when the company was about to launch its SMB lending product, the macroeconomy put a damper on things – though the company is still counting on its risk models to perform amid the economic crisis. (deBanked)
---
Tweets of the week
1.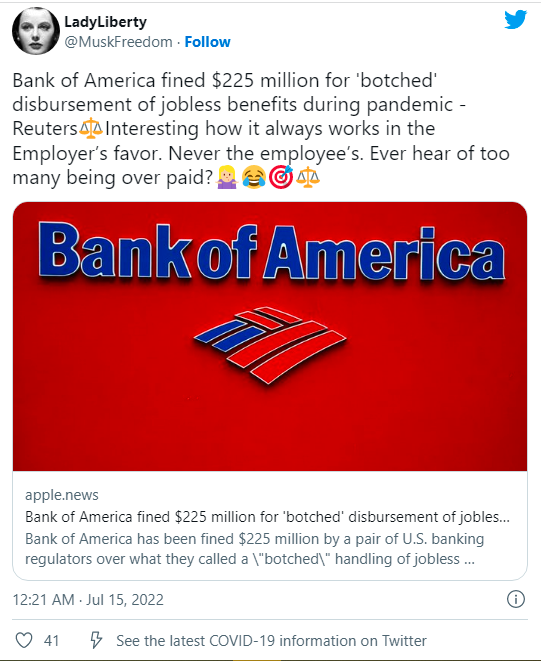 2.
---
Charts of the week
1. How does VISA work when we swipe a credit card at a merchant's shop?
2. How do you pay from your digital wallet by scanning the QR code?
---
What's trending
Wells Fargo profit falls as the bank sets aside funds for bad loans, company's shares drop (CNBC)
Bank of New York Mellon Q2 reflects higher client activity, market depreciation (Seeking Alpha)
Citigroup tops profit estimates as bank benefits from rising interest rates, shares pop 5% (CNBC)
Citizens Financial Group acquires Paladin Advisors (Mergers&Acquisitions)
---
Stay ahead of the game with Outlier -- Tearsheet's exclusive members-only content program and join the leading financial services and fintech innovators reading us every day.