10-Q
Weekly 10-Q: Should returning to core competencies be the playbook for Dorsey's Block?
Given its dwindling revenue in Q1 and Q2, maybe Square has expanded too broadly, too quickly -- analysts are beginning to think so.
And, the CFPB is flashing warning signals on the current trend of growing bank digital marketing.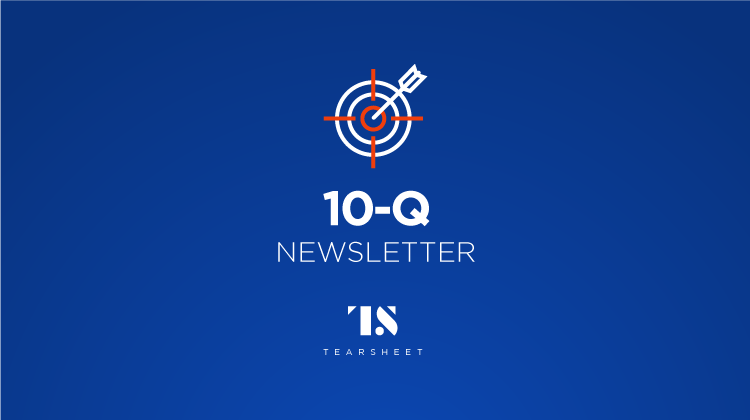 Join us for a day full of critical insights, invaluable discussions, and in-person networking opportunities in Tearsheet's Power of Payments Conference on Sep 15th, Current, Chelsea Pier, NYC.
---
Last week we covered: Affirm and Intuit report their quarterly earnings -- bitter or sweet?
---
Should returning to core competencies be the playbook for Dorsey's Block?
Square hosts a cluster of businesses under its umbrella. Among its primary products are Square Debit Card for businesses, and Cash App, a P2P payments mobile app. In addition to mobile banking, Cash App also offers the option to purchase stock and Bitcoin through its platform. The company also acquired Australian BNPL provider Afterpay.
But maybe the firm has expanded too broadly, too quickly -- analysts are beginning to think so. The overall revenue of the company decreased in its first and second quarters this year due to headwinds from Bitcoin winter and the acquisition of Afterpay.
"We would prefer if Block kept its focus on the core businesses, which are Cash App, Square, and now Afterpay. I think where the mistake was – at least in terms of the stock, and eventually revenue – has been the chase after Bitcoin. It feels like it has become a distraction from the core story," Ryan Coyne, senior associate, fintech equity research at Mizuho told Tearsheet.
However, it appears Block is establishing a network where everything is integrated through Square in a two-sided closed loop, bridging Square's products for consumers and merchants.
"They have the talent, the products, the vision, and a huge user base. They've done the hard part in acquiring customers who are highly engaged. There's no dire situation for the company – it's just about monetizing those customers and returning to their core competencies," advised Coyne.
10-Q provides weekly insight into the moves of top financial and fintech stocks over the past week. A new issue lands in your inbox every Friday. Stay ahead of the pack. Subscribe here.
---
Top stories of the week
AFFIRM
Affirm competes in a "race to the top" in terms of interest rates
To catch up with other online banking providers that have been increasing the APYs they offer on savings accounts -- Affirm has announced that its savings accounts will now offer an annual percentage yield of 1.5% -- that's 11.5 times the national average. (PYMNTS)
BLOCK
Block's Afterpay shutters its Westpac-powered Money app
Block's Afterpay has decided to discontinue the personal finance app Money by Afterpay, thus ending its collaboration with the Australian Westpac Banking Corp. The move comes after the Square/Afterpay acquisition earlier this year, which involved integrating Afterpay's products with its new owner's ecosystem. Afterpay would stop signing on new users for the Money by Afterpay app immediately and would close the service permanently on 10 October 2022. (Reuters)
CFPB
CFPB is flashing warning signals on growing bank digital marketing
The financial services industry continuously invests and spends on digital advertising because that's the current trend and where people are now. But the CFPB officials believe third-party digital marketers — and their technologies — are exercising too much control over who sees which ad campaigns. CFPB indicated that more rulemaking is coming in addition to the analytical rule issued on digital marketing in light of some of Chopra's concerns in mid-August 2022. (The Financial Brand)
FED
Fed's Mester sees interest rates topping 4% this year, no rate cuts in 2023
Cleveland Federal Reserve President Loretta Mester says that central bank policymakers need to raise the benchmark interest rate considerably higher and leave it elevated for some time until inflation starts to cool. According to her, interest rates will rise above 4% by the beginning of 2023. (CNBC)
JACK HENRY
Jack Henry, Google Cloud partner to accelerate the modernization strategy
Jack Henry is collaborating with Google Cloud in a push to bolster its multi-year next-generation technology strategy aimed at helping community and regional financial institutions innovate faster and address the evolving needs of their account holders. Through this move, Jack Henry will build cloud-first technologies that modernize existing data, reporting, and integration systems while forming a new set of services that gives rise to a modern digital core for banks and credit unions. (Finextra)
MASTERCARD
Mastercard forges a partnership with Entrust to simplify digital payments
Mastercard has teamed up with US-based security software provider Entrust to let consumers acquire, use, and manage digital payment cards rather smoothly. Entrust has joined Mastercard Engage as a digital-first partner to boost digital transformation in banking. Engage, Mastercard's Global Partner Network, allows fintech professionals to build, bring into play, and escalate innovative offerings such as digital-first. (The Paypers)
TRUIST
Truist pilots robo-advisor
Wealth management advisor, Truist Wealth has broadened its digital investment product portfolio with Truist Invest, a robo-advisor, and Truist Invest Pro. While Truist Invest helps a client identify their goals, risk tolerance, and existing investments to create a tailored portfolio recommendation, with Truist Invest Pro, clients gain access to a team of financial advisors who can help build a personalized portfolio and provide investment advice. (Finextra)
VISA
Visa partners with Highnote to enable next generation of card issuance
Visa and card issuance and management platform Highnote are expanding their partnership. Highnote has also become fully certified as a Visa issuer processor and will join Visa's Fintech Fast Track program as an enabler in the U.S. market. This significant milestone paves the way for innovative enterprises to leverage the Visa network to bring to market differentiated consumer or commercial card programs across prepaid, debit, and credit use cases. (Yahoo)
---
Tweets of the week
1.
2.
---
Charts of the week
1. Decoding contactless payments
2. Some of the key events that shaped the journey of Goldman's Marcus
---
What's trending
Fintech remains the highest-funded industry across emerging venture markets (The National)
What Goldman Sachs CEO Solomon has and hasn't achieved in his four years at the helm (FT)
Inside Citizens Bank's growing Buy Now, Pay Later strategy (The Financial Brand)
---
Stay ahead of the game with Outlier -- Tearsheet's exclusive members-only content program and join the leading financial services and fintech innovators reading us every day.