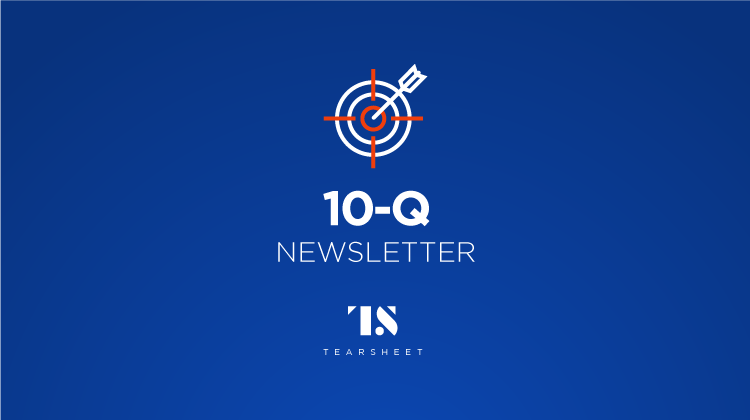 10-Q provides weekly insight into the moves of top financial and fintech stocks over the past week. A new issue lands in your inbox every Friday. Stay ahead of the pack. Subscribe here.
---
Last week we covered: Intuit QuickBooks, PayPal, and Square are sweeping the board in the SMB sector
---
Robinhood posts August 2022 operating metrics – disappointing or somewhat hopeful?
This month, Robinhood reported several key operating statistics comparing the month of August to prior trading months.
Assets under custody (the total value of customer accounts) were $71 billion as of August 31, 2022, down 5% from $74.6 billion at the end of July.
Average trading volume in equities reached $2.9 billion per trading day in August, up 21% from July.
Adjusted EBITDA in Q2 2022 was negative $80 million, which improved from a negative $143 million in Q1 2022.
The average number of option contracts traded per day in August was 3.9 million, 15% more than 3.4 million in July.
Monthly active users rose slightly in August to 13.3 million from 13.2 million in July. The number of June monthly active users was 14 million.
The decline in customer accounts mirrors the impact on Robinhood's stock and trading volume in the month of August. Additionally, August marked the first month where Robinhood's daily trading volume rose on a month-to-month basis since March. Also, the company's ongoing expenses might fall in Q3 2022 and Q4 2022 after it recently announced a 23% headcount reduction, equivalent to about 780 employees.
---
Top stories of the week
AMAZON
Amazon adds Layaway as another installment payment option
Amazon has introduced Amazon Layaway as a new option for financing purchases. This option lets customers hold items and complete the payment in five installments, either by credit or debit card, without having to go through a credit check or pay any associated fees. To reserve the items, customers must make a 20% initial payment of the total purchase cost, the remaining balance having to be paid off in four monthly installments, after which they can come into possession of said items. (Fox Business)
BARCLAYS
Barclays pivots Rise to focus on laid-off fintech talent
Given the downturn within the fintech sector, the newest iteration of Barclays' Rise Startup Academy is set to support budding founders who are out of jobs. The primary Rise Begin-Up Academy was launched earlier this year to unite founders and facilitate them with coaching, with a collective ambition to rework the way forward for fintech. (Finextra)
CITI
Citi is shuttering its UK retail operations to focus on its wealthiest clients
Citigroup's UK retail effort is being shuttered as a piece of a broader strategy to move away from global retail banking, as the bank communicated earlier this year. The bank is inviting its wealthier customers to begin using its private banking services as it scales down its retail business. Customers who don't meet the criteria for this new service will see their accounts closed by 2023. (Reuters)
FED
Federal Reserve launches FedPayments Insights Service
The Federal Reserve is launching the FedPayments Insights Service to help FIs track trends for payments settled through its FedACH service and inform them of any operational, strategic, or risk management decisions. The service is a business and analytics tool that generates reports on financial institutions' payments settled through the FedACH -- the Federal Reserve Bank's Automated Clearing House. (PYMNTS)
DEUTSCHE BANK
Deutsche Bank teams with Visa to address e-commerce fraud
Deutsche Bank has partnered with Visa to bolster its online retail fraud prevention resources. The collaboration makes Visa-owned company Cybersource's automated fraud detection system, Decision Manager, available to merchants who process their e-commerce payments via DB. (bobsguide.)
GOLDMAN SACHS
Former Goldman Sachs female employees faced sexual misconduct from 2000 to 2011, lawsuit says
Women employed at Goldman Sachs more than a decade ago unsealed fresh accusations of how they were subjected for years to discrimination, sexual harassment, and sexual assault by male managers. Some 1,400 plaintiffs have filed a class-action sex discrimination lawsuit, alleging lewd and criminal behavior by senior bankers at the firm. A judge on Thursday set a trial date of June 5, 2023, in the US Southern District of New York for the years-long litigation. (MarketWatch)
A Goldman Sachs-backed T-Mobile credit card is on the way
Goldman Sachs and T-Mobile are partnering to launch the wireless carrier's first credit card. 3 years after stepping into the credit card market and striking card deals with Apple and General Motors, Goldman might have to navigate new types of risks signing up T-Mobile customers. More details are yet to be revealed once the project is discussed publicly by the two parties. (Bloomberg)
Goldman Sachs' Marcus faces Fed scrutiny
Goldman Sachs' consumer banking unit is being reviewed by the Federal Reserve. Goldman's management has been subjected to questions and follow-ups from the central bank's officials for several weeks. By zeroing in on Marcus, the central bank is evaluating a relatively new wing of the bank that is growing substantially without much history of dealing with the general public. Marcus is not accused of any wrongdoing, as of yet. (American Banker)
Goldman Sachs' transaction banking enters Europe
Goldman Sachs is expanding its Transaction Banking (TxB) to Germany, before advancing to The Netherlands. TxB provides a cloud-based global platform to serve clients' treasury needs, including deposits and payments. The move is aimed to foster its accessibility to new clients across the region while also deepening relationships with existing customers with other banking needs. (PYMNTS)
JPMORGAN CHASE
Is JPMorgan planning to kill its credit card business?
Facing growing pressure from fintech companies, Jamie Dimon has pushed the leaders of its two largest divisions, JPMorgan corporate and investment bank CBI, to collaborate on a new payments processing system. The new system will let merchants receive payments directly from consumers, eliminating the need for debit or credit cards while posing a threat to the lucrative fees earned by banks and the big card companies Visa and MasterCard. (FT)
MORGAN STANLEY
Morgan Stanley fined $35 million for failing to protect customer data
Morgan Stanley has received a $35 million fine from the SEC for failing to secure the personal data of its clients. According to the SEC, Morgan Stanley failed to secure the data of its clients for five years starting from 2015 by improperly disposing of thousands of hard drives. Additionally, the fine also reflects the mismanagement of client information by failing to dispose of the customer and consumer report information during a server refresh program. Morgan Stanley has agreed to pay the fine and settle the SEC allegations. (Fortune)
SEC
SEC to allow payment-for-order-flow deals
The US Securities and Exchange Commission will stop short of banning payment for order flow, as it proposes new rules for the $48 trillion American equities market. After months of internal deliberations at the agency, the decision marks a win for brokerages that get paid for processing rights -- however, the SEC may still incorporate other changes that make the practice less profitable. (Yahoo)
VISA
Visa reaches 1 billion tap-to-pay transactions on public transit
For the first time, Visa surpassed 1 billion tap-to-pay transit transactions, calling it "a turning point for public transit" -- as people slowly reacquaint themselves with public transportation after more than two years of hitting a roadblock due to the Covid-19 outbreak. (Visa)
---
Tweets of the week
1.
2.
---
Charts of the week
1. M&A no longer the key driver of consolidation in U.S. merchant payments
2. How is a credit card 𝐝𝐢𝐬𝐩𝐮𝐭𝐞 processed in the system?
---
What's trending
CEOs of Citigroup, Bank of America, and Wells Fargo tell Congress they're unlikely to finance crypto miners (CoinDesk)
Block integrates Afterpay BNPL into Square online transactions in Canada (Seeking Alpha)
Visa and Finastra bank announce global BaaS offering integrating Visa Direct (IBSi)
---
Stay ahead of the game with Outlier -- Tearsheet's exclusive members-only content program and join the leading financial services and fintech innovators reading us every day.