10-Q
Weekly 10-Q: QuickBooks, PayPal, and Square are sweeping the board in the SMB sector
Companies like Intuit, PayPal, and Square are facilitating the neglected SMB sector with financial software, edging out the competition in the space.
And, the CFPB initiates a crackdown on Buy Now, Pay Later lenders.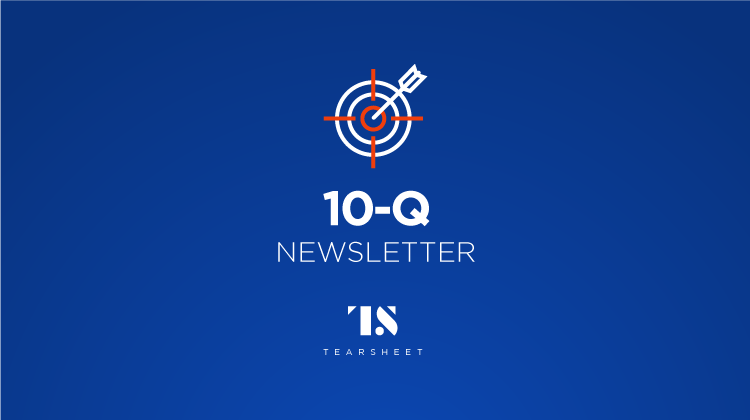 10-Q provides weekly insight into the moves of top financial and fintech stocks over the past week. A new issue lands in your inbox every Friday. Stay ahead of the pack. Subscribe here.
---
Last week we covered: Citigroup's $500 million slip-up ends in a big win for the bank
---
QuickBooks, PayPal, and Square are sweeping the board in the SMB sector, report shows
A new report by Codat shows the popularity of financial software and how it's facilitating the neglected SMB sector, with the help of companies like Intuit, PayPal, and Square edging out the competition in the space.
Once a company grows beyond 10 employees, the need for specialized software for accounting, payments processing, and other related critical business tasks starts to spring up.
Specialized accounting software: Out of the 500 surveyed SMBs, 75% make use of specialized accounting software to help them close their books. The product portfolio of Intuit QuickBooks, which ranges from QuickBooks Desktop and QuickBooks Online to QuickBooks SE, dominates this category – bagging a major chunk (49%) of total market share. The remaining pool is distinctly split up among providers: GoDaddy, SAP Concur, Sage, and Xero – none of which exceeds a share of more than 4%.
Incoming payments software: Nearly 49% of surveyed SMBs leverage specialized digital tools when it comes to the handling of incoming payments. This category covers eCommerce, PoS, billing/invoices, and accounts receivable platforms. PayPal and Square take the lion's share in this category with extensive applicability in this SMB tech stack. This shoves a large number of smaller platforms out of the game, which is left hunting for 1% to 3% coverage.
Outgoing payments software: Around 38% of surveyed SMBs reported that they make use of specialized software to manage tasks pertaining to outgoing payments — this includes expenses, payroll, and accounts payable. This category is the most fragmented area of the SMB financial tech stack. The most widely used software in this category is the payroll services platform Paychex, which claims only 8% of the total market, with most providers having 1% coverage or less.
---
Top stories of the week
BLOCK
Adyen, the first fintech platform to add Cash App
Adyen is the first fintech to launch Cash App Pay outside of the Square ecosystem. This partnership will enable businesses working with Adyen to begin accessing Cash App Pay as an integrated payment method for their U.S. customers online and in-store next year. (Fintech Nexus)
CFPB
The BNPL sector faces a blow after CFPB gears up for regulation
The U.S. Consumer Financial Protection Bureau plans to start regulating BNPL companies like Klarna and Affirm, concerned their fast-growing financing products are detrimental to consumers. The watchdog will issue guidance expected to fall into line with credit card companies' standards - followed by appropriate supervisory examinations. (Yahoo)
COINBASE
Coinbase selected by Broadridge to offer an integrated trading solution
Coinbase is working with fintech firm Broadridge. The collaboration will help Broadridge boost access to crypto trading and offer greater liquidity for institutional clients looking to benefit from opportunities in crypto. (CoinDesk)
DEUTSCHE BANK
Deutsche Bank plans app for securities investment
Deutsche Bank announced plans to launch an independent app-based investment offering in 2024. The product is aimed at people who want to have their assets managed professionally, want to trade securities online, and do their banking purely digitally. (The Paypers)
GOLDMAN SACHS
Goldman Sachs, Modern Treasury collab to accelerate embedded payments
Goldman Sachs is joining forces with fintech Modern Treasury, a software platform that helps companies modernize money movement -- to provide embedded payments to corporate customers. Modern Treasury's payment operations software platform will deliver mutual clients with an integrated money movement solution, with payments powered by Goldman Sachs Transaction Banking (TxB). (Bloomberg)
Goldman set to cut jobs in its biggest layoff since the pandemic
Amid the warning of slowing hiring and cutting expenses as the economic outlook worsens, Goldman Sachs is embarking on its biggest round of job cuts since the start of the pandemic. It plans to eliminate several hundred roles starting this month. The reductions are a resumption of Goldman's annual culling cycle that it had largely paused during the pandemic. (Reuters)
JPMORGAN CHASE
JPMorgan to acquire Renovite Technologies
JPMorgan plans to acquire Renovite, a cloud-native payments technology company, that can help the bank compete with fintech firms including Stripe and Block. The strategic acquisition will help JPMorgan Payments, which combines corporate treasury services, trade finance, and card and merchant services -- build its next-generation merchant acquiring platform, bolster the firm's payments modernization strategy and support its journey to the cloud. (CNBC)
MARQETA
Marqeta and Bread Financial join forces to provide a seamless eCommerce solution
Marqeta is forging a partnership with Bread Financial to enhance the in-store checkout experience for shoppers using Bread Pay -- its suite of BNPL products. By using Marqeta's platform, Bread Financial aims to launch a new product, Bread Pay One-Time Use Card, which will deliver Pay in 4 and installment loan products both online and in-store. (Bloomberg)
SEC
SEC to address growing crypto issuer filings with specialized offices
To cater to the influx of filings from cryptocurrency issuers in the US, the SEC plans to set up two new offices this fall to provide specialized support to the seven offices currently in charge of reviewing issuer filings. Under the Division of Corporation Finance's Disclosure Review Program, the two offices are the Office of Crypto Assets and the Office of Industrial Applications and Services — which will entirely focus on dealing with crypto assets and industrial applications and services. (PYMNTS)
TD BANK
TD Bank, DailyPay crew for real-time earned wage access
TD Bank has partnered with DailyPay, an on-demand pay solution provider, to enable the bank's clients to give employees real-time access to earned pay prior to a scheduled payday. The DailyPay solution connects with clients' existing payroll systems to convert their employees' time worked into net earnings -- accessible through their bank account or any card they choose. (Finextra)
TRUIST
Truist launches Truist Assist
Truist Financial has introduced Truist Assist in its mobile banking app and online banking platform for personal banking (retail and wealth) clients. This AI-enhanced virtual assistant is the bank's latest example of its T3, or technology-plus-touch-equals-trust, strategy, which combines technology with a personalized human touch. (PYMNTS)
---
Tweets of the week
1.
2.
---
Charts of the week
1. Wise's approach to the cross-border payments space
2. The mobile payments rivalry heats up
---
What's trending
Higher institutional expenses lead to a $370 billion decline in US Banks deposits (PYMNTS)
JPMorgan, BofA cautious on job cuts as Goldman layoffs loom (Reuters)
Square launches two new products for restaurant owners in Australia (The Paypers)
---
Stay ahead of the game with Outlier -- Tearsheet's exclusive members-only content program and join the leading financial services and fintech innovators reading us every day.