10-Q
Weekly 10-Q: PayPal backpedals on misinformation policy — faces blowback, stock dips
Last week, PayPal apologized for the confusion over a new policy that threatened to fine users for "promoting misinformation" -- but is it too late for damage control?
In other news, is Apple becoming a bank?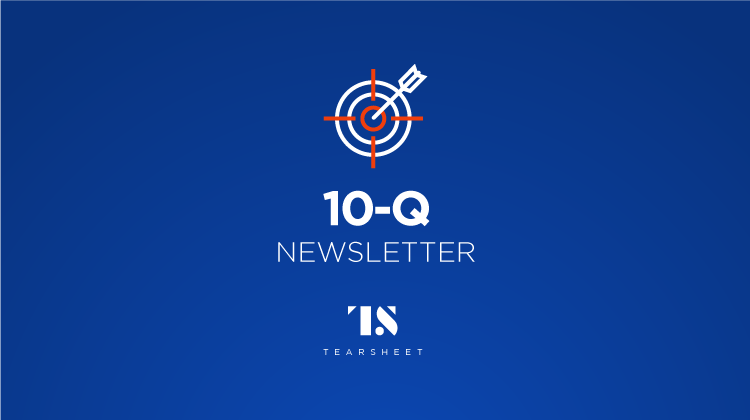 10-Q provides weekly insight into the moves of top financial and fintech stocks over the past week. To get a new issue in your inbox every Friday, subscribe here, and stay ahead of the pack.

Starting from November 1, we will start publishing the 10-Q Newsletter under the umbrella of our Tearsheet Pro subscription.

Join Tearsheet Pro (formerly Outlier) and be the first to receive member exclusive stories through the 10-Q newsletter, free access to our online conferences, in-depth industry reports, case studies, comprehensive data sets, full access to our comprehensive archive, discounts on our in-person events, and more.

Tearsheet Pro comes in monthly, quarterly, and yearly subscription plans -- early bird subscribers get a 10% discount, by using coupon code name: 10Q. This offer is open to all three plans and is valid till October 31.

Don't miss out and subscribe to Tearsheet Pro here.
---
Last week we covered: How Wise continues to bridge the gaps for cross-border payments -- 3 questions with the Head of Americas, Wise for Banks, Ryan Zagone
---
PayPal backpedals on misinformation policy -- faces blowback, stock dips
PayPal is apologizing for what it says is "confusion" over a new policy that threatened to fine users $2500-- consumers and merchants alike -- for using its services for activities identified by it as "sending, posting, or publication of any messages, content, or materials promoting misinformation".
The policy that was supposed to go into effect on November 3 was halted as the company later said it had published an acceptable use policy (AUP) in error and that PayPal is not fining people for misinformation -- the language was never intended to be inserted into their policy.
The apology surfaced soon after a few eminent individuals — including its own former president, David Marcus -- critiqued the company's initial policy announcement in his tweet, followed by Elon Musk's "agreed" acknowledgement.
PayPal attracted a great deal of blowback on social media, with Twitter chanting "#DeletePayPal" and "#BoycottPayPal", resulting in many customers deleting the app.
This being the case, PayPal's stock slumped 6% in early trade on the previous Monday and has now sunk 55% this year.
---
Top stories of the week
APPLE
With new savings account, Apple aims to grab a bigger slice of its users finances
Apple, in collaboration with Goldman Sachs, is launching a high-yield savings account for Apple Card users, enabling them to set up and manage savings accounts through the iPhone Wallet app. Daily Cash rewards from the card can be deposited into the account with access to payments to/from another linked bank account — with no fees, no minimum deposits, and no minimum balance requirements. (CNBC)
BANK OF AMERICA
Bank of America now covers over 350 payment types
Bank of America has expanded its CashPro Payment API to give customers access to more than 350 payment types and bundled payments. The move comes as APIs continue to transform business-to-business and business-to-consumer transactions given the ability of APIs to provide real-time data, reduce costs, and improve operational efficiencies. (Seeking Alpha)
CITI
Citi to launch "24/7 Clearing" service this year
Citi Treasury and Trade Solutions plans to launch a "24/7 Clearing" service to its institutional clients, starting with 24/7 US Dollar clearing in Q4 2022. The new service is designed to enable Citi's clients to do USD transactions across its 1,500 FI clients globally, 7 days a week, 24 hours a day, inclusive of holidays. Additionally, it intends to include other client segments, without the need to adopt new technology or propriety channels. (Yahoo)
GOOGLE
Google taps Coinbase to bring crypto payments to cloud services
Google plans to partner with Coinbase in 2023 to enable select customers to pay for its cloud services with select cryptocurrencies, such as Bitcoin, Ether, and Dogecoin, through Coinbase's custody service, Coinbase Prime. Google will also leverage Coinbase Prime for institutional crypto services, such as secure custody and reporting. Coinbase's Cloud Nodes, which primarily operate on Amazon's Web Services, will migrate to Google Cloud, (Yahoo)
MASTERCARD
Mastercard to issue quantum-resistant contactless cards
Mastercard announced the approval of the first cards for issuers that are compatible with the new EMVCo contactless specifications designed to protect against attacks from both traditional and quantum computers. The new cards are now available to card issuers and remain compatible with existing payments infrastructure as well. (Crowdfund Insider)
Mastercard launches treasury intelligence platform
Mastercard is launching a cloud-based analytics platform Global Treasury Intelligence. The new platform will enable organizations to execute more effective and sustainable financial strategies, and support corporate priorities such as cash management, risk assessment, and ESG goals. The move came after Mastercard consulted Strategic Treasurer's Cash Forecast and Visibility poll results. (PYMNTS)
PAYPAL
PayPal launches POS solution for SMBs in the US
PayPal has rolled out the PayPal Zettle Terminal to SMBs in the US following its launch in European markets last year. Terminal is a point-of-sale solution that offers increased mobility in-store for SMBs. It features a touchscreen and is ready to go right out of the box, with no need for a second device to pair it with. (Insider Intelligence)
ROBINHOOD
Robinhood is on a new mission of encouraging crypto education
Robinhood is launching a series of crypto education workshops across the country that are specifically designed to help address questions like "what is crypto?" or "is crypto right for me?" During these 60-minute workshops, educator and crypto enthusiast Charlene Fadirepo will present a holistic educational introduction to crypto -- to help people better understand the power of cryptocurrency and determine if crypto is right for them. (Crowdfund Insider)
VISA
Visa targets creator payouts
Visa is launching a new program for creators in order to get them faster payouts when they connect with audiences on social and video gaming platforms. The Visa Ready Creator Commerce Program is a global initiative for Visa's platform partners to help them embed financial tools that creators can use to build their businesses with offerings such as instant payouts, tipping, and donations through Visa Direct. (Finextra)
---
Tweet of the week
Chart of the week
PayPal backtracks on misinformation policy, stock dips
---
What's trending
Index Ventures' Mark Goldberg on the fundraising environment, IPOs, and the M&A front (TechCrunch)
The continuing battle over firearms ownership in the U.S. puts big banks and payment processors in the spotlight (The Financial Brand)
Under pressure, Goldman CEO ditches dream of consumer domination (Bloomberg)
---