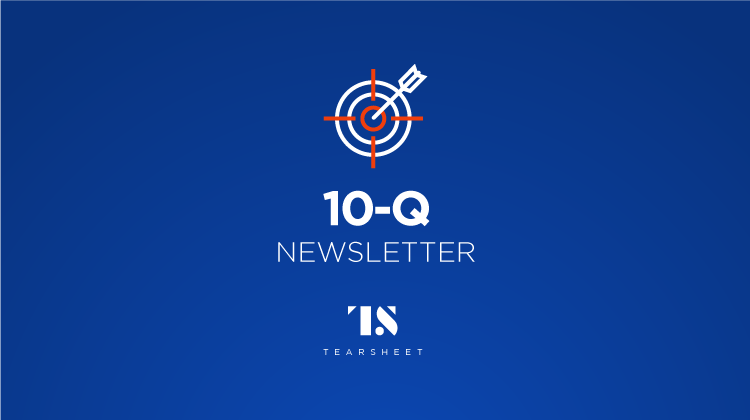 10-Q provides weekly insight into the moves of top financial and fintech stocks over the past week. A new issue lands in your inbox every Friday. Stay ahead. Subscribe here.
Last week we covered: The transformation of traditional banking – 3 questions with the Chief Product Officer at Chase, Rohan Amin
---
Block's market value is dropping steadily – is the company in trouble?
At the time of Afterpay purchase, Block's projected growth was 70%, which was cut down to 25%-30% because of the Afterpay premium.
Block reported a $204 million net income loss this quarter, which included Afterpay-related transactions and integration expenses of $42 million.
During the first half of full-year 2022, Afterpay chalked up $176.7 million in bad debts, which was much higher than the $72.1 million a year ago.
Afterpay's operating expenses are up nearly 287%, from $63 million to $212.3 million this quarter.
The market is going through turmoil, with high inflation, slowing economic growth, and interest rate hikes from central banks playing a major part. However, Block is one firm that is not only experiencing the market upheaval but is also trying to get the better of the $27 billion purchase of Afterpay.
If Block isn't able to pull off this integration faster, and its market cap keeps shrinking, it too may be the target of a 'well-capitalized suitor'. However, Jack Dorsey has majority control of Block and is committed to the company with plans of building a broader crypto and blockchain ecosystem – which means it won't be as easy as falling off a log to crack a deal with him.
Top stories of the week
BANK OF AMERICA
BofA clients can now experience luxury travel
Bank of America is offering an exclusive travel experience for ultra-high-net-worth clients through an agreement with boutique travel company Indagare. The loyalty program offering is linked with Bank of America's Preferred Rewards Program, which in total has about 10 million members – members are provided with different offers based on varying factors (PYMNTS)
CITI
Citi gets rid of overdraft and returned item fees on retail accounts
Citi has eliminated overdraft, overdraft protection transfer, and returned item fees from Citi Retail Banking consumer deposit accounts. This makes Citi among the top five U.S. banks, based on assets, to do away with the fees – by doing so the bank has pointed toward its effort to enhance financial inclusion and push economic progress for the underserved. (PYMNTS)
Citi partners with Metaco for digital asset custody
Citibank which holds about $27 trillion in assets under custody, has selected Swiss cryptocurrency custody firm Metaco to develop the bank's digital assets safekeeping capabilities and aims to fully integrate Metaco's "Harmonize" crypto custody platform. (CoinDesk)
COINBASE
Binance.US is thrashing Coinbase in the move to zero fees
Shares of Coinbase slumped more than 7% Wednesday, falling behind crypto-exchange rivals as the price of Bitcoin and Ethereum fell over 6% and 8%, respectively, and Binance.US reported it will offer zero-fee trading for Bitcoin. (Yahoo)
Coinbase redesigns mobile app to create a seamless web3 experience
Coinbase has modified its mobile wallet with a browser addition that makes it convenient for users to search for DeFi protocols, NFTs, and games and transact on the company's system in a couple of clicks – in an attempt to boost activity and revenue on the crypto exchange and to match up with the no trading fees from competitors. (CoinDesk)
Goodbye Coinbase Pro
Coinbase's professional trading platform, Coinbase Pro, which supported more than 250 cryptocurrencies, will shut down by the end of the year, as the cryptocurrency exchange unveiled plans to restructure its services to fuse them into one platform as a unified Coinbase account. (Coinbase)
JPMORGAN CHASE
JPMorgan is reducing headcount as a result of cyclical changes in the mortgage market
JPMorgan has started cutting jobs in its mortgage business, as a result of rising inflation and surging mortgage rates that slammed the housing boom in the US. Over 1,000 employees will be impacted by the move and about half of them will be relocated to different divisions within the bank. (Reuters)
GOLDMAN SACHS
Goldman Sachs is bringing 5000 jobs to its Dallas office expansion
The Dallas City Council has approved more than $18 million in economic incentives to build the new Goldman Sachs-anchored Dallas office with a few conditions – including 5,000 jobs. The new office would be completed no later than December 31, 2027. (The Dallas Morning News)
The 'great negotiation' – job market power is swinging to employees
The chief executive of JPMorgan Asset Management sees a cut-throat broad talent war in the asset management industry. The struggle to retain employees is driving a "great negotiation" as employers battle to attract staff who have better-paying jobs at their disposal (FT)
MASTERCARD
Mastercard unveils its first-ever music album featuring its 'sonic brand' identity
Mastercard is collaborating with 10 emerging artists from around the world for 10 original songs available on Spotify. The move comes to curate an auditory experience that brings new meaning and purpose to the brand. Introduced in 2019, the company's sonic melody is a critical component of how people recognize Mastercard from its logo and look to reinforce its identity in ways more suitable for the digital age. (Finextra)
PAGAYA
Fintech unicorn Pagaya to complete SPAC merger in the face of upheaval
The SPAC merger between Israeli fintech unicorn Pagaya and EJF Acquisition Corp. is planned to be completed this week despite the many question marks encircling the merger. EJF's shareholders voted to approve its combination with Pagaya at a valuation of $8.5 billion – however, many of them were swift enough to sell their stakes in the company following the approval, choosing not to trade in Pagaya's stock. This move comes as a response to shareholder doubts, as they fear Pagaya's full valuation post the SPAC deal. (Calcalist)
TRUIST BANK
Truist unveils banking tech center in uptown Charlotte
Truist Bank is putting together tech and finance with a new 100,000-square-foot banking Innovation and Technology Center that premiered at its headquarters in uptown Charlotte. The two-football-field-sized facility will host a research lab and collaboration hub for engineers, designers, and customers to build a better banking experience. (The Charlotte Observer)
VISA
Visa has rolled out Latin America's first crypto cards in Brazil and Argentina
Visa plans to build on crypto schemes in Latin America and the Caribbean by joining forces with fintech startups in the region. With every payment made, Visa will allow users to receive Bitcoin cashback on their issued cards. For this venture, Visa is set to launch Lemon Cash prepaid cards in Argentina, via an agreement with crypto trading platform Satoshi Tango, and Crypto.com cards – whereas, in Brazil, Visa is partnering with neobank Zro Bank and crypto-specializing firm Alterbank. (Finextra)
Tweets of the week
1.
2.
Charts of the week
1. Tackling data breaches
2. Trading apps and falling markets
What's trending
Bank of America, Citigroup, and JPMorgan screen poorly in Fed's 2022 stress test (Seeking Alpha)
Shopify eyes the untapped market of B2B sales to unlock opportunities multiple times bigger than its existing model (Financial Times)
HSBC Egypt has debuted a green personal finance program for Egyptian customers (PYMNTS)
Visa, First Abu Dhabi Bank, and DBWC unveil "She's Next" initiative in UAE to economically empower women entrepreneurs (Crowdfund Insider)
Stay ahead of the game with Outlier -- Tearsheet's exclusive members-only content program and join the leading financial services and fintech innovators reading us every day.