10-Q
Weekly 10-Q: Affirm – Stripe deal is a big challenge to other BNPL companies
BNPL companies are going to face more pressure as competition in the space intensifies with the Affirm – Stripe partnership.
Also, while JPMorgan claims that its 'communities of color' initiative is on the path to progression, critics say otherwise.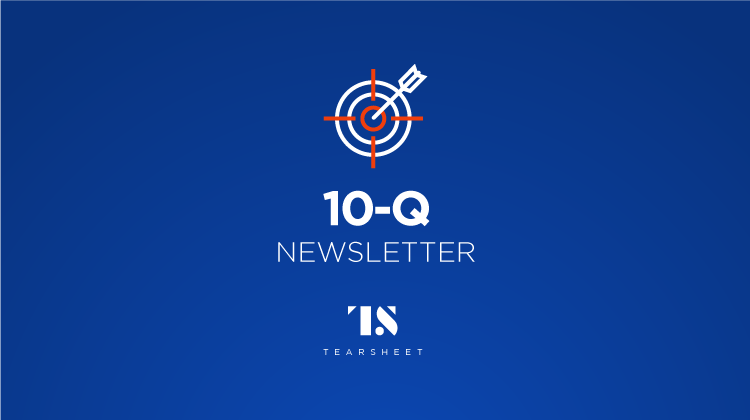 10-Q provides weekly insight into the moves of top financial and fintech stocks over the past week. A new issue lands in your inbox every Friday. Stay ahead. Subscribe here.
Quarterly earnings report covered last week: Intuit
---
Affirm and Stripe are embedding BNPL in checkout experiences
Affirm is joining forces with Stripe, making its BNPL functionality available to businesses that use Stripe's payments tech.
This deal is significant for Affirm as Stripe has extensive reach in the market because of the millions of businesses, platforms, and users that use the platform.
At the same time, this collaboration will enable Stripe merchants to use Affirm's adaptive checkout service, which lets customers break down purchases ranging from $50 to $30,000, into installments, with a maximum credit limit of $17,500.
Previously, Affirm has had similar tie-ups with Amazon and Shopify that have proved to drive Affirm's growth. Affirm updated its partnership with Amazon in November 2021, and Shopify followed suit in May 2022.
Top stories of the week
BARCLAYS
Barclays Bank's former UK CEO Ashok Vaswani joins Pagaya
Pagaya, the AI-powered credit analysis platform, has appointed former Barclays Group's UK CEO Ashok Vaswani as its President. Ashok has a track record of building and growing consumer and payments businesses at Barclays. Pagaya is banking on him to contribute to the company's growth as it makes its way to becoming a publicly-traded company this month. (Bloomberg)
CAPITAL ONE
Capital One steps into the B2B software business with Capital One Software
Capital One has launched the Capital One Software, an enterprise B2B software program that supplies in-house cloud and information administration tools for B2B firms working within the cloud. The first product to come out under the program is Capital One Slingshot, which is a data management solution for customers of Snowflake, the data cloud company. (PYMNTS)
COINBASE
Coinbase executives make $1.2 billion in stock sales
As cryptocurrencies have plummeted this year, Coinbase's revenue has dropped about 40% since going public last year. However, four senior Coinbase execs including co-founders Brian Armstrong, and Fred Ehrsam, along with President Emilie Choi and Chief Product Officer Surojit Chatterjee, have made over $1.2 billion by selling their stocks, despite the company falling by more than 80% during the height of the crypto crash earlier this month. (WSJ)
FTX
Crypto billionaire pledges to give away his $21 billion fortune
FTX founder Sam Bankman-Fried has signed the Giving Pledge. His fortune is valued at $21 billion. Giving Pledge, founded by Bill Gates and ex-wife Melinda Gates along with investor Warren Buffet back in 2010, is a public pledge taken by the world's richest people and families to donate a major chunk of their wealth to philanthropy. (CoinDesk)
Is a partnership on the cards for Goldman Sachs and FTX on Bitcoin, crypto derivatives?
Goldman Sachs is trying to onboard some of its derivatives products into FTX.US, which is the US arm of FTX. FTX is seeking a license modification from the Commodities Futures Trading Commission that will allow it to function as both an exchange and intermediary for derivatives. If FTX is successful in obtaining the license, it could begin the removal of intermediaries, such as Goldman, in derivatives markets. This has led to Goldman eyeing the possible partnership that is centered on Goldman's regulatory and public listing help, with the aim to expand into offering crypto derivatives by leveraging some of its own derivatives tools and services. (MarketWatch)
GOLDMAN SACHS
"One Million Black Women" by Goldman Sachs kicks off the latest round of investments
Earlier in 2021, Goldman rolled out its "One Million Black Women" initiative with a goal to affect the lives of at least one million Black women by 2030 – by improving their economic standing in areas including access to capital, housing, and healthcare and job creation. It appears that the pledged $10 billion in direct investment capital and $100 million in philanthropic support are on the move as the Bank revealed a suite of 17 new investments, partnerships, and grants that materialized in January of this year. (Yahoo)
JPMORGAN CHASE
JPMorgan's payments exec thinks 'payments are eating the world'
JPMorgan Chase's head of innovation and corporate development, Jeremy Balkin thinks of every business as a payments business. This is the reason he is piloting the bank's investments to fire up payment processors – as "that's a space that's borderless" and therefore has the most potential to become competitive, driving growth in the future. (Blockworks)
How much progress has Dimon's "communities of color" initiative made so far?
JPMorgan made the biggest racial-equity commitment of any US company in May 2020, pledging to spend $30 billion over the course of five years to diminish the wealth gap for communities of color. This year, the bank claims to have made significant progress in this regard. Critics are zooming in on the bank's unwillingness for a full independent racial-equity audit that would evaluate the bank's endeavor to positively affect Black lives and other minority communities. (MarketWatch)
MARQETA
Marqeta and Klarna join hands to build a BNPL credit card
Marqeta, the global card issuing platform is teaming up with the Sweden-based BNPL platform, Klarna, to power its new product Klarna Card. The new partnership will provide a flexible option for Klarna customers in the US to pay anywhere using the company's 'Pay in 4' unique solution, both online and in-store on a physical card. (Business Wire)
PAYONEER
Payoneer integrates BNPL into its platform
Payments platform Payoneer is integrating the services of Optty, a BNPL integration platform, to enable its ecosystem of merchants to offer BNPL across more than 59 global markets. Oppty currently has 185 global integrations with 41 BNPL solutions including Afterpay, Affirm, Grab, Klarna, Scalapay, and Zip. (Finextra)
ROBINHOOD
Robinhood agrees to settle customers' litigation over 2020 outages
Robinhood has made an agreement in principle to sort out a legal dispute filed by customers in different U.S. states who claimed the investment app's outages in March 2020 barred them from trading during the meme stock volatility. The federal court filing did not disclose how much Robinhood will pay to settle the action. (Bloomberg)
REPUBLIC BANK
Republic Bank rolls out The Banktech Incubator program
Kentucky-based small bank Republic Bank & Trust Company is launching a new BankTech Incubator, focused on supporting tech companies and their innovative offerings that align with the Bank's strategic goals by way of investments in companies, their suite of products, and through information interchange. (The Lane Report)
Tweets of the week
1.
Source: Maya Zehavi
2.
Charts of the week
1. Venture capital valuations are set to tumble
Source: Francesco Burelli
2. JPMorgan's buying spree of the last few years
Source: Enrico Molinari
What's trending
Visa and Fundbox team up on SMB payment solutions (Business Insider)
Morgan Stanley CEO is not stepping down anytime soon (Financial Times)
Mastercard unveils 'Experience Centre' creating a global tech ecosystem for cybersecurity (Mastercard)
MoneyGram strikes partnership with Stellar to launch a stablecoin remittance service (Bloomberg)
Stay ahead of the game with Outlier -- Tearsheet's exclusive members-only content program and join the leading financial services and fintech innovators reading us every day.