10-Q
Weekly 10-Q: A big win: Citigroup's $500 million slip-up ends in a legal triumph
Late last week, a federal appeals court supported Citigroup's efforts to retrieve $500 million it paid to hedge funds by mistake in 2020.
Also, Apple Pay becomes the second-most popular digital payment system – edging out Mastercard and beaten only by Visa.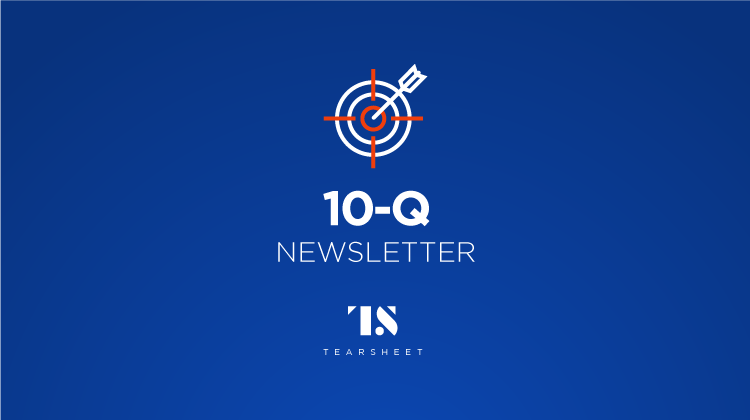 Join us for a day full of critical insights, invaluable discussions, and in-person networking opportunities in Tearsheet's Power of Payments Conference on Sep 15th, Current, Chelsea Pier, NYC.
---
Last week we covered: Should returning to core competencies be the playbook for Dorsey's Block?
---
Citigroup's $500 million slip-up ends in a big win for the bank
In August 2020, Citigroup mistakenly wired $900 million to creditors of Revlon Cosmetics Company -- for whom Citi was acting as a loan agent at the time. Revlon and a group of hedge funds, Brigade Capital Management and HPS Investment Partners, refused to return their share of the fund on a $500 million term loan. Upon the bank filing a lawsuit, a federal district court judge passed the ruling that the law allowed creditors to keep the money because, in part, they had no reason to believe at the time that the payment was wrongful. This was followed by a $400 million fine from US bank regulators in 2020 over deficiencies in the risk and control systems of the bank.
Revlon lenders believed that Citibank was wiring prepayments for a loan. The money accidentally wired was the exact amount Citibank owed them, although the loan wasn't set to mature for quite some time.
On Thursday, judges at the Second Circuit US Court of Appeals in New York rejected the district judge's argument and sent the case back to a lower court to rule again based on his guidance. The appeals court's decision confirmed the view that the money transferred should be returned.
CEO Jane Fraser called it a "massive unforced error", which indicates the manual processes need to be automated. In a consent order agreed to by the bank, the Federal Reserve ordered the firm to upgrade its processes and technology.
10-Q provides weekly insight into the moves of top financial and fintech stocks over the past week. A new issue lands in your inbox every Friday. Stay ahead of the pack. Subscribe here.
---
Top stories of the week
APPLE
Apple Pay processes more transactions than MasterCard
Apple Pay is the second most used digital payment system, behind Visa, which totaled around $10 trillion in transactions per year, according to research by TradingPlatforms. Additionally, Apple Pay, which includes Apple Card, has surpassed MasterCard in its dollar value of transactions annually with just over $6 trillion. (Forbes)
BANK OF AMERICA
Bank of America continues to aggressively pursue technology patents
BofA has hit a 50% y-o-y increase in patents granted. The bank was granted 341 patents during the first half of this year, a jump from 227 during mid-year 2021. The seven tech categories granted include programming technology (18%), artificial intelligence and machine learning (20%), information security (21%), payment technology (16%), mobile banking (14%), blockchain (6%) and data analytics (5%). (Finextra)
Bank of America lines up return-to-office policies
BofA is planning to release updated return-to-office policies in the next six to eight weeks that formalize some of the new flexibility the bank has given workers during the pandemic. The plans will be based on feedback the company got from staff surveys on the topic and would be specific to each business unit. (Reuters)
BLOCK
Square and Sage partner to help SMBs take more control of their finances
Square and accounting software firm Sage have forged a partnership focused on helping small businesses work smarter and save time, freeing them up to grow their businesses. The partnership enables integration of Sage Accounting and Square's POS software, which is now live in the UK, Ireland, and Canada. It means customers using both products can do business and take payments anywhere – in-person, online, or over the phone. (Barrons)
CITIGROUP
Citigroup aims to expand credit to a wider swath of borrowers
Citigroup is joining a government-sponsored program to expand access to credit in underserved communities. The bank is launching two pilot programs early next year under the Office of the Comptroller of the Currency's Project REACh, or Roundtable for Economic Access and Change. One program will issue credit cards to people without credit scores, while the other will help SMBs owned by minorities, women, and veterans to get credit. (WSJ)
Citigroup joins rivals in trimming the ranks of its mortgage workforce
Rising prices and a rapid increase in mortgage rates have dampened demand for many would-be homebuyers, which leads to Citigroup's call for laying off fewer than 100 positions in the mortgage unit. (Forbes)
FISERV
Fiserv acquires The City POS in $26 million deal
Global payments processor Fiserv has acquired independent sales organization The LR2 Group in a $26 million deal -- in a move to expand the reach of its merchant services business. The LR2 Group does business as The City POS, which was founded in 2003 to provide local merchants with improved customer service, customizable products, and expertise. (Payments Dive)
GOLDMAN SACHS
Goldman Sachs gives its biggest-ever credit line to startup Xepelin
Goldman Sachs has agreed to lend $140 million to Chile-based fintech Xepelin, which offers services including payments and credit to SMBs that do business with other firms, to strengthen its expansion into Mexico. The asset-backed loan has a maturity of about three years and will be released in two tranches, the first for $40 million and the second for $100 million. (Bloomberg)
MORGAN STANLEY
Morgan Stanley embeds lawyer in block trading unit amid regulatory probe
Morgan Stanley has appointed an internal lawyer to shadow a unit of the bank subject to a federal probe into block trading -- to guide bankers and answer their legal questions. The decision follows after Morgan Stanley placed Pawan Passi, head of the U.S. equity syndicate desk, on leave last year, as the unit landed into a federal investigation for block trading. The U.S. authorities are investigating whether investors obtained a warning of any trades. (FT)
SEC
SEC Chair Gary Gensler has once again compared crypto to securities
The crypto industry does not need any specific rulemaking for projects issuing tokens, says U.S. SEC Chairman Gary Gensler. Outlining the issue as one of investor protection, Gensler's remarks are perhaps the clearest indication yet that the SEC intends to continue applying existing rules and regulations to the crypto industry, contrary to investors' and entrepreneurs' hopes that the agency will create some sort of tailored rules that will let startups issue tokens without having to register as a securities platform. (Yahoo)
SEC warns against switching auditors to avoid Chinese company trading bans
Worried that they may be banned from U.S. exchanges if China does not allow the SEC's accounting watchdog to vet Chinese company audits, some U.S.-listed Chinese and Hong Kong companies have recently switched their lead auditor from a local to the U.S. or other foreign firm. The SEC has warned U.S. accounting firms that agree to lead audits of New York-listed Chinese and Hong Kong companies to not end up breaching U.S. rules. (Bloomberg)
TRUIST
Truist Insurance Holdings buys BankDirect Capital Finance
Truist Financial's insurance subsidiary has entered a definitive agreement to acquire BankDirect Capital Finance, a nationwide premium finance company, from Texas Capital Bancshares — a move that will increase Truist bank's unit in the same line of business by 75%. The transaction is expected to close in the fourth quarter of 2022, subject to satisfaction of customary closing conditions. (American Banker)
UPSTART HOLDINGS
Upstart extends personal lending to Arizona-based credit union partner
Upstart Holdings will offer personal loans to new and existing members across Arizona through its lending partner Vantage West Credit Union. Through Upstart's artificial intelligence lending platform, Vantage West will be able to efficiently lend to more creditworthy borrowers who are seeking access to credit. (Seeking Alpha)
WISE
Wise launches SWIFT Receive service and is on a partnership spree
Wise has rolled out a new offering of SWIFT Receive service, which enables customers from banks of all sizes to seamlessly receive cross-border payments -- even if their bank is not connected to SWIFT. The feature also enables FIs with an existing SWIFT setup to switch to Wise's service and receive these incoming SWIFT payments more conveniently. Wise has also recently gone live with 6 partnerships in the first half of 2022 to expand its services. (The Paypers)
---
Tweets of the week
1.
2.
---
Charts of the week
1. Why is a debit card called a "𝐝𝐞𝐛𝐢𝐭" card?
2. Key areas that have had a significant impact on cross-border payments companies
---
What's trending
---
Stay ahead of the game with Outlier -- Tearsheet's exclusive members-only content program and join the leading financial services and fintech innovators reading us every day.