10-Q
,
Member Exclusive
Visa vs. Mastercard: Who had a stronger quarter?
Quarterly results of both payment leaders are out, indicating resilient consumer spending throughout the period.
MoneyLion has approved a 1-for-30 reverse stock split of MoneyLion's Class A common stock.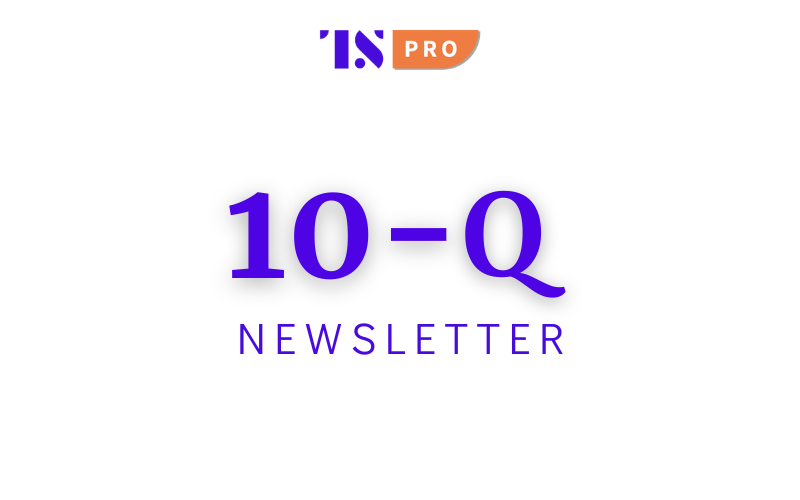 ---
Welcome to the 10-Q newsletter
The 10-Q newsletter is part of the Tearsheet Pro subscription.
10-Q provides insight and market analysis into the moves of top banking and fintech stocks over the past week. In your inbox every Friday.
---
Weekly 10-Q
In today's edition:
Last week we covered:
Visa vs. Mastercard: Who had a stronger quarter?
---
Visa vs. Mastercard: Who had a stronger quarter?
Quarterly results of both payment leaders are out, indicating resilient consumer spending throughout the period.
by SARA KHAIRI
Visa (V)
Visa released its Q2 2023 earnings on Tuesday.
The company reported:
Net income was $4.26 billion or $2.03 per share for the fiscal second quarter
Net revenue of $7.99 billion was reported for Q2'23, an increase of 11% and 13% on a constant-dollar basis
Processed transactions (implying transactions processed by Visa) totaled 50.1 billion, which rose 12% y-o-y
Total operating expenses were $2.6 billion, which increased 11% y-o-y
Visa's quarterly results surpassed analysts' expectations. The results were helped by higher payments volume that grew 10% y-o-y on a constant-dollar basis in the second quarter. While Visa's cross-border volume climbed 24% y-o-y for the same quarter on a constant-dollar basis. Cross-border travel growth remained steady and lower-than-expected client incentives aided in the revenue.
However, higher costs -- personnel costs and professional fees -- resulted in expenses for the company.
"Visa's strong fiscal second quarter performance reflects a continued focus on our growth levers - consumer payments, new flows, and value-added services," said Visa CEO, Ryan McInerney.
Shares of Visa rose 1.3% higher in after-hours trading Tuesday.
Analyst's take
"We view the Y/Y acceleration in US credit and debit dollar volumes as strong positives. On balance, we expect a positive stock reaction even though one could argue that revenue also benefited from lower incentives (26.7% vs. guide of upper end of 26.5-27.5%) as well as expanding service and data processing yields," said Dan Dolev, senior equity analyst at Mizuho.
Mastercard (MA)
Mastercard also released its Q1 2023 results on Thursday.
The company reported:
Net income was $2.36 billion or $2.47 per share for the fiscal first quarter
Net revenue of $5.75 billion was reported in the first quarter period, an increase of 11% y-o-y, and a 14% increase on a currency-neutral basis
Total operating expenses rose 10% to $2.4 billion in the first quarter ended March
Mastercard's quarterly results came out better than expected as estimated by analysts. The revenue was fueled by an increase in gross dollar volume, cross-border volume, and switched transactions, which increased by 15%, 35%, and 12% correspondingly. Additionally, high demand for data analytics, consulting, and marketing services, and continued strong growth in cyber and intelligence solutions also benefitted the results.
But the company saw losses jump due to higher personnel costs.
"We delivered strong revenue and earnings growth this quarter, reflecting resilient consumer spending and the continued recovery of cross-border travel, " said Mastercard CEO, Michael Miebach.
Shares of Mastercard climbed 2% in morning trade on Thursday.
Analyst's take
"Following Visa's results earlier this week, MA's strong 1Q should be no surprise to investors, highlighted by the slight increase to management's non-GAAP revenue guide. While US volumes in April appear solid and similar to Visa, ROW debit volumes appear to bifurcate in favor of MA, which we believe garners further attention," added Dolev.
---
Market recap
Amid a flurry of earnings releases, the overall fintech IPO index dipped by 5.5%
MoneyLion (ML) - down 30% to $9.02 per share
MoneyLion shares slid nearly 30%.
The Board of Directors has approved a 1-for-30 reverse stock split of MoneyLion's Class A common stock.
BNY Mellon (BK) - down 6% to $42.01 per share
The bank's stock fell 5% on Monday as it revealed a $90m impact in its first-quarter profits, which were down 18% -- due to the company ceasing banking and investment-related operations in Russia.
For the year to date, the stock is down 21%.
Editor's picks
---
Tweet of the week
---
Just look at the charts
---
This week's reads
PYMNTS
Capital One's latest results show that, like consumers, it isn't immune to the market. The lender's earnings and revenue both fell short of Wall Street expectations, and the stock was falling off in after-hours trading Thursday. The company's credit card period-end loans decreased $588 million, or less than 1%, to $137.1 billion, while domestic card period-end deposits increased $16.8 billion to $349.8 billion.
FORBES
Coinbase asked a federal court on Monday to force the SEC to respond to its July petition, which urged the agency to define when a digital asset is considered a security and to create a regulatory framework for cryptocurrencies. The Administrative Procedure Act requires the SEC to respond to Coinbase's rulemaking petition "within a reasonable time." If the SEC says no to the petition, the company would be allowed to challenge that decision in court and formally explain why rulemaking is required.
WSJ
A CFPB employee is no longer on the job after sending confidential consumer data on roughly 256,000 people to their personal email accounts in what the agency described as a "major incident." The data included personally identifiable information, such as names and transaction-specific account numbers, of consumers of seven institutions. The CFPB did not name the institutions used by customers impacted by the breach.
FINEXTRA
Citi credit card holders can now pay in installments when using Amazon Pay during checkout at thousands of online shopping sites. Eligible Citi credit card members can select three to 48-month payment plans for purchases of $50 or more. The new payment option brings Citi's Flex Pay BNPL option to a digital wallet for the first time.
BLOOMBERG LAW
Mastercard said the US Department of Justice is investigating whether the company has acted in an anticompetitive manner in its debit card business. The firm said it received a civil investigative demand from the department last month seeking documents regarding a potential violation of certain sections of the Sherman Act, a sweeping law meant to protect competition. The company said it is cooperating with the probe.
FT
Investors are gaining momentum this week in support of calls from Goldman Sachs and Bank of America for climate change plans. Three in 10 voting shareholders, supported a resolution Wednesday for Goldman Sachs to develop a climate change risk transition plan. This was despite the board's recommendation that investors vote against the proposal. Similarly, at Bank of America, provisional figures show that 28.5% of shareholders who voted for a similar resolution also opposed the board's recommendation.