10-Q
,
Member Exclusive
Tapping into the healthcare market: A closer look at KeyBank's doctor-centric digital bank
KeyBank and U.S. Bank are among a handful of FIs that are readjusting their focus to niche-down financing solutions for different verticals -- healthcare being one of them.
The road to the IPO market continues to be rocky and steep.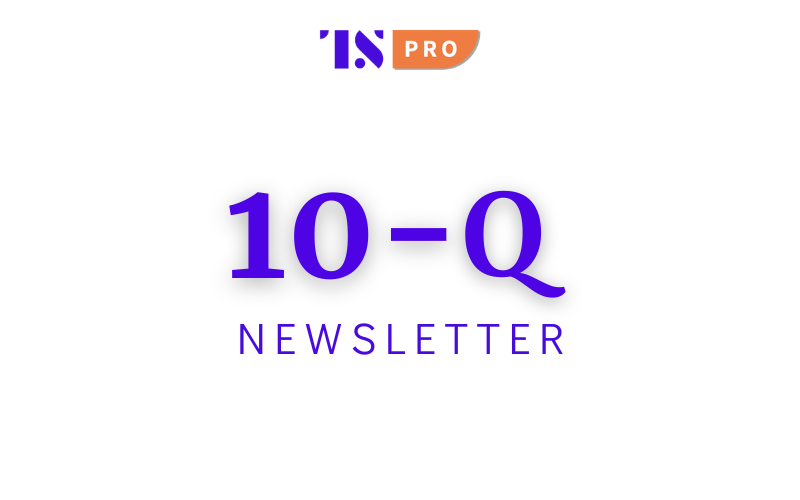 ---
Welcome to the 10-Q newsletter
The 10-Q newsletter is part of the Tearsheet Pro subscription.
10-Q provides insight and market analysis into the moves of top banking and fintech stocks over the past week. In your inbox every Friday.
---
Weekly 10-Q
In today's edition:
Last week we covered:
Tapping into the healthcare market: A closer look at KeyBank's doctor-centric digital bank
---
Tapping into the healthcare market: A closer look at KeyBank's doctor-centric digital bank
Laurel Road aims to build on products that shoulder the burden of doctors and help in their financial planning.
by SARA KHAIRI
As the demand for personalized digital banking products is escalating, financial institutions are now readjusting their focus to niche-down financing solutions for different verticals -- healthcare being one of them.
With medical student debt outpacing debt for any other educational path, healthcare professionals are looking to manage their finances and loans beyond the conventional borrowing route -- which ousts newbie doctors far from the list of credit-worthy consumers of mainstream lenders. On average, medical school students graduate with $215,900 in debt. The significant amount of money and time invested in their education leads to a delayed start when it comes to their earning potential, making them poor candidates for a mortgage.
While financing plays a critical role in supporting doctors, only a handful of FIs understand this.
"This group told us that many financial institutions are only interested in them once they unload much of their debt or begin earning larger salaries. They're not interested in them as customers when they're [just] residents," Alyssa Schaefer, chief marketing officer at Laurel Road told Tearsheet earlier. "This has led to an inherent distrust of financial services providers. [What people in this industry want] is a personalized experience, including earlier on in their careers, that's built on mutual benefits that empower them to make good decisions."
To address this gap and capitalize on the opportunity, FIs like KeyBank and U.S. Bank among a few others are breaking into the healthcare market with a tailored suite of products specifically designed to cater to the financial needs of physicians, dentists, and residents.
Key Bank's brand, 'Laurel Road for Doctors', is a digital bank that provides financial services solely for medical professionals in accordance with their needs shaped by their erratic schedules. Although Laurel Road's solutions are mainly centered around doctors and dentists, it offers various services for hospitals, nurses, occupational and physical therapists, and other healthcare-related individuals and entities, too.
KeyBank provides financial services to individuals and businesses in 15 states, which also includes its student loan refinancing business. Through Laurel Road, KeyBank is further drilling down specifically on the healthcare market -- a plan of action that was ideated at the time KeyBank acquired Laurel Road in 2021.
Laurel Road had student loan refinance as its largest asset category at the time of its acquisition. The neobank designs and builds on products that shoulder the burden of doctors paying down student debt and help in their financial planning. Besides student loans, its product lineup includes tools for budgeting and saving with relatively lower interest rates, tailored credit cards, mortgages, and personal loans.
Student loan payments are set to return this fall after a hiatus of three years, interest has already resumed since September 1, 2023, and payments are due as of October 2023. The Supreme Court struck down the student loan debt relief plan that President Biden proposed in August 2022. Nonetheless, the administration has forgiven $127 billion to date — just an iota of the roughly $1.7 trillion owed by the nation's student loan borrowers. The resumption of student loan payments represents a significant opportunity for Laurel Road in terms of refinancing student debt, providing a boost to KeyCorp's stock, which closed at $10.30 per share on Thursday.
The healthcare-centric digital bank also offers personalized discounts and deals that align with the tight schedule of medical professionals. For example, one of the offers includes services from Sakara, a service provider for ready-to-go meals.
Going forward, Laurel Road remains persistent in bridging the financial gap for medical professionals and revamping its tools and services directed at this underserved demographic.
---
Market recap
The road to the IPO market continues to be rocky and steep
Affirm (AFRM) - down 16% to $17.51 per share
Affirm foresees increased expenses — on account of rising interest rates — to continue to eat into its profit margins in the coming months. As the firm continues to endure revenue headwinds, it will most likely be reflected in its upcoming Q3 results.
The stock fell 16% in the first week of October and has chipped off a portion of its market capitalization.
Intuit (INTU) - up 1% to $516.30 per share
Intuit stock has surged 31% this year to date. The rise in stock over the recent quarters can be attributed to its consistent optimistic earnings and revenue growth.
As the third quarter earnings season approaches, analysts expect upbeat results with a rise in its total customer base from 50 million in 2019 to 100 million now -- contributing to Intuit's top-line growth.
---
Editor's picks
---
Tweet of the week
---
Just look at the charts
1. Will Affirm stock lose previous gains?
Source: The Coin Republic
2. SoFi shares dipped 1.5% ahead of student loan repayments' resumption this month
Source: Profitspi
---
This week's reads
Tearsheet
In a move to compete with non-bank players, JPMC's Chase Payment Solutions has forged a partnership with Gusto, a payroll platform, to provide digital payroll services to its SMB payments clients. The amount of intricacies and technicalities involved in payroll is what likely led Chase to partner with Gusto.
PYMNTS
A class-action lawsuit has been filed against PayPal. The lawsuit, filed by Hagens Berman, a global law firm, claims that the anti-steering rules of PayPal stifle competition and prevent merchants from discounting product purchases with lower-cost payment options.
Seeking Alpha
Stocks of companies related to student loans including SoFi, have experienced a drop in value ahead of the restart of student loan payments after a three-year pause and amid the Biden administration's efforts to cancel some of that debt.