10-Q
,
Member Exclusive
Robinhood unveils a 5% APY for Gold members, but how will users respond?
Robinhood's recent move to challenge traditional banks includes its increased savings offering, a 5.0% APY for Robinhood Gold Members. 
The stock trading platform appears to be in a precarious balancing act, grappling with the escalation of deposit strategies while facing a decline in both transactions and monthly active users.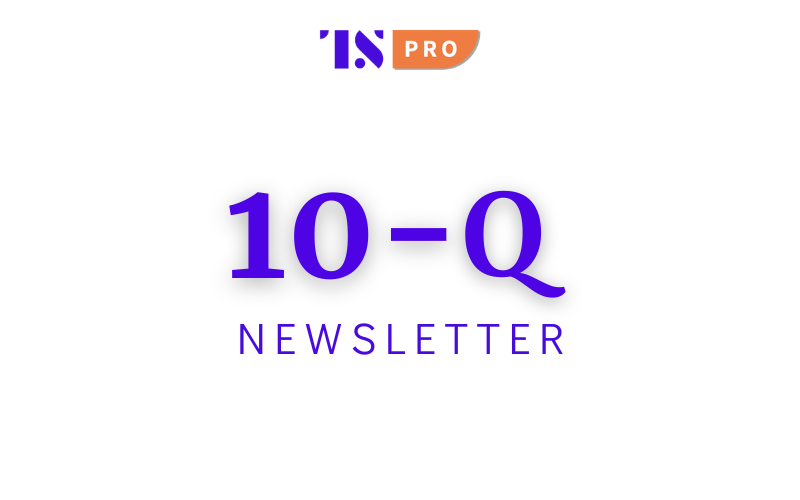 ---
Welcome to the 10-Q newsletter
The 10-Q newsletter is part of the Tearsheet Pro subscription.
10-Q provides insight and market analysis into the moves of top banking and fintech stocks over the past week. In your inbox every Friday.
---
Weekly 10-Q
In today's edition:
Last week we covered:
Robinhood unveils a 5% APY for Gold members, but how will users respond?
---
---
---
Robinhood unveils a 5% APY for Gold members, but how will users respond?
Will Robinhood be able to tread the fine line of simultaneously growing deposits and trading volumes?
by SARA KHAIRI
Despite its throne in the realm of controversies, Robinhood has consistently found itself in the news for a variety of reasons throughout this year. Amid this unfolding saga, CEO Vlad Tenev has not shied away from vocalizing his displeasure with the workings of traditional banks multiple times in public forums.

In a recent interview with CNN, Tenev said "Customers are beginning to wake up and realize that they have been getting ripped off by these traditional financial institutions. These banks are basically generating all of this revenue that they're not sharing with customers. We see an opportunity to correct that."

This was followed by Robinhood's recent move to challenge traditional banks by announcing its increased savings offering, a 5.0% Annualized Percentage Yield (APY) for Robinhood Gold Members. Robinhood Gold is a monthly subscription service that costs $5 per month and gives experienced traders advanced market research, in-depth stock data, large instant deposits, and potential access to margin trading. "At Robinhood, we're focused on passing value back to our customers so their money works for them. The 5.0% APY rate is 8x higher than the national average savings rate," the company said in the press release.

Users' reactions to the news were varied, however, with one saying, "Fidelity does this, for free. You're offering it with a subscription that can be achieved by holding in a money market fund, sad," while another said, "Better than some banks."

Robinhood entered the high-yield game in June this year to entice depositors away from traditional banks amidst the Federal Reserve's rate hikes. Taking a stride beyond Apple and Wise, Robinhood Gold initially offered an attractive 4.65% APY, presenting products with even more lucrative rates at the time.
The tightrope walk
Robinhood appears to be in a precarious balancing act, grappling with the escalation of deposit strategies while simultaneously facing a decline in both transactional activity and monthly active users since the beginning of this year.
The online brokerage has been seeing a decline in its monthly active users for quite some time owing to a slowdown in stock trading during the continuing period of economic uncertainty. The firm's monthly active users decreased to 11.8 million in Q1 from 15.9 million a year earlier. On the flip side, net interest revenue increased 25% sequentially to $208 million in Q1 2023, driven by growth in interest-earning assets, increased securities lending activity, and higher short-term interest rates. This was the first time the online brokerage's interest-based revenue outperformed its transaction-based revenue.

Fast forward to the third-quarter earnings report, the company highlighted a growth in total net revenue that increased 29% YoY to $467 million, primarily due to higher net interest but missed expectations. Net deposits remain strong and were $4 billion in Q3, which translates to an 18% annual growth rate. Monthly Active Users decreased 16% YoY to 10.3 million. Transaction-based revenues decreased 11% YoY to $185 million, including a 55% revenue slump in the cryptocurrency segment.
The deceleration in cryptocurrency trading is a trend observed not only by Robinhood but also by other platforms like Coinbase. Regulatory uncertainties have prompted investor caution, leading to a wait-and-see approach and affecting Robinhood's crypto trading volumes.

Both Robinhood and Coinbase are looking toward the UK market for expansion, a strategic pivot likely prompted by challenges, losses, and lack of regulatory clarity encountered by both firms in the US market. The former announced plans to launch UK brokerage operations and EU crypto trading in the coming weeks, at its Q3 earnings release. However, establishing a foothold in the European crypto market won't be easy, as the region has recently adopted a regulatory framework on markets in crypto-assets (MiCA) in June 2023 that will regulate crypto-asset markets.

In a move to diversify its revenue streams beyond its core (commission-free) stock trading platform, Robinhood has already delved into traditional and Roth retirement accounts and is further exploring opportunities in the credit card business. However, with the continuous surge in APY, a pressing concern arises regarding the profitability and long-term viability of the firm's reliance on net interest income. This concern gains significance, especially in light of the potential Federal Reserve rate cuts anticipated in the latter half of 2024.
---
Market recap
Publicly traded financial and fintech stocks had an okayish week
MoneyLion (ML) - up 18% to $33.10 per share
MoneyLion stock is maintaining its momentum on the back of a record third-quarter revenue.
The firm has expanded into different verticals and new personal finance tools that worked in keeping the firm on course.
Green Dot (GDOT) - down 32% to $8.02 per share
Green Dot reported gloomy third-quarter results, with earnings missing estimates. The company saw weakness in purchase volume, which was down 17% to $5.36 billion. The number of active accounts also fell from 4.33 million in the year-ago quarter to 3.67 million. Profit margins fell sharply.
Earnings disappointed investors resulting in stock dip. Guidance indicates that profit headwinds might persist.
---
Editor's picks
---
Tweet of the week
---
Just look at the charts
1. Wise's latest earnings, H1 2024, show a sharp increase in profit
Source: FXC Intelligence
2. Affirm's GMV and active consumers increased by 28% & 15%, respectively, in Q3
Source: The Motley Fool
---
This week's reads
Tearsheet
MoneyLion delivered strong third-quarter earnings and revenue last week. Dee Choubey, co-founder and CEO of MoneyLion, discusses where the firm stands today and the trends propelling digital banking heading into 2024.
FXC Intelligence
Wise's latest earnings, H1 2024, show a company that has seen a sharp increase in profit, amid continued growth across multiple business areas. CFO Matt Briers and Roisin Levine, Head of UK and Europe Partnerships discuss how the company is building on its strategy.
Private Banker International
For the second year in a row, JPMorgan Chase has been named the leading global bank in terms of AI maturity.