10-Q
,
Member Exclusive
Q3: The PayPal story isn't over
PayPal saw improved earnings in the third quarter compared to the previous one.
Chriss answered some of the burning questions and gave a bit more color on what firm assets could require more work to turn around than he thought.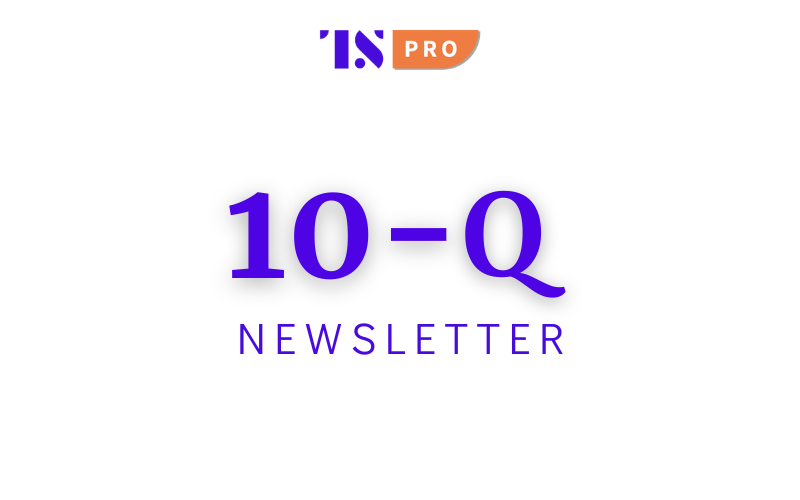 ---
Welcome to the 10-Q newsletter
The 10-Q newsletter is part of the Tearsheet Pro subscription.
10-Q provides insight and market analysis into the moves of top banking and fintech stocks over the past week. In your inbox every Friday.
---
Weekly 10-Q
In today's edition:
Last week we covered:
Q3: The PayPal story isn't over
---
---
---
---
Q3: The PayPal story isn't over
CEO Alex Chriss assures the payments firm will bounce back.
by SARA KHAIRI
PayPal puts up a fight
Third-quarter revenues came in at $7.42 billion, compared to $6.85 billion in the corresponding period of 2022
Net profit was $1.02 billion or $0.93 per share in Q3, vs. $1.33 billion or $1.15 per share last year
Active accounts were 428 million, down 0.9% YoY, and down 0.6% from the previous quarter
PayPal's third-quarter results were surprisingly better than expected, with revenue and earnings beating analyst expectations. The company's TPV growth was strong, primarily fueled by cross-border trade and its Braintree payment processing platform. On the downside, PayPal's active account growth declined, attributed to the churn of minimally engaged accounts. The firm plans to focus on driving higher activity levels with existing active accounts.
Q3 vs. Q2/Q4 -- What's gone by, what's to come: PayPal saw improved earnings in the third quarter compared to the previous one in which narrow operating margins and a reduction in active user numbers added to the firm's broader woes.
While PayPal is the most-used BNPL brand, Apple Pay Later has been gaining market share rather quickly, snipping out a portion of PayPal customers -- a growing and significant concern of investors over the past quarter.
Although a decline in active users persisted in the third quarter, PayPal's recent move of enabling its customers to add their eligible PayPal and Venmo credit or debit cards to Apple Wallet may help things going into the fourth quarter. This development will let PayPal and Venmo consumers make payments with a tap of their iPhone or Apple Watch in-store, online, or on their apps using Apple Pay — while still earning the same cashback and rewards on their eligible purchases.
This advancement is likely a consequence of the US Consumer Financial Protection Bureau flashing red lights at tech giants -- while taking a direct shot at Apple Pay -- about overly restricting access to external payment apps and limiting consumers' choice for payments. Until now Apple restricted banks and payment apps from accessing the tap-to-pay functionality on Apple iOS devices, barring direct integration of apps such as PayPal, Venmo, and Cash App, while imposing fees through Apple Pay. This move may turn the tables and will likely create a more level playing field for both firms competing to gain market share.
Things that are high up on the new CEO's agenda: This was the first earnings season and analyst encounter for the company's new CEO, Alex Chriss, who took the reins of the firm on September 27, 2023. He happens to join the firm at a rather critical time when investors and analysts expect him to stitch PayPal's narrative together as the firm is strategically moving in new directions, and amp up efforts so the stock is on the mend that has lost nearly 20% value year-to-date.
Chriss answered some of the burning questions out there following the financial results and gave a bit more color on what firm assets could require more work to turn around than he thought. 
"The biggest surprise that I didn't realize before coming in is probably around the data. I think we're just scratching the surface of the opportunity there," he said. Emphasizing the scope of data across PayPal's two-sided network, Chriss believes it provides a competitive edge and allows the firm to do things differently. Personalized branded checkout is another strong area to leverage and drive conversion for merchants, according to him.
The new CEO reiterated the importance of SMBs and how it will be a priority for PayPal moving ahead. "I used to run a small business, and so it's in my DNA and something that not only is important to PayPal and has been in the past but it's really been the lifeblood of the organization," he added. Putting together the assets to be able to help small businesses by managing their cash flow in a way that helps them grow their business and get past any ups and downs in the market is one of the strategies the firm wants to solidify going forward. In the bigger scheme of things, Chriss voiced how he intends to form a broader strategy that aligns resources with the company's most profitable growth priorities and reduces its cost base.
---
Market recap
A week of strong rally
LendingTree (TREE) - up 50% to $15.77 per share
LendingTree shares have rallied following its better-than-expected third-quarter 2023 results reporting revenue of $155.2 million.
The company raised its fourth-quarter revenue outlook, driven by strength in its Home segment.
Affirm (AFRM) - up 21% to $21.04 per share
Affirm Holdings's stock popped on Thursday after Amazon announced that its business-to-business store would begin offering Affirm's BNPL services at checkout.
Affirm becomes the first BNPL lender to be added to Amazon Business, while its service is already available to Amazon's retail customers.
---
Editor's picks
---
Tweet of the week
---
Just look at the charts
1. Block's Q3 earnings show strong growth in both Cash App and Square revenue
Source: Block
2. Coinbase ended Q3 with $5.5 billion in total available resources, an increase of $20 million Q/Q
Source: Coinbase
---
This week's reads
CNBC
Block reported third-quarter earnings that beat analyst estimates on the top and bottom line and showed strong growth in both Cash App and Square revenue. Revenue came in at $5.62 billion vs. $5.44 billion expected. The firm is guiding to an adjusted full-year operating income of $205 million to $225 million, a sharp increase from prior guidance of $25 million.
TechCrunch
Coinbase generated $674 million in total revenue, down from $707.9 million in the previous quarter. Net revenue was $623 million, down 6% from Q2 2023, but up from $576 million one year ago. The trading top line was down at Coinbase, but the company managed to post growth compared to the year ago on the back of interest-based incomes.
PYMNTS
Amazon Business is offering BNPL services in collaboration with Affirm. Amazon Business started rolling out Affirm Thursday to eligible sole proprietor businesses and will be available at checkout to all eligible Amazon Business sole proprietor customers by Black Friday. The partnership marks the debut of Affirm's B2B pay-over-time solution for sole proprietors.