10-Q
,
Member Exclusive
Less focus on Bitcoin and more Cash App inflows — a sound strategy for Block?
A week ago, Block reported its Q4'22 results with earnings missing expectations but surpassing gross profit from a year ago.
The surge in the stock is owing to the firm's strong gross profit growth, which was up 40% in Q4 2022 compared to the prior year.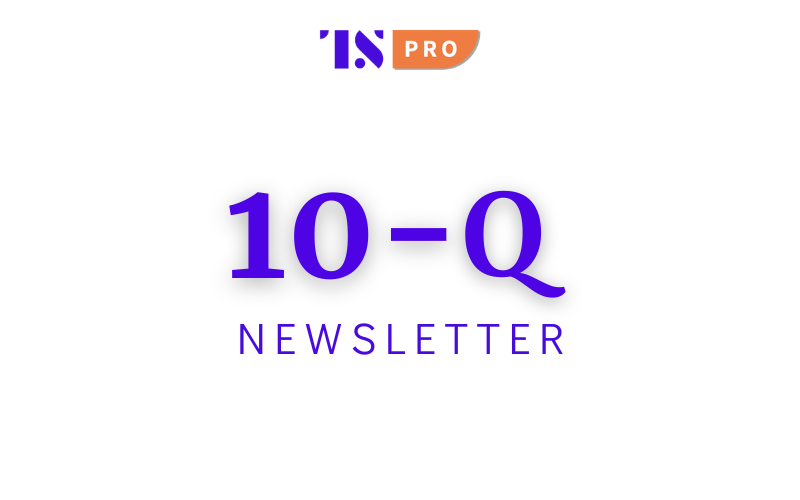 ---
Welcome to the 10-Q newsletter
The 10-Q newsletter is now part of your Tearsheet Pro subscription.
10-Q provides insight and market analysis into the moves of top banking and fintech stocks over the past week. In your inbox every Friday.
We're excited to bring you the brand new look of the weekly 10-Q newsletter.
Happy reading!
---
Weekly 10-Q
In today's edition:
Last week we covered:
Less focus on Bitcoin and more Cash App inflows -- a sound strategy for Block?
---
Less focus on Bitcoin and more Cash App inflows -- a sound strategy for Block?
Block shares increased with a rosy outlook for 2023 -- including constraining operating expenses and achieving and sustaining the Rule of 40.
by SARA KHAIRI
Block reported its Q4'22 results a week ago with earnings missing expectations but surpassing gross profit from a year ago.
Block reported a non-adjusted net loss of $114 million, or 19 cents per share, for the quarter.
Gross profit came in at $801 million, up 19% YoY and total revenue was $1.76 billion up 22% YoY.
Cash App business reported $848 million in gross profit, a 64% YoY surge.
Afterpay added $132 million in revenue and $98 million in gross profit.
Bitcoin revenue fell 7% YoY to $1.83 billion.
Adjusted EBITDA was $281 million in the fourth quarter – higher than the $184 million in the fourth quarter of 2021.
Net loss was $114 million for the quarter.
The results show that the company exceeded analyst expectations which led to an 8% share price jump in after-hours trading following the earnings report -- but its Bitcoin revenue slumped due to the fall in BTC price. Bitcoin price fell approximately 65% throughout 2022.
"I think Bitcoin has been a huge problem for Square or Block," said Dan Dolev, senior analyst at Mizuho.
Earlier, a senior associate at Mizuho, Ryan Coyne told Tearsheet, "We would prefer if Block kept its focus on the core businesses, which are Cash App, Square, and now Afterpay. I think where the mistake was – at least in terms of the stock, and eventually revenue – has been the chase after Bitcoin. It feels like it has become a distraction from the core story."
The surge in the stock is owing to the firm's strong gross profit growth, which was up 40% in Q4 compared to the prior year, beating analyst expectations.
During December 2022, Block's consumer-facing unit Cash App grew to 51 million customers, a 16% increase from 2021. Cash App Card generated more than $750 million in gross profits in 2022, up 56% from the year-earlier period.
The firm's BNPL business, Afterpay contributed $1.18 billion of revenue and $588 million of gross profit to Block over the fiscal year of 2022.
Block purchased Afterpay for $29 billion in August 2021 -- the firm made buy now, pay later services available to online merchants in Australia and the US.
However, Afterpay's operating expenses – especially its bad debts – grew from $72.1 million a year ago to $176.8 million at the end of December 31, 2021. The company entered 2022 with $3.7 billion in assets, but liabilities of $2.7 billion (mostly comprised of borrowings) drove the company's total equity down to $1.06 billion.
In the earnings report, Block said Afterpay's bad debts are in check now and doesn't expect them to rise excessively despite tough macroeconomic conditions, as the Australian firm is doing well in the BNPL sector.
In November 2022, Afterpay inked a new deal and partnered with Expedia Group to provide flexible spending to US travelers. After gaining momentum in other areas of consumer purchases, BNPL providers are eyeing more verticals for 2023. However, as BNPL continues to gain steam, regulators are paying more attention to their lending practices.
Earlier, in a move to regulate BNPL companies, the CFPB launched an investigation into the business practices in the BNPL and ordered Afterpay among other firms to submit information so that the bureau can report to the public about industry practices and risks. Later in December 2022, the CFPB sued Block as the payments fintech failed to comply on time with CFPB's investigative demands in a two-year-old (2020 and 2021) probe into how it handles complaints regarding Cash App.
The string of investigations by the CFPB followed by a fine are some of the factors that can affect Block's share prices and revenue going forward.
"We want to further raise the bar on our growth rates and our efficiency," Block co-founder and CEO Jack Dorsey said. "This is an ambitious goal, especially at our scale, and one we aren't meeting today," he added.
---
Market recap
Fintech stocks saw a steep decline over the past week after underwhelming quarterly earnings.
Fintech stocks had a sharp dip following the release of fourth-quarter 2022 results, reflecting a bearish reaction by investors.
Marqeta - down 24% to $4.55 per share
Despite generating a revenue of $203.81 million, Marqeta shares are trading lower Wednesday after the company reported Q4 2022 results. Several analysts lowered price targets on the stock following Marqeta's quarterly report, with a loss of 5 cents per share basis.
Investors and analysts were not happy about the muted outgrowth of 2023 the company provided.
LendingTree - down 17% to $33 per share
LendingTree reported a net loss from continuing operations of $10.4 million or 81 cents per share against an income of $48.4 million or $3.67 per share reported in the year-ago quarter, in its Q4 2022 earnings.
The stock saw a sharp dip following the release of quarterly earnings as a result of the decline in revenues.
Editor's picks
---
Tweet of the week
---
Just look at the charts
---
This week's reads
FINANCIAL TIMES
JPMorgan is resisting calls for its CEO to be made to answer questions under oath in a lawsuit that alleges the bank played a role in the crimes of Jeffrey Epstein's sex trafficking.
DEBANKED
After announcing $1.16B in originations of Square Loans in Q4 2022 -- Square came to over $4B funding for the year total, spreading out across 461,000 loans.
ALTFI
Wise's new look, which comes as it hits 16 million customers worldwide, was created to reflect its global reach, drawing inspiration from the currencies, languages, and places it serves around the world.
TECHCRUNCH
Amazon has struck a deal with online mortgage lender Better.com to offer up a new benefit to employees that allows them to use their vested equity as collateral for a down payment when trying to buy homes.