10-Q
,
Member Exclusive
Is PayPal losing its grip as the 'king of digital payments'?
The new CEO of PayPal might encounter a slew of unexpected challenges besides growth and competition concerns while en route to a road less traveled.
While there isn't a total loss of hope for PYPL among investors, seeing positive results from changing strategies can take longer than expected.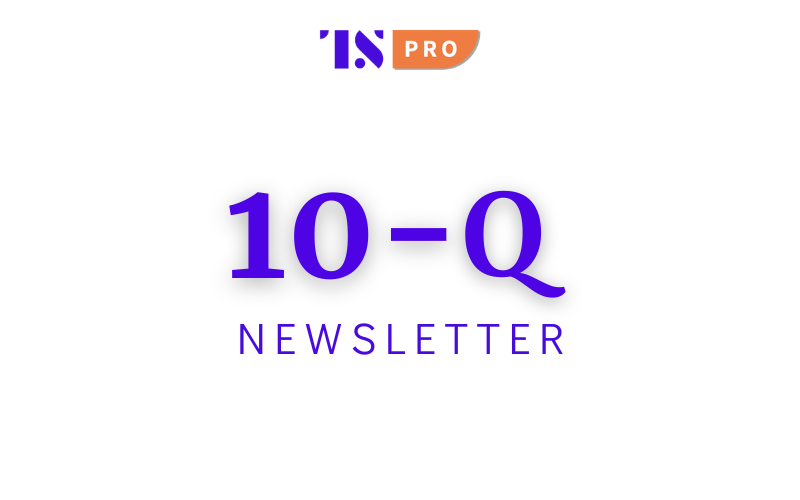 ---
Welcome to the 10-Q newsletter
The 10-Q newsletter is part of the Tearsheet Pro subscription.
10-Q provides insight and market analysis into the moves of top banking and fintech stocks over the past week. In your inbox every Friday.
---
Weekly 10-Q
In today's edition:
Last week we covered:
Is PayPal losing its grip as the 'king of digital payments'?
---
---
Is PayPal losing its grip as the 'king of digital payments'?
Dwindling stock performance, new CEO challenges, and class action: How are investors reacting?
by SARA KHAIRI
PayPal shares have lost nearly 20% value year-to-date while investors have lost 71% over the last three years. The stock experienced a significant decline in August, dropping by 81% from its all-time high. Over the last 18 months, PayPal shares dipped 35%, underperforming the S&P 500 by more than 40%.
The payments firm has had gloomy financial results in recent quarters, reinforcing investor skepticism. Most recently, PYPL shares witnessed a double-digit percentage decline throughout the second quarter after a YoY decline in transaction gross profit dollars. Gross profit dollar growth almost halted in 2022 and has only grown by 1% year-to-date in 2023 -- a pronounced decline from the growth rates of 17% in 2021 and 22% in 2020. As the third-quarter earnings season is ready to kick off, investors will be paying attention to the company's performance numbers in its upcoming quarterly report.
Although PayPal is still the most-used BNPL brand, competitors like Apple Pay Later are gaining market share rather quickly, sniping out a portion of PayPal customers -- a growing concern of investors. Additionally, a face-off between PayPal's Venmo and Square's Cash App is heating up competition in the payments space. Analysts are keeping close tabs on whether PayPal can adapt to changing market trends and continue to capitalize on the growing demand for digital payment options given new players from fintechs as well as Big Tech are establishing a foothold in the financial services.
PayPal said it is implementing a cost-cutting program, which is expected to result in significant savings and stock buybacks.
The new CEO, Alex Chriss, who succeded Dan Schulman, took the reins of the firm on September 27, 2023. He happens to join the firm at a rather critical time when investors and analysts are expecting him to stitch PayPal's narrative together as the firm is strategically moving in new directions, and amp up efforts so the stock is on the mend.
Hardly a week after Chriss was at the helm, PayPal got served with a class action lawsuit alleging that the firm's anti-steering rules pulled the plug on driving healthy competition against other rival platforms such as Stripe and Shopify.
The lawsuit detailed how PayPal has subjected consumers to excess charges when purchasing from online merchants that accept PayPal or Venmo. It alleges that PayPal's merchant agreements, which prohibit merchants from offering cheaper payment alternatives or revealing the cost-effectiveness of other methods, force consumers to endure higher charges, obscuring cheaper pricing options.
The class action seeks unspecified monetary damages and further action against alleged anti-competitive practices.
While PayPal is ready to "take this responsibility seriously", according to a statement, it seems like Chriss should hope for the best but prepare for the worst. He might encounter a slew of unexpected challenges besides growth and competition concerns while en route to a road less traveled.
In a recent investor survey conducted by analysts at Mizuho Group, 50 institutional investors were asked if PayPal is "fixable" and what modifications would investors like to see under the leadership of the new CEO. The poll results show that 85% believe that PYPL is potentially fixable. The majority (78%) prefer to see management prioritize revenue growth over margin expansion; 64% wish for a combination of the PayPal & Venmo platforms. And, only 28% expressed the desire to build out an SMB/B2B strategy.
These results indicate that while there isn't a total loss of hope for the stock among investors, seeing positive results from changing strategies can take longer than expected as PayPal makes up lost ground.
---
Market recap
The stock market had a breather last week
SoFi (SOFI) - up 10% to $8.39 per share
SoFi stock is rising after expanding into Latin America. Galileo, which SoFi acquired and operates, announced that it has received Mastercard certification to operate in five new countries in Latin America.
Galileo says there are several benefits to this expansion. It offers the company scope of new customers for its processing services with Mastercard.
LendingClub (LC) - down 5% to $5.46 per share
The rising interest rates have reduced the demand for loans. LendingClub is laying off 172 employees — about 14% of its workforce — to reduce costs and navigate the challenging macro environment.
The layoffs announced Thursday follow the round of layoffs held earlier this year. LendingClub cut 225 jobs in January — about 14% of its workforce at the time, as a result of the "historic pace" of rate hikes made by the Federal Reserve.
---
Editor's picks
---
Tweet of the week
---
Just look at the charts
1. Can Wells Fargo retain its beat streak in upcoming Q3 earnings?
Source: Yahoo
2. Chase secures the first spot to generate $602 billion in credit card purchase volume
Source: Nilson Report
---
This week's reads
Bloomberg
The largest US banks are reportedly bracing themselves for a surge in bad debt write-offs, the highest since the early days of the pandemic. JPMorgan Chase, Citigroup, Wells Fargo, and Bank of America are expected to report a combined $5.3 billion in net charge-offs for the third quarter, more than double the figure from a year earlier.
The Paypers
The financial planning feature is accessible to all of Wells Fargo's customers after initially offering it to wealth clients earlier in 2023. The Life Sync tool allows mobile users to set and track financial goals, check their credit scores, and connect with financial advisers. It also allows users to invest and move money between accounts via their mobile app.
Finextra
American Express is to pilot the use of facial and fingerprint recognition for authenticating users at online checkouts. A select number of US customers will be eligible for the pilot program after completing a security validation during the SafeKey checkout process and using a device and browser that supports facial and fingerprint recognition. These features will be rolled out to all US cardholders in early 2024.