10-Q
,
Member Exclusive
Back to the future: Jack Dorsey secures the reins of Square once again
Can Jack Dorsey's fresh focus on Square help boost stock returns and eventually uplift the Square business after CEO Alyssa Henry steps down?
The IPO Index witnessed moderate gains last week.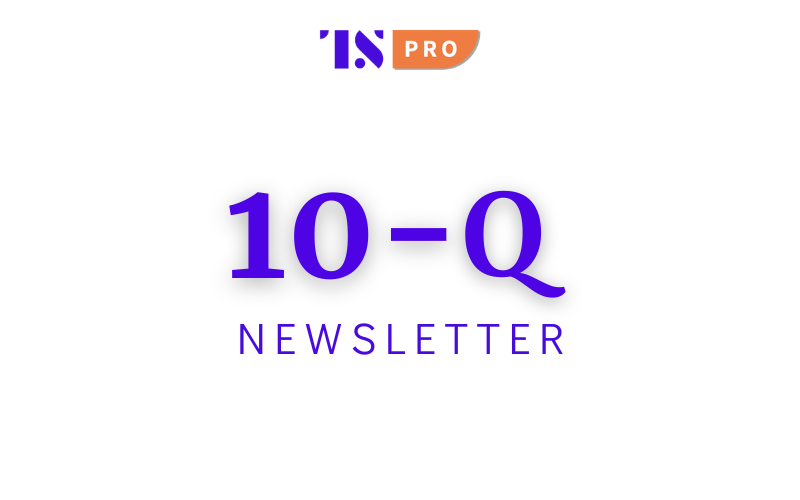 ---
Welcome to the 10-Q newsletter
The 10-Q newsletter is part of the Tearsheet Pro subscription.
10-Q provides insight and market analysis into the moves of top banking and fintech stocks over the past week. In your inbox every Friday.
---
Weekly 10-Q
In today's edition:
Last week we covered:
Back to the future: Jack Dorsey secures the reins of Square once again
---
Back to the future: Jack Dorsey secures the reins of Square once again
Will Dorsey be able to breathe new life into the merchant business?
by SARA KHAIRI
Square's Alyssa Henry is stepping down from her position in October after 8 months in the role, according to a regulatory filing by Square's parent company, Block. Jack Dorsey, the current CEO and co-founder of Block, will take control of Square -- at least for the moment.
"As CEO of Square, Alyssa Henry helped transform the business into a software-led technology company, guided the team during the uncertainty of global pandemic lockdowns, and expanded our breadth of services for small businesses around the world," said a Block spokesperson in a statement.
"Square is what it is today in large part because of Alyssa's leadership and we wish her the best in her future endeavors," he added.
Current CEO: Alyssa Henry and her role at Square
Henry has an extensive background in the tech industry. Some of her prominent career moves involve running a big and imperative part of Amazon's AWS unit -- cloud computing and storage business -- and working in a senior position at Intel, among others.
Henry began her journey at Square in 2014 and eventually worked her way up to the position of CEO in February of this year, replacing Jack Dorsey. She took up the role of managing engineering teams working on Square's infrastructure and payments platform when she was signed on. Her professional duties swelled when she led cross-functional teams including major departments of design and product and engineering that involved orchestrating software products for Square merchants. She also assisted in Block's IPO journey in 2015.
All things considered, she structured her team into three main divisions: payments, financial services, and marketing services. "As teams grow, you want to make sure you get that decision-making and ownership pushed down as far as you can go," said Henry at the time.
Incoming CEO: Can Jack Dorsey re-inject a spark into the Square business?
Of late, Dorsey has been consumed with planning out various strategies for Block, with an increased focus on Bitcoin. It appears the risky bet is paying off as Bitcoin revenue was the highlight of Block's second-quarter earnings and made up almost half of the firm's net revenue. On the flip side, although Square's gross payment volume grew 12% YoY, GPV per existing merchant has declined since the third quarter of 2022.
While the reason for Henry's exit wasn't mentioned, there are a number of speculations going around. Henry's abrupt departure might have something to do with the recent outage of Square's services that left customers and small businesses hanging in midair unable to carry out their payments for almost a whole day. This was a big deal for SMBs as they incurred significant losses. Additionally, Square's customer service was unresponsive during the time, which fanned the flames of displeasure. While the firm issued a public apology afterward and pinned the snafu on a technical error related to the Domain Name System, it cost Square its reputation and trust to a certain extent -- and probably a chunk of customers.
Others believe the approaching competition among banks and FIs with a new focus to serve the SMB market can be one of the reasons that pushed Dorsey to re-engage directly in the strategy, organizational structure, and direction of the Square business.
Analyst perspective
The news of Henry's exit drove the stock down by 3.6% on the day. However, analysts see several other reasons for optimism. They believe Dorsey's fresh focus on Square may help boost stock returns and eventually uplift the Square business.
"Square's POS has become the jack of all trades but the ace of none. This doesn't work well in a vertically specialized world. SQ's three ecosystems (POS, P2P, BNPL) remain overly siloed. Jack Dorsey stepping into the role could up the ante on ecosystem cross-pollination. Mr. Dorsey has a rare zest of brilliance in building viral networks," said Dan Dolev, senior equity analyst at Mizuho Group. "Renewed focus on the POS business -- and less time on Bitcoin -- can be a big long-term positive [for the stock]," he added.
---
Market recap
The IPO Index witnessed moderate gains last week
Wells Fargo (WFC) - down 3% to $40.91 per share
Wells Fargo has been struggling to get its affairs in order since the fake account scandal.
Wells Fargo stock increased fractionally on Wednesday after the bank announced the purchase of office space at New York's Hudson Yards, which was formerly a Nieman Marcus store. However, the stock quickly declined again on Thursday and is down 1.5% so far in 2023.
Deutsche Bank (DB) - up 2% to $10.94 per share
Deutsche Bank's EPS growth dropped last quarter from 8% to -40%, but revenue surged from 54% to 77%. Analysts are expecting a relatively profitable current quarter. The company is expected to report its recent figures toward the end of October.
Additionally, the bank has named insurance industry executive Dominik Hennen as head of its newly created personal banking division.
---
Editor's picks
---
Tweet of the week
---
Just look at the charts
1. Dissecting SoFi's business model
Source: Seeking Alpha
2. The four main categories of PayPal's payment solutions
Source: Business2Community
---
This week's reads
Tearsheet
Amid the ups and downs, Citigroup is en route to a major structural reorganization followed by a new wave of high-profile exits. Whether the restructuring effort can keep the positive investor sentiment intact and boost stock returns will likely depend on how effectively the workforce can rebound.
PYMNTS
JPMorgan has been designated by the United States Treasury Department under a financial agency agreement to provide account validation services for federal government agencies. The program was awarded to JPM after a competitive selection process and will extend for a minimum of five years.
Bloomberg
Wells Fargo is buying the former Neiman Marcus space at Manhattan's Hudson Yards for roughly $550 million and plans to convert it into offices. The bank plans to occupy the space that has sat empty since it closed in 2020. The transaction includes about 400,000 square feet spanning floors five through seven at 20 Hudson Yards.