Banking as a service
BaaS Company Spotlight 4/8: Marqeta — The rising king of card issuance infrastructure
Marqeta is one of the first companies to build APIs for issuing processing natively as a core processor.
It enables companies like DoorDash and Affirm to build out highly specialized payments capabilities.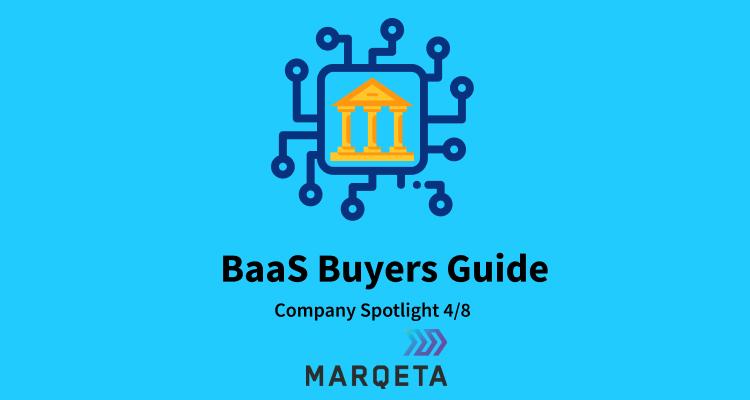 This spotlight of a leading banking as a service provider is part of Tearsheet's coverage of BaaS. Please see our BaaS Buyers Guide for more information.
Who we spoke to: Jason Gardner, CEO of Marqeta
Establishment date: January, 2010
Bank license: No, they partner with banks (such as Sutton Bank)
API Documentation: https://www.marqeta.com/api
History
After Jason Gardner, Marqeta's CEO, sold a previous payments company to MoneyGram in 2010, Jason realized that while there was a lot of innovation in the acquiring space such as checkout.com and Stripe, there was little innovation on the issuing/processing side, and he decided to build a modern platform from scratch.

Service provided
Marqeta is an issuer processor. Right now, most large FIs use legacy banking systems to issue cards, and these systems are old and clunky. Marqeta offers a fintech alternative by providing the infrastructure, or 'plumbing' for issuance of debit and prepaid cards, while still working within the framework of the current banking system. As its platform is very extensive, Marqeta enables its customers to create advanced and complex workflows with its APIs. Since Marqeta is deeply integrated into the payments infrastructure, it is able to offer real time information flow, enabling its clients to make transaction approval decisions right at the point of sale.

Specific features include virtual/physical card issuance, tokenized card issuance (Apple Pay, Android Pay) real time approvals (JIT Funding), and fraud avoidance. Marqeta also partners with other companies to provide more services, like card manufacturing.
Differentiator
One of the first companies to build APIs for issuing processing natively as a core processor, Marqeta is a modern platform. Marqeta allows companies to get deep into the card issuance core, enabling advanced use cases.

Chief Competitor
Marqeta's competitors are primarily legacy systems like FIS, Fiserv, First Data, and Wex, which have been selling to banks for many years. Marqeta is a new entrant that's working to disrupt the industry with its open API.

Marqeta's developer-lead approach means that it does not consider other card issuers (like PEX or Green Dot) as competition. These firms are focused on providing a card as the end product -- Marqeta created the underlying infrastructure.

Chief Customer / Core focus
Marqeta works with companies that want to build very specific products and can only do so with deep control over the entire flow of payment. With Marqeta, customers can sign up and start issuing within weeks, in contrast to working with a bank, which can take months and in certain cases, years. Marqeta has industry strength in commercial and consumer businesses, digital banks, ecommerce, lending, on-demand delivery, and travel.

Plans for the future
As some countries continue to move away from cash, Marqeta wants to expand to support different methods of payments and new geographies.

Clients and Case Studies
DoorDash: DoorDash is an on-demand food delivery service that uses Marqeta to reduce fraud. Marqeta enables DoorDash to make sure their delivery staff fulfills their orders exactly, picking up the right order at the right time for the right amount at the point of sale.

Affirm: Affirm is a POS SMB lender which approves loans in seconds. Among other things, Affirm uses Marqeta to issue virtual cards for last mile financing, as well as card control by restricting funds by merchant, dollar amount, and time.