10-Q
Weekly 10-Q: Chief Product Officer at Chase, Rohan Amin on changing consumer banking behavior and Chase's future plans
Rohan Amin, CPO at Chase, talks about digital channels in banking, growing fintech competition, and where the largest bank in the US is headed.
In other news, SEC Chair Gary Gensler opened an investigation into Goldman's ESG funds, as ESG reporting has become a top priority for the agency.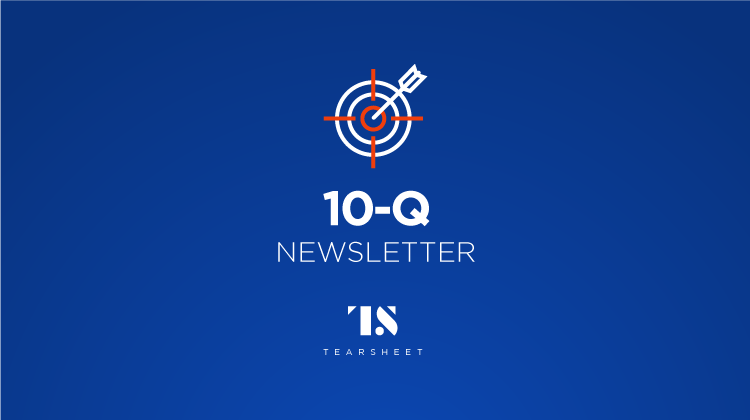 10-Q provides weekly insight into the moves of top financial and fintech stocks over the past week. A new issue lands in your inbox every Friday. Stay ahead. Subscribe here.
Last week we covered: Wells Fargo under criminal probe for sham job interviews
---
The transformation of traditional banking: 3 questions with the Chief Product Officer at Chase, Rohan Amin
According to JPMorgan Chase's December 2021 Digital Banking Attitudes Study:
62% of consumers cited their banking app as a service they can no longer live without, up 7% YoY.
As of Q1 2022, Chase has 60.2 million digitally active customers, +6% YoY, and 46.5 million mobile active customers, +11% YoY.
Mobile active customers have increased 35% since the pandemic kicked off in Q1 2019, and more than 50% of mobile active customers use financial health tools.
I asked Chief Product Officer at Chase, Rohan Amin, 3 questions about changing consumer banking behavior and where the largest bank in the US is headed.
How has the pandemic affected/transformed the relationship between banks and consumer behavior?
Rohan Amin, Chief Product Officer, Chase: The pandemic forced consumers to re-examine their day-to-day behaviors more closely, including how they bank and achieve their financial goals. We've seen a real acceleration towards digital banking over the last two and a half years. Consumers, including our own customers, are using their mobile banking apps for more than just checking their account balances. We give our customers options to choose how they want to bank –  whether online, on our mobile app, or by visiting our branches.
How do you compete with the innovation and quickness of growing fintechs in the space?
Rohan Amin: Over the last several years, Chase has undergone a Product and Agility transformation that has empowered our Product, Data & Analytics, Design and Technology teams to collaborate more efficiently and strategically. Along with user feedback, we use a wide lens to understand what is being done digitally in financial services, at fintechs, and across other industries – to help us compete, attract talent, and better serve our customers.

Where do you see Chase 5 years from now, in terms of a goal-setting framework?
Rohan Amin: In the time ahead, our digital products and features will continue to help consumers manage their finances, make payments, invest, save, book travel and more. Our agility and product transformation efforts are central to our ability to continuously innovate and meet the changing needs of our customers today and in the future.
Top stories of the week
AFFIRM
Affirm joins hands with Agoda to bring BNPL to hotel reservations
Affirm is partnering with global travel platform Agoda, part of Booking Holdings. The new partnership will enable qualified travelers to book their hotel accommodations for future trips across the Agoda platform, both on the web and via the app, and pay over time for reservations above $50. (Seeking Alpha)
AMEX
AmEx introduces the first crypto card on its network
Abra, a digital asset financial services company, is bringing the first crypto rewards credit card 'Abra Crypto Card' on the American Express network that will transact in U.S. dollars and offer crypto back on any sum and shopping category. (Fortune)
BANK OF AMERICA
BofA is keeping a watch on employee attendance
Bank of America, like Goldman Sachs and JPMorgan, is monitoring employee attendance. The bank wants its suits back in the office at least four days a week, while the bigwigs in M&A want to see their staffers back five days a week. (Business Insider)
Bank of America targets corporate cash management growth
BofA is bringing out an extension of its virtual account management (VAM) tool for its US consumers. The tool, already available in Europe, helps companies manage multiple accounts by creating a virtual ledger, accessible online, that shows all their banking history, account balances, and transactions, and can model future cash flow. (Reuters)
CITIZENS
Citizens, Cullen/Frost Banks jump on the bandwagon of removing NSF fees
Citizens Financial Group and Cullen/Frost Bank are planning to get rid of NSF fees paid by customers who bounce a check or have a debit card purchase rejected. On the other hand, Frost Bank expanded its 14-month-old $100 overdraft grace feature so that it is available to all Frost Personal Account and Frost Plus Account customers. (American Banker)
FISERV
Zelle – Fiserv partnership going strong with 1000 FIs
Nekoosa Port Edwards State Bank became the 1000th financial institution to use the digital payments network, Zelle, via Fiserv. (PYMNTS)
JPMORGAN CHASE
JPMorgan is bullish on a huge investment in the tokenization of traditional assets
JPMorgan Chase's head of Onyx Digital Assets, Tyrone Lobban, revealed that the bank has identified a mechanism for DeFi developers to take advantage of non-crypto assets' yield-generating potential. Integrating DeFi products will further grant the bank's institutional clients more connections to the tokenized assets world. (CoinDesk)
MASTERCARD
Mastercard brings its payments network to Web3 and NFTs
Mastercard is working to enable NFT commerce with Immutable X, Candy Digital, The Sandbox, Mintable, Spring, Nifty Gateway, and Web3 infrastructure provider MoonPay – to allow people to use their Mastercard cards for NFTs purchases, whether that's on one of these companies' marketplaces or using their crypto services – without the need to buy crypto first. (Mastercard)
Mastercard broadens the use of network tokens with Spreedly
US-based payment orchestration platform Spreedly has collaborated with Mastercard to support, expand, and augment tokenized authorization transactions for merchants. Network tokens reduce the chances of card data compromise, improve authorization rates and provide flexibility for network token transactions on supported gateways and with other payment service providers that are developing network token capabilities. (PaymentsJournal)
DFC and Mastercard join forces to deepen financial inclusion in Central America
US International Development Finance Corporation has teamed with Mastercard to deepen financial inclusion in Guatemala, Honduras, and El Salvador. This partnership will focus on allowing individuals and businesses to transact digitally, securely, and efficiently. It will also cater to the previously underserved communities with digital features to transact, get access to credit, and develop a credit history. (PYMNTS)
MONEYGRAM
MoneyGram is all set to roll out its service 'Cash to Crypto'
As a result of a partnership with the Stellar Development Foundation, the organization behind open-source public blockchain Stellar, MoneyGram is rolling out a service that will enable users to buy cryptocurrency using cash, as well as allow them to withdraw their crypto holdings in cash, at select MoneyGram locations. (Finovate)
PAYPAL
PayPal expands BNPL offering with 'Pay Monthly'
Instead of having to pay off purchases over six weeks as in the previous BNPL payment option, the new service, PayPal's Pay Monthly allows users to break down their purchases into monthly payments over a 6 to 24-month period. (TechCrunch)
Grubhub teams up with PayPal and Visa to pay drivers more quickly
Grubhub, a food ordering, and delivery marketplace is rolling out Instant Cashout via Direct to Debit. The new payout option, enabled by Hyperwallet from Paypal and Visa Direct1 – Visa's real-time2 money movement network – offers easy access to earnings by allowing any driver with an eligible bank debit card to deposit their accrued earnings to their eligible debit or prepaid card. (PaymentsJournal)
SEC
SEC's Chair opens an investigation into Goldman's ESG funds
Under SEC's new Chairman, Gary Gensler, ESG reporting has become a top priority for the agency. The probe into Goldman's ESG funds appears to be linked to the new administered move, when earlier this year, the commission proposed changes that would require more transparency from companies to investors about the risk that climate change and new government policies on it might pose to their operations. (The New York Times)
TD BANK
TD rolls out a new payment plan for its credit card consumers
TD Bank is rolling out 'TD Payment Plans', a new set of control features for consumer credit cards. With this feature, eligible TD cardholders can enroll qualifying purchases of $100 or more into equalized monthly payments, with 6,12, or 18-month term options. (Finextra)
WELLS FARGO
Wells Fargo predicts mortgage banking income to drop 50%
Wells Fargo chief financial officer, Mike Santomassimo, foresees that the bank's mortgage income could sequentially fall "close to 50%" in Q2. This descent would be a result of a hike in interest rates deterring refinancing activity and affecting home affordability in the purchase origination market. (Seeking Alpha)
WESTERN UNION
Western Union integrates Mambu into its European digital bank platform
Germany-based cloud banking platform Mambu has teamed up with Western Union. Mambu will integrate its solution into the Western Union's next-generation real-time multi-currency digital wallet and digital banking platform in Europe. The new offering will help Western Union transform the transactional relationships it has with customers, into closer customer-centric connections. (Bloomberg)
Tweets of the week
1.
Source: Watcher.Guru
2.
Source: @Bitcoin
Charts of the week
1. Earnings revisions plummet
Source: Daniel Lacalle
2. Latin America fintech deal activity in Q1 2022
Source: Fintech Global
What's trending
Customers now fear they will never be able to access funds that are locked on Celsius (CoinDesk)
Coinbase is laying off 18% of its employees less than two weeks after the company extended a hiring freeze (MarketWatch)
Black employees in the category that includes midlevel managers totaled 777 at Citi this year (Banking Dive)
90% of crypto users plan to buy more over the next 6 months, according to BofA survey (CNBC)
Stay ahead of the game with Outlier -- Tearsheet's exclusive members-only content program and join the leading financial services and fintech innovators reading us every day.